30 Engagement Gifts They'll Actually Want
Go-to gifts for the happy couple.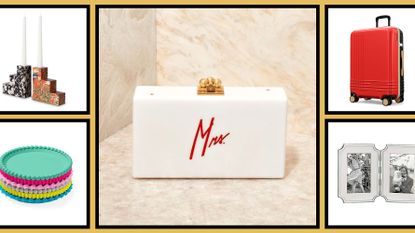 (Image credit: Courtesy)
While many wedding celebrations have been postponed, the current state of affairs hasn't hindered people from popping the question. Make no mistake, making it official at home can be just as celebratory and happy an occasion as long-planned proposals that would have involved travel and surprise gatherings. And a new engagement begs the question: What should you send to the newly minted fiancées? If you're not beholden to a wedding registry, consider something that will bring joy, accessorize the home, or help facilitate some much-needed time away. Ahead, we've got 28 great gifts to choose from.
1/30
Hill House Home Sisi Silk Pillowcase
Most Luxurious
Getting great sleep is crucial to planning the big day. These "his" and "hers" silk pillowcases work miracles on your hair and skin.
2/30
Dear Annabelle Flourish Notecards
Best Personalized Gift
Give the classic couple customized notecards engraved with their initials.
3/30
Edie Parker Mrs. Clutch
Group Gift
Inspired by love notes, this artisan made clutch is crafted from 100% hand-poured acrylic, perfect for the bride's pre-wedding festivities or as a statement accessory on the day of.
4/30
Augarten Wien Bread Roll Porcelain Box by Augarten Wien
Most Quirky
What do you get that quirky couple who has just about everything? How about this bread roll porcelain box?
5/30
Roam Luggage The Jaunt
Group Gift
Give a jet-setting couple the chance to create their own luggage with a fully customizable color palette.
6/30
Tom Dixen Swirl Stepped Bookends: Set of 2
For Bookworms
Give a well-read couple these sculpture-like bookends that double as candle stick holders for entertaining and date night.
7/30
The New York Times Anniversary Book
Most Unique
Curate a leather bound book with the top 80 New York Times front news articles throughout the history of that day.
8/30
Shop It Tsar Imperial Ossetra Caviar
Tsar Imperial Ossetra Caviar
The engagement of your close friend or family member calls for celebration. Give the couple with a sophisticated palette a mouth watering tin of Petrossian caviar.
9/30
The Sill Hoya Heart Plant
Most Adorable
Flowers are great, but with a little TLC, this adorable heart shaped house plant will last forever.
10/30
Mark and Graham Lucite Ice Bucket
Most Practical
While everyone is showering them with bottles of champagne, send along something to keep it cool—a.k.a. this monogrammed acrylic ice bucket.
11/30
Michael Aram Calla Lily Cake Knife and Server Set
For the Wedding
Help them cut the cake in style with this calla lily inspired serving set.
12/30
Compartes Gourmet Chocolate Truffles Gift Box
Most Delicious
Chocolate is always a good idea, especially these ganache truffles that look almost too good to eat.
13/30
Cultiver Linen Duvet Cover Set in Fawn
Most Cozy
Homebodies will agree that there's nothing more luxurious than a great set of bedding to cozy up in. Give them this 100 percent linen duvet set that will complement any color scheme.
14/30
Cottonna 100% Turkish Cotton PeshTerry Bathrobe
For Homebodies
Gift your newly engaged pals a pair of these ultra soft Turkish cotton robes. They may never leave the house again.
15/30
Custom Monogram Gift Certificate
Prettiest Invitations
Talented illustrator Jill Delavan will work with the new couple to create a customized crest for use on invitations, thank you cards, stationary, and more. It's the gift that keeps on giving.
16/30
kate spade Double Frame
Most Sentimental
This silver-plated frame will elevate any corner of the house, while showcasing two special moments.
17/30
Getaway Gift Cards
For Hikers
Help them unplug from the daily grind with a night or weekend away in one of Getaway's tiny cabins surrounded by nature.
18/30
Mastering the Art of French Cooking, Volume I: 50th Anniversary Edition: A Cookbook
For the Chefs
Domestic bliss will be even sweeter when they master a beef bourguignon for dinner. Custom Tag: For the Chefs
19/30
Hurom HZ Slow Juicer
For the Health Nuts
This easy to use juicer will help kickstart the new couple's happy, healthy life together. It can also double as a wedding gift.
20/30
Smythson Set of two Panama Wedding and Honeymoon Planner textured-leather notebooks
For Wedding Planning
Help them stay organized with these chic, gilt-edged wedding and honeymoon planners.
21/30
Seedlip Seedlip Cocktail Mix Trio Gift Set
For the Sober Couple
Seedlip's non-alcoholic spirit is the perfect alternative way to toast the newly engaged couple.
22/30