20 Warm Winter Hats That Are Stylish, Too
Bring it on, snow.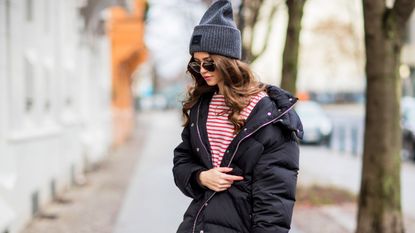 (Image credit: Getty Images, Christian Vierig)
It's almost that time of year—winter is coming! So it's time to make sure you have all the cold-weather essentials you need: a great coat, gloves, a scarf, boots, and of course, a hat. Whether you consider yourself a hat person or not, everyone becomes a fan of hats when the temperature drops below freezing. Fortunately, there are many different styles to choose from, and I guarantee you'll find a hat on this list that suits you. From knits and shearling to buckets and beanies, here are 20 hats that are stylish and warm. Bring on the elements!
1/20
Free People - Stormi Washed Cable Beanie
Nothing screams winter like a classic cable knit beanie. These Free People hats are great because they come in a variety of colors at a great price point.
2/20
Carhartt - Shearling Bucket Hat
Whether you love them or hate them, bucket hats are here to stay.
The popular summertime accessory got a winter update. Made from wool-blend fleece, this hat will keep you warm and toasty.
3/20
Columbia - Columbia Women's Permafrost Plush Beanie
Winter isn't always flurries, fun, and holiday spirit—there are sure to be some unbearably cold days ahead. Be prepared with this Columbia fleece-lined knit beanie that will protect you from winter's wrath.
4/20
Madhappy - Signature Knitted Beanie
Calling all my streetwear fanatics! It's time to break out the logo beanie.
5/20
Alexander Wang - Striped Wool Beanie Hat Black Yellow
Winter is too dull to be in head-to-toe black all the time, which is why you need to give your basic black beanie an upgrade. This Alexander Wang knit will edge up any outfit with a pop of neon.
6/20
Urban Outfitters - Eyelash Knit Beanie
Give your look some texture with this eyelash knit beanie. It comes in three fabulous colors (rust, rose, and white) and will keep you comfy and cozy.
7/20
The Elder Statesman - Hot-Dye Cashmere Beanie Hat
Take this summer's biggest trend, tie-dye, with you through winter. This colorful cashmere beanie will look amazing paired with a classic teddy bear coat.
8/20
Jacquemus - Le Bob Embroidered Wool Bucket Hat
Can you tell I love bucket hats? Well, this one is beyond chic—style it with your favorite cable knit sweater, jeans, and gold hoops.
9/20
Lele Sadoughi - Pearl Cluster Beanie
When it comes to the holidays, more is always more, so get into the spirit by sporting an embellished beanie.
10/20
Ruslan Baginskiy - Vinyl-Brim Wool-Felt Baker Boy Cap
Ruslan Baginskiy gave the baker boy cap a badass upgrade by adding an edgy vinyl brim. Go full cool girl and style this with some leather pants, a black blazer, and some chunky lug sole boots.
11/20
Hat Attack - Cashmere Slouchy Cuff Hat with Pom
The cashmere slouchy hat is one of Hat Attack's best sellers (fun fact: Meghan Markle is a fan). The beanie comes in 8 different colors and you can buy it with or without the pom.
12/20
Moncler - Mohair Blend Stripe Knit Hat
This Moncler mohair blend beanie will brighten up even the dreariest of winter days.
13/20
Auxiliary - Cashmere Toque Hat
I know I said that when it comes to the holidays, more is more, but sometimes you just can't beat a classic. A simple black beanie is something everyone should have in their winter wardrobe rotation. It's warm, it's chic, and it goes with everything.
14/20
Anthropologie - Confetti Shimmer Beanie
If an embellished beanie is a bit too much for your taste, try a knit beanie with shimmery thread. The little touch of shine will give your look a festive feel without going overboard.
15/20
Naadam - Double Layer Beanie
Naadam is known for their amazing cashmere products and this beanie is no exception. This double-layer cashmere knit is reversible with a purple layer and a brown layer. Wear the colors solo or cuff your hat and get a two-toned look.
16/20
Maison Michel - Virginie Waterproof Felt Hat
A chic wool felt hat is a must-have for winter and the great thing about the Virginie is the fact that you don't have to worry about the elements. Made of built-to-last waterproof felt, you can rock this hat in snow, sleet, and rain.
17/20
Tory Burch - Knit Fair Isle Hat
This Fair Isle knit hat is perfect for hanging in the ski lodge after hitting the slopes.
18/20
Isabel Marant - Isabel Marant
If you love a classic teddy bear coat, why not try a teddy bear cap? This Isabel Marant cap is the perfect mix of chic meets street.
19/20
Clyde - Fold Hat in Smoke Purple
This chunky hand knit beanie is hand-dyed and made of soft merino wool that'll keep you warm no matter what.
20/20
Loeffler Randall - Ivy Bucket Hat
There's nothing worse then checking the weather report and seeing that you're in for bad weather. A mixture of rain, sleet, and snow calls for one thing...a vinyl bucket hat.
Shelby Comroe is the Credits Editor and Fashion Assistant at Marie Claire covering all things fashion and giving credit where credit is due. Check her out @shelbycomroe on Instagram if buying designer handbags is your idea of a retirement plan!