The 16 Best Boots for Women in 2023
These boots were certainly made for walkin'.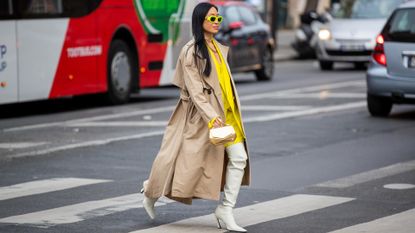 (Image credit: Getty/Christian Vierig)
Fall and winter are my favorite seasons, and not just because of the cozy vibes and flavored lattes—I absolutely love fall and winter fashion. And while cardigans, denim jackets, and cozy sweaters are essential to that wardrobe, one category in particular has a special place in my heart: Boots. I look forward to unveiling my extensive boot collection each and every year, and I positively live in them as soon as the weather gets cold.
However, a truly high-quality pair of boots can be difficult to identify. Fashion stylist Sarah Nearis says, "When consumers are looking for a good pair of boots, I think it's important to not jump in blind and to know what you're looking for. There are so many brands and styles, it's easy to get overwhelmed."
And while many of us are on a budget these days, Nearis says that looking for quality—even if that means adjusting to a higher price point—will always benefit you in the long run. "Whether you are looking for a dressier knee-high boot or an everyday ankle bootie, I'm a firm believer in investing in great footwear, especially if you're working on your feet," she advises. "Cheap boots or shoes will have a short wear life and they will kill your feet by the end of the night." And ultimately, if you buy cheap style after cheap style and constantly need to replace your boots, you'll end up spending more money than you would have if you'd invested in one high-quality pair.
Because of how overwhelming boot shopping can be, we've tapped Nearis for her expertise on how to find your next pair of boots. We've also compiled some of the best boots money can buy, no matter what type of boots you're into.
What to Look For
Nearis says that when it comes to shopping for a new pair boots, there are three main details customers should focus on. The first is the "quality of the leather (or faux leather), the stitching (no flaws), and the zipper." After all, you don't want to invest in a new pair only to have them rip shortly after.
The second detail she says to look into is "sturdiness and support of the heel" in order to prevent both damage to the shoe and injury to yourself.
Finally, she advises that customers "pay attention to the fit," adding, "Many times we get swayed by how shoes look on us during a quick try-on that we don't think 'could I spend hours in this boot and not be miserable?' Make sure you know if you have a wider foot or don't do well in certain leathers like patent (which tends to run tighter). Being comfortable and confident in a boot that makes you stand tall and feel good is the most important!"
The Best Chelsea Boots
Did you know that Chelsea boots are originally a British style developed for Queen Victoria in 1837? Since then, the style has become popular worldwide for royals, musicians, and everyday people alike, and that popularity shows no signs of abating. Keep reading for some of the best Chelsea boots around—they'll quickly leave you daydreaming of when to wear them and how to style your Chelsea boots.
Crockett and Jones Bonnie Chestnut Burnished Calf
Celebrity fashion stylist and costume designer Alexandra Imgruth says that this brand is her go-to for Chelsea boots. The boots brand is, after all, a British one. Thus, in Imgruth's words, "it's always best to get it from the source."
The Best Ankle Boots
Everybody needs a good pair of ankle boots (or a few). The style is incredibly versatile and can be worn throughout the fall and winter, and even during the warmer months! Below, two of our editors talk about their go-to ankle boots and what makes them so irresistible.
Sam Edelman Winnie Ankle Bootie
Marie Claire Editorial Fellow Brooke Knappenberger loves this pair, writing, "Everyone needs a pair of simple black ankle boots in their closet, and this Sam Edelman pair is mine. These quickly become my most-worn shoes in the fall since their super sleek style goes with almost everything I own. Plus, the low heel makes them comfy enough to wear to work!"
Rothy's The Merino Ankle Boot
Our Director of Content Strategy, Jenny Hollander, is a big fan of this pair from Rothy's. "I'm obsessed with how Rothy's manages to rejig traditional styles into comfy, minimalist hero shoes—the kind you'll reach for every time you walk out the door, whether you're walking the dog or going out for a fancy dinner," she says. "For spring and summer, I love their flats, but for fall and winter, I'm a big fan of their Merino ankle boots. They're far more comfortable than a regular ankle boot, and will last you season after season."
The Best Cowboy Boots
No matter where you live, the classic Western cowboy boot is always a chic statement shoe that's bound to induce compliments and head-turns. I love wearing the style as a summer boot, but it works all year round and can be paired with skirts, dresses, leggings, and jeans.
Steve Madden Hayward White Leather Boot
Reviewers love these boots, raving that they're comfortable, soft, and true to size. Plus, they say that they match with everything and are easy to clean.
The Best Combat Boots
I love combat boots. They easily add a tough, more balanced edge to an otherwise traditionally feminine outfit. Pair them with a dress or skirt, or use them to dress down your lace and silk ensembles.
Phillip Lim Kate Lug Sole Combat Boot
Beauty Editor Samantha Holender adores these combat boots. She says, "There's truly no shoe I get more wear out of. These boots are unbelievably comfortable (I walk miles in them) and go with just about everything. I love that they look just chunky enough, but don't weigh 1,000 pounds."
The Best Over-the-Knee Boots
Over-the-knee boots and thigh-highs have quite a sultry reputation, but wearing them doesn't need to be a costume-like statement. As the weather gets cooler, I love pairing my sky-high boots with short skirts because of the warmth these boots provide. I also tend to contrast the tough leather look with pastels, cotton clothing, and other gentle details to provide a bit of balance. (If you're wondering what to wear with thigh-high boots, we have a guide for that too.)
Stuart Weitzman Keelan City Boot
These top-rated boots fit comfortably and true-to-size, according to several reviews. One raves, "Finally bought SW boots after years of hearing how much friends and family loved them. I am really happy with them—they are beautiful, comfortable, and clearly so well made."
Nearis calls this "the most amazing knee high pair of boots" for how "stylish and sexy" they are. She also points out that the brand, Larroude, was founded by former editor and creative director Marina Larroude.
The Best Winter Boots
Winter boots get a bad reputation for being clunky, garish, and purely utilitarian, but, in reality, there are countless chic options on the market that go beyond your run-of-the-mill snow boot. Winter boots now come in all colors and styles, so you can trudge through the slush while without sacrificing an ounce of glamour.