Editors handpick every product that we feature. We may earn commission from the links on this page.
The Best House Slippers From Amazon to Wear All Day Long
The homebody in me is so happy.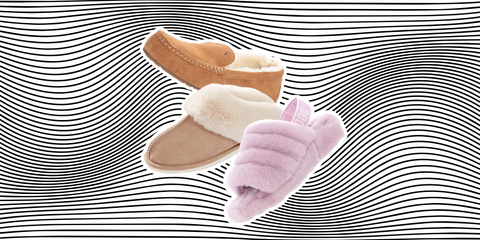 Design by Morgan McMullen
House attire is a category all its own, boasting items like plush spa-like robes, soft-to-the-touch tops, sweats, cashmere leggings (I live in mine), fuzzy socks, and slippers. The one common denominator: The item must offer you comfort and generally not be fussy to wear. So, when winter hits and we're spending more time indoors, house attire is everyone's go-to. Here, we're going to chat about house slippers, from the super furry kind to minimalist hotel-room styles. Though house slippers might conjure up images of cheesy and not-so-cute styles, the ones we've found on Amazon prove otherwise. The retailer carries a variety of styles, and we zeroed in on the ones that say fashion and function. Ahead, the best slippers for women to slip into when the temperatures drop to near freezing.
Memory Foam Slippers
Fuzzy Slippers Memory Foam House
NineCiFun
amazon.com
$24.99
This slipper has a high-density, memory foam-cushioned footbed and a knitted exterior, which comes in multiple colors. With over 4.5k ratings and counting, fans of this house slipper said it's comfortable and warm.
Thick Sole Slippers
Tasman Slipper
For a slipper you can wear indoors and outdoors, opt for one with a thick and sturdy sole. This shoe, which has a fuzzy inside, can easily be slipped on at a moment's notice.
Spa-Like Slippers
Memory Foam Slippers
A minimalist house slipper that's made of a cotton-blend texture with a waffle knit design. Once you slip into these, you'll enjoy those spa-like feels since this shoe has high-density memory foam and arch support.

Moccasin-Inspired Slippers
Women's Lezly Slipper
Koolaburra by UGG
amazon.com
$59.99
A pair of slippers you won't be embarrassed to step out in, whether you're running to get the mail or taking a trip to the grocery store. They pair well with everything, from leggings and jeans to sweats and yoga leggings. The shoes fit snug and need some breaking in, so wear around the house with socks before you go outside.
Criss-Cross Peep Toe Slippers
Cross Band Soft Plush Fleece House Indoor or Outdoor Slippers
For those who want to show off the new polish on their toes, shop this fuzzy criss-cross band slipper. Your feet will be hugged from all sides by softness, which will make taking these off for your winter boots much more difficult. Maybe you don't want to go out today.
Amazon's Best Seller Slipper
Comfy Faux Fur House Slipper
Jessica Simpson
amazon.com
$24.99
With over 11.2k ratings, this might be one of Amazon's most popular slippers. It hits all the house slipper must-have check boxes, namely: soft, comfy, cushiony, and cute.
Pedicure-Approved Slippers
Memory Foam Flip Flop Slippers With Cozy Terry Lining
ULTRAIDEAS
amazon.com
$21.99
Whether you're treating yourself to an at-home pedi treatment or heading to the salon for one, you'll need proper shoes. This pair of slippers will cushion your feet and help your favorite nail polish dry without smudges.
Slingback Slippers
Fluff Yeah Slide Slipper
The shoe is meant to be flashy and fun, perfect for those who don't take themselves too seriously. It comes in all colors of the rainbow and makes for a fashion statement on TikTok or Instagram.
Cable Knit Slippers
Soft Cable Knit Slippers
Jessica Simpson
amazon.com
$19.68
Machine Washable Slippers
Slipper Memory Foam
Donpapa
amazon.com
$22.99
House slippers can definitely become dirty even if you don't step foot outside in them. Luckily some pairs, like this one, are machine washable so you can keep them looking almost new.
Bridal Slippers
Bridal I Do & I Do Crew Giftable Slide Slipper
These "I Do" slippers are perfect for the bride's bachelorette party or for her getting-ready photos on her wedding day. She can also wear these after all the wedding celebrations are over, swapping her heels for these plush babies.
Shearling Slippers
Womens Slipper Moc
These moisture-wicking slippers will keep your feet warm without making them moist with sweat. They have memory foam cushion insoles, so you can wear them for prolonged periods of time indoors and outdoors. Though, if you're going out in them, perhaps opt for a darker color that won't show dirt and dust as quickly.
Plush Fleece Slippers
Plush Fleece Lined House Shoes
With over 17.5k ratings and 4.5 stars, this pair of slippers is a hit with fans, thanks to features such as a plush fleece lining and high density memory foam. It also comes in four different colors, making them perfect gifts for family.
Clog Slippers
Classic Terry Clog Slip on Slipper
For those who are seeking a purely functional slipper, this one, according to some customers, helps foot concerns like plantar fasciitis. The shoe has a squishy footbed, supportive sole, and is easy to slide your foot in and out of.
This content is created and maintained by a third party, and imported onto this page to help users provide their email addresses. You may be able to find more information about this and similar content at piano.io