Everlane Is Having a Secret Sale Right Now
We're talking face masks, leggings, and tees up to 60 percent off!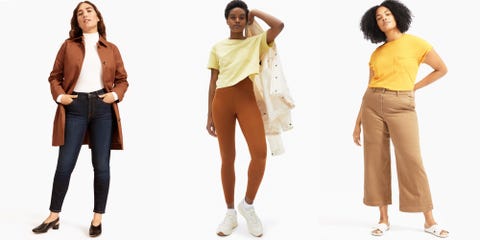 No, this is not a drill: Everlane just restocked its sale section. Thanks to the spur-of-the-moment sale, you can score cashmere sweaters, face masks, and new pairs of jeans for up to 60 percent off. Maybe it's the new year mentality—or simply the fact that we're tired of wearing sweatpants every day—but there's something about 2021 that's making us want to get dressed again. So, why not start today? Peruse through our favorite deals from Everlane's sale, below.
1
The Japanese GoWeave Slip Jumpsuit
$100 $40 (60% off)
Easing into this whole "wearing real clothes" thing again? This jumpsuit is the perfect way to start. Plus, it'll look especially chic with a turtleneck layered underneath.
2
The 100% Human Face Mask 3-Pack
$18 $9 (50% off)
You can never have too many face masks. This double-layered option will keep you safe and chic.
$98 $39 (60% off)
Decked out in a cool blush hue, these leather sneakers will look great with everything from leggings to boyfriend jeans.
4
The Authentic Stretch Mid-Rise Skinny Jeans
$68 $34 (50% off)
Admit it: It's been a minute since you've worn jeans. Fortunately, this pair from Everlane has enough stretch to keep you comfy.
5
The Luxe Cotton Shirtdress
$75 $30 (60% off)
Business on the top, party on the bottom. Why order another Zoom top when you can pick up this cute shirtdress?
$198 $99 (50% off)
Found: the perfect pair of booties. This western-inspired style will look great with tights and a miniskirt or straight-legged jeans.
$100 $70 (30% off)
If a great cashmere sweater for under $100 sounds too good to be true, allow Everlane to prove you otherwise.
$58 $43 (25% off)
Not ready to wear real clothes yet? No worries, you can score 25 percent off Everlane's popular leggings.
9
The Organic Cotton Box-Cut Pocket Tee
$18 $10 (44% off)
When in doubt, you can always stock up on some comfortable cotton tees. At $10 each, they're a complete steal!
10
The Cashmere Lantern Sweater
$120 $60 (50% off)
With blouson sleeves and ribbed detailing, this cashmere sweater strikes a balance between subtle and statement. Did I mention it's on sale for $60?
This content is created and maintained by a third party, and imported onto this page to help users provide their email addresses. You may be able to find more information about this and similar content at piano.io