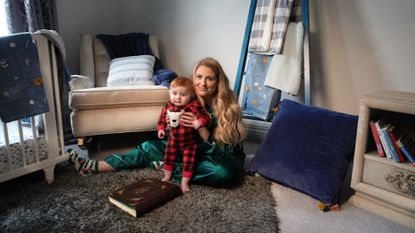 (Image credit: LILYSILK.)
Let it be known that I am a sucker for some good festive pajamas. I buy a new set for myself every year, and I continue to live in them for the remainder of the winter season. I already have plenty of flannel and plaid options in my collection, so I'm taking a cue from singer Meghan Trainor this year and opting for a silk pajama set instead.
I've already been streaming Trainor's Christmas album, A Very Trainor Christmas (Deluxe), for weeks, so it's safe to say that I'm already very much in the holiday mood. But when I saw the singer wearing a matching pair of festive silk pajamas in the brand-new music video for her single "My Kind of Present," I just knew I needed some for myself. The ones she was wearing are actually from cult-favorite brand LILYSILK.
If that name sounds familiar, it's probably because you've seen the brand's selection of luxe silk hair accessories, pillowcases, and eye masks all over the internet recently. Or, maybe you've seen LILYSILK's pieces styled by the likes of Lucy Hale, Nina Dobrev, Gwyneth Paltrow, or Melissa Rauch. But let this be your official call to check out LILYSILK's selection of sleepwear, too. The pieces are truly second-to-none and are now officially holiday-photo-approved.
Trainor's preferred pick is the 22 Momme Chic Trimmed Silk Pajamas Set. While it comes in a slew of different colors—15, to be exact!—the Grammy-winning singer opted to wear a forest green-colored version in the video. To add even more festive flair, the new mom also styled a crimson version of LILYSILK's 22 Momme Classic Mid Silk Robe while putting the final touches on her holiday decorations later on in the video. Luckily, both the pajama set and the robe are still available to shop on the brand's website. The pajamas retail for $289, while the robe is available to shop in seven different colorways and retails for $260.
Unfortunately, the button-down top and matching bottoms that she wore in the video aren't sold individually, but the entire set is still in stock! Even better, there are tons of other similar options to shop on the site right now, too. Paltrow, for instance, recently posted on her Instagram stories wearing a silk pajama set from the brand that's still available. There are also single pieces that you can buy right now, including an array of oversized nightshirts and camisoles that will instantly make you feel like the main character in a romantic comedy.
LILYSILK also sells a selection of sexier chemises and nightgowns, so feel free to choose a few options to match your every mood. Or, if you don't want to go for something silk, why not give LILYSILK's line of cashmere pieces a try? You'd be in good company—they're adored by supermodel Elsa Hosk, who recently posted to Instagram wearing a coffee-colored matching set.
Or, If you're shopping for the men in your life, they too can don a pair of silk pajama pants this winter. LILYSILK has a full range of menswear on the site, from silky boxers to a selection of timeless cashmere sweaters. So, if you're still stumped about what to pick up for the special people on your list, be it your mom, your younger sister, or your partner, consider your search completed. Or, simply pick up a new set for yourself in the name of self-care. Keep scrolling to check out a few of my personal favorite pieces from the site to get into the holiday spirit a little early
LILYSILK 22 Momme Chic Trimmed Silk Pajamas Set
These are the very pajamas that got me hooked on silk sleepwear this year. From the bright color to the delicate, classic details, this set is worth the splurge.
LILYSILK 22 Momme Classic Mid Silk Robe
This is the robe that Trainor wore in the music video, so go ahead and treat yourself to something new and celebrity-approved this holiday season.
LILYSILK 22MM Gold Piping Silk Pajamas Set
Shop Gwyneth Paltrow's preferred pair of pajamas to add some flare to your usual collection this year. The gold piped detailing makes this otherwise simple set feel extra special.
LILYSILK 22 Momme Classic Silk Nightshirt
This pale pink night shirt has such an easy, relaxed oversized fit to it, you may never want to take it off in the morning.
LILYSILK Ideal Silk Sleep Eye Mask
If you don't want to go all-in on a matching set, try this luxe teal eye mask instead. It's perfect to pack on long-haul flights or just on nights when you want to feel a little more glamorous.
LILYSILK 22 Momme Elegant Short Silk Pajamas Set with Trimming
This sweet matching pajama set includes a dainty pair of shorts, so it's great if you're just getting into wearing a coordinating look to bed.