7 Accidental Style Icons
The internet is a weird place, man.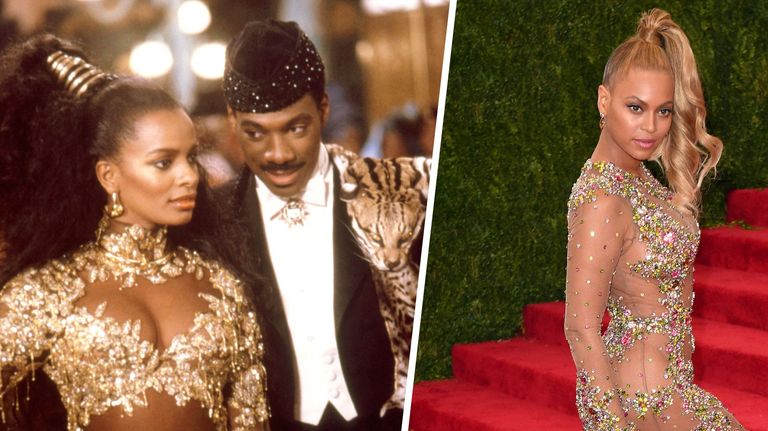 (Image credit: Everett Collection, Getty)
Both fashion and the Web love a good reference, though one's much more partial to cartoons and toys than "Bruno Mathsson and his summer homes Sodrakull and Frosakull." Below, we highlight seven of the cleverest and most spot-on comparisons.
1. Imani Izzi from Coming to America
Next step: For Bey herself to annoint VBC her actual muse. Riccardo Tisci will do too.
2. All the characters in Mario Party
7 EPIC photos that prove Rihanna gets all her fashion inspo from "Mario Party" http://t.co/M3hOn1P15z pic.twitter.com/voVYK6jZawMay 6, 2015
See more
Okay, I really wish I'd thought of this. (See further evidence here.)
3. Spongebob and Patrick
"@Nemaly_: evolution; sponge bob and patrick star 😛😛@rihanna pic.twitter.com/htrMwpPySY" a Zanny Zid & SpongeBob in dresses!! Silly but cool!May 5, 2015
See more
Tacked to Rihanna's moodboard: a pineapple under the sea, the secret recipe for Krabby Patties, because she would be the one to have it.
4. Syndrome from The Incredibles
#MetGala #SarahJessicaParker looks like #Syndrome from The Incredibles pic.twitter.com/Ac2W7BV70SMay 4, 2015
See more
Edna Mode would *not* approve of that cape.
5. Felicity the American Girl Doll
She was the colonial one, remember?
6. Albert Einstein
Albert Einstein got a lot of girls back in the day, and furry Simon Rocha-like slippers was apparently how he did it.
Never gets old.
You should also check out:
10 Times Kris Jenner Stole Her Kids' Clothes
From Marilyn Monroe to Elizabeth Taylor, An Old Hollywood Guide to Dressing Down
The New Dandy: 16 Tomboy Style Icons That Inspire Us