I Tested Those Jeans with Built-In Body Lotion to See If They'd Make My Legs Smoother
Here, my report.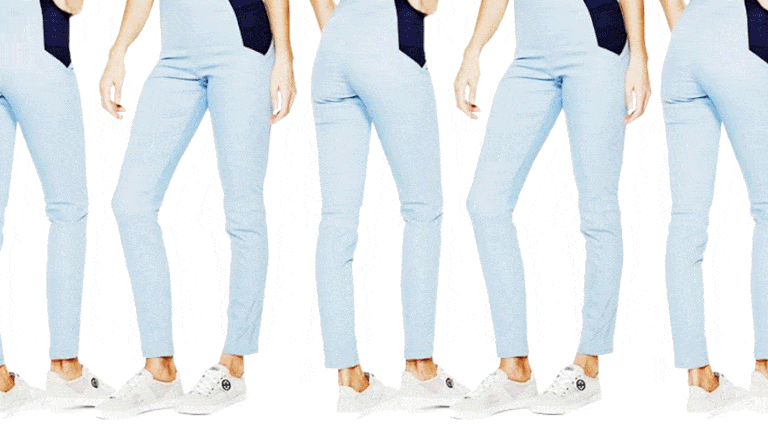 (Image credit: Guess; design by Katja Cho)
The last thing you want to feel while riding the New York City subway is a sensation of any sort. Cold, warm, wet, tingly—they all spell disaster. So imagine my horror one morning last week when I felt a distinct chilliness on my derriere a few minutes after I sat down on a Manhattan-bound D train. Had they guy next to me spilled his coffee? Was the AC unit dripping water down my backside? Or was it something much, much worse?
A chill ran up my spine as I thought through the possibilities. And then it hit me: The jeans!
Earlier that morning, with the goal of beautifying my bottom half before summer, I had slipped on a pair of Guess's JeanCare denim leggings with "Slimtex" technology. The fabric has a silicone rinse with tiny micro-bubbles of moisturizing ingredients that burst when they rub against skin, releasing gingko extract, sea kelp, and vitamin E. The sensation I was feeling? It must be hydration! And perhaps an added tingle from the gingko, which has a circulation-boosting effect. The Slimtex technology would also explain the chill up my spine, as I had paired the leggings with a matching crop top made of the same fabric.
If I were to subscribe to the highly unscientific "If I feel it, it must be working" line of thinking, then the JeanCare was definitely getting the job done.
Another job the outfit was doing really well: early-aughts revival. The stretchy fabric's pale blue hue brought to mind Britney and Justin twinning at the 2001 American Music Awards, and both pieces were accented with navy blue elastic panels for a touch of Sporty Spice panache. I kind of loved the whole body-hugging ensemble, but it wasn't exactly work-appropriate, so I had topped it with an oversized black Won Hundred shirt to keep my curves under wraps at the office.
Throughout the day, I got lots of compliments on the look. But my coworkers were less enthusiastic about my new habit of wiggling into my seat every time I sat down. I figured squirming around would pop more of the micro-bubbles and deliver the skin-smoothing goodness where it needed to go, but my cubicle-mate said it looked like I had an itch in a spot I couldn't scratch. Noted.
When I got home at the end of the day, I was excited to assess the results. I slipped out of the jeans, pulled off the top, and examined my body in a full-length mirror. As a beauty editor, I've tested dozens of lotions that promise smoother skin and less cellulite, and none of them have made much of a difference, so I didn't really think 12 hours in a pair of silicone-coated pants would do much either. As expected, the cute little dimples on the sides of my thighs were still there, smiling up at me. But I will say that the skin on my legs and back definitely looked less ashy than it usually does this time of year.
And since Guess reports that the Slimtex technology will last through multiple washings, I can keep wearing my JeanCare get-up for the next few weeks until it's warm enough for cut-offs and short skirts. By then, if my skin looks half as smooth and silky as Britney's did back in 2001, I will be a happy woman.
Follow Marie Claire on Facebook for the latest celeb news, beauty tips, fascinating reads, livestream video, and more.
Celebrity news, beauty, fashion advice, and fascinating features, delivered straight to your inbox!
Jennifer Goldstein is the former beauty & health director of Marie Claire and co-host of the award-winning beauty podcast Fat Mascara. In her quest to uncover the world's beauty secrets, she's gotten tattooed in New Zealand, dug up turmeric in India, harvested shea nuts in Ghana, and squeezed enzyme-rich eggs from salmon in Norway. She can pluck eyebrows like a pro and has read the FDA monograph on sunscreen labeling and effectiveness—but she still can't get liquid eyeliner to look the same on both eyes.