How Ashton Michael Can Transform You into a Pop Star with a Single Outfit
And change your mind about the color pink.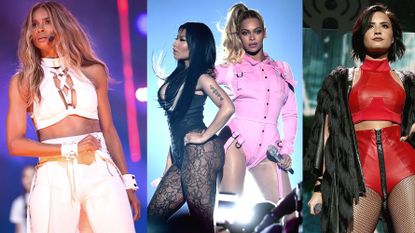 (Image credit: Getty Images)
Beyoncé, Jennifer Lopez, Nicki Minaj, Gwen Stefani, Ellie Goulding, Halsey, Demi Lovato... Designer Ashton Michael's clientele list reads like a who's who of pop music, so how is it that he has yet to become a household name? Perhaps it's because he's running such a tiny-yet-mighty operation out of Hollywood—keeping a low profile, but churning out custom designs for music's biggest stars...and their backup dancers, too.
From designing Beyoncé's controversial tribute-to-the-Black-Panthers look for the Super Bowl to the unisex Spring 2016 streetwear collection that's been sartorial catnip for pop stars since it hit the runway, it's been a breakout year for Michael. Here, we chat with the designer about his biggest on-stage moments, how he found his niche, what it's really like to work with Queen Bey, the power of pink, and what's next.
MC: Your designs made quite the splash at Coachella on Ellie Goulding and Halsey. How did those come together?
AM: The first weekend was Ellie Goulding and we basically took a silhouette collection that we already had and did it in a color palette that we didn't offer. She wore this white, kind of drop-tail mock turtleneck with what we call harness shorts. They're kind of parachute inspired and militant feeling. Peaceful bondage, I guess. I've worked with Ellie's camp before so she came to me just a couple days before the event. We actually had to make everything in a day and a half. We were in L.A. on Thursday and we drove up Friday when the performance was. So for her, it was sort of last minute. They're like "Oh, fuck we have this performance and we have nothing." And for Halsey, I've worked with her as well before on her other tour that just ended. And, this was another "Hey, we really need you" situation. Everything in this industry is last minute. So we're kind of the go-to for anyone who knows that we can make shit fast and make it cool.
MC: Did you find there was a whole in that market?
AM: Yeah, I mean that's why I've kind of kept myself in that market and made it a little bit more specialty. People say it's costuming, but I really steer clear of that word because costuming to me is something that you don't wear on a daily basis. Everything we make for stage easily translates into ready to wear, walking down the street, and not looking ridiculous. We're fast and we're quick, but we're still fashion based.
MC: Speaking of quick turnaround times, could you tell us about the look you created for Beyoncé at the Super Bowl?
AM: Yeah, I mean that one's a little bit of a tricky story. Speaking of last minute, we got hit up to make her something and make it very fast. We had to draw the same day and make it in a day and a half and then do the fitting and whatnot. But, what was supposed to happen with that is that there was a totally different top, but we ended up having to split it with Dsquared2.
It was still an iconic image for us because we're kind of notorious for using those big zippers and the slutty hoochie shorts and so people already knew it based on the following we have and the detailing that carried out through it.
MC: You also dressed Beyoncé, Nicki Minaj, and their dancers at the Tidal show last fall for their first-ever performance of "Feeling Myself." That was obviously a big moment for you. And talk about killer curves to dress...
AM: I mean, definitely, they both are very, very curvy as everyone knows. I used to work with Nicki for years and years so I knew her body at that point, but truthfully I didn't even get a fitting with her in L.A. We had to overnight it to them and then they did the fitting in New York like a day before she actually went on. She didn't want to wear it! And then the next day she changed her mind again. Which is another prime example of how you never know—someone can change their mind last minute.
It was really awesome because we had just shown the pink collection and we had never done pink. We had never had that image for the brand, so when I was talking to Beyoncé about it, she said, "You know what, I don't like pink typically." And I was like, "Psht, you're preaching to the choir!" And we kind of had this bonding moment of like, "You made pink cool." It was something cool that we could understand each other on. Pink doesn't have to be girly or prima donna. It can be tough. It can be really, really hard. With pink I went against the grain and pushed myself with no intention of it being for her. For someone who totally doesn't wear pink or hasn't worn pink to have seen it and thought it was cool? That to me was confirmation.
MC: Her pink look was SHOW-STOPPING. Like, two-syllable damn worthy.
AM: It's all denim! Non-stretch denim so the fit was so specific and making that, that was my biggest fear—to try to get that pink fabric replicated to stretch. Her body is incredible, super curvy, and ridiculously well proportioned. I don't think people really understand! She has a very small waist, big chest, and you know, a big bottom. So it wasn't that much of a challenge [to make her look good], it was really the difference in fabric.
MC: Amidst all the Lemonade hype, we'd be remiss if we didn't ask what it's like to work with Beyoncé.
AM: Truthfully, working with her was a surprise because I appreciate people and artistry in general. Like, I don't care if someone has 80,000 million followers or if they have four. I like cool people and I like talented people. Before working with her, I always liked her music, but I was never like, "Oh my God! Look at Beyoncé!" I was just never that person. But after meeting her and working with her, I became more of a fan of her as a person. Her professionalism, the way she conducted herself throughout the fittings and measurements, and her remembering my assistant's name and shaking their hands... For me, that was the stellar part. Like, this woman is a seasoned professional and I don't know, it made us work harder because the respect level was there and it wasn't just a client. It became like, "Cool, a team player—let's make this dope."
MC: And having gotten to know her personally, would you say Beyoncé IRL and her stage persona are one in the same?
AM: I do. I feel like she is one of the most publicly viewed people on the planet and that's gotta feel really restricting for your artistry because she could, you know, go to Red Lobster and all the sudden Red Lobster sales quadruple overnight. My interaction with her was so human. Thought, she has such a powerful presence and I like that she can switch that on and create a message that's loud enough for everyone to hear via her visual albums or her tours or her videos.
MC: Are there any future collaborations with Bey that you can hint at?
AM: Um, I mean, we never know! Again, we were on the docket for the tour and then you know, we're still sort of in the mix. I mean everything changes so fast and it's really about who can get it done in a timely manner and the fastest turn around.
MC: Is it often that you find out day-of if someone's going to wear one of your designs?
AM: Oh yeah. I mean, we'll find out things ridiculously late and even when we work on major tours, they're like "we just changed this whole section and it's cut." So, we live in a very spur-of-the-moment kind of industry, at least for my company. We just did the entire Dixie Chicks tour looks start-to-end and they're only wearing our clothes. And then there's other times where we'll split it. We never know. It'll be like, "Hey, can you jump on a plane tomorrow and bring the whole collection because we need this done?" Like, when we did Beyonce for the Tidal performance in the pink look from the collection, we initially just started doing Beyonce and her dancers and then three days before the performance, they were like actually we need you to do Nicki and all her dancers. Uh.....what? And so, you know, people don't give us much notice. But we end up turning it out no matter that.
MC: How big is your team?
AM: I have one full time employee and she's been with me for years. And I have one part time and three interns.
LV: So you guys are a very well-oiled machine?
AM: Yeah! I mean primarily I keep my team really small, 1. To cut down overhead and 2. Because I know how fast we can actually work. I'm not the designer who illustrates and pawns it off. Like, I can sew faster than anyone on this planet and I'm aware of that. So, when it comes down to taking jobs, I don't take jobs that I know that I physically couldn't do by myself. Having extra help is absolutely necessary to get them done on time, but we don't have a factory. We have a showroom in Hollywood, an 800-square-foot space that's half showroom, half workspace and we kill it. We're this mom-and-pop-size shop, but we do large-scale jobs and people don't understand that we're that fast and that good and that effective.
MC: So how did you get your start in this business?
AM: I started when I was 19 and still in school. I was bored, to be honest, and I thought this is fucking stupid, I'm just doing homework. I didn't feel like I was being pushed enough. I remember just like talking to my teachers and being like "Hey, I want to start my company." And them just being kind of flabbergasted and confused. So by the end of my second quarter, I had my first BBA and I was a business partner with another student in my college and we started selling to Patricia Fields and stores in Japan and London. We just started at a really young age and I think at that time it was pre-social media, pre-you-can-become-famous-overnight by someone mentioning you. It was work and that hard work kind of developed into my lifestyle of pushing, pushing, pushing. And we've had a lot of great support along the way —from some model agencies, management, and talent especially— who really thought these young kids, 19-years old and 20-years old with no financial backers, are just kind of going balls out. From there I had built my foundation of core support.
MC: And what do you see for the future of your company?
AM: Ideally, what we want to do is have three sub-sectors of this company: custom, ready-to-wear, and basics. Custom gets me working harder every single day, but I like basics because I feel like I dress in basics everyday. Season by season, I kind of just want to create more of a staple, but still edgy.
MC: Your designs have become synonymous with music, what's your personal relationship to it?
AM: I love music. I love every genre of music. Growing up, my brother was like hip-hop, hip-hop, hip-hop. And my sister was like punk rock, punk rock, punk rock. My mom was country and my dad was from an island, so I grew up with all kinds of music around me. That's really influenced me and my artistry because I am inspired by music and when I make things, I imagine who would wear it.
I'd always been surrounded by the music world. Even when we first started my first company, we were selling to stores, but it always reverted back to like, "Britney Spears saw this skirt at a shop in Echo Park, can you make something for her?" So even though it may start from the fashion world, it always ends up coming back around to doing collaborations inspired for the client. We rarely work with actors. Actors are less inspiriting to me because they're almost told what to do and have to find themselves through a character, but musicians express themselves from the beginning, individually.
MC: Being that it's been quite a year already for losses in music, what stars, dead or alive, would you love to dress?
AM: I mean, I was fortunate enough to dress Prince! He wore my stuff for editorial. It was for Essence magazine and it was just last year or the year before, so it was very recent. I could never have imagined dressing Prince. It was sort of like a unicorn. He was obviously, and will always be, such an iconic individual within the art and music scene, so that was fucking amazing. And, other than him, because that's who I would say, if I were to dress someone else artistically it would actually be David Bowie. The thing is, I have such an amazing, humbling client list that for me, it's not who's next, but who finds me. It's not just about someone who's already huge and established, I want to inspire everyone.
Follow Marie Claire on Facebook for the latest celeb news, beauty tips, fascinating reads, livestream video, and more.
Celebrity news, beauty, fashion advice, and fascinating features, delivered straight to your inbox!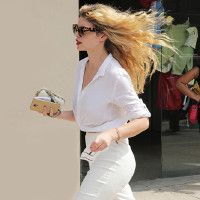 Lauren is the former beauty editor at Marie Claire. She love to while away the hours at coffee shops, hunt for vintage clothes, and bask in the rough-and-tumble beauty of NYC. She firmly believes that solitude can be a luxury if you've got the right soundtrack—that being the Rolling Stones, of course.