10 Questions with Judith Milgrom, the Designer Behind Maje
Get to know the Moroccan-born, Paris-based designer taking the bohemian-chic ready-to-wear label global.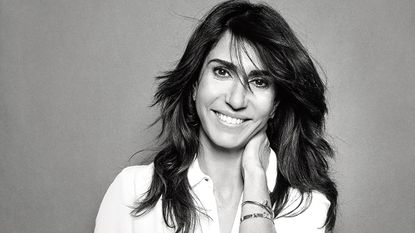 (Image credit: Courtesy of the Designer)
1. Where did you grow up? Rabat, near the ocean in the northwest of Morocco. Life was simple: I remember the smells, the light, the food. I was 10 when we moved to France, and it was like an emotional tsunami. I'm still very connected to the country.
2. What was the first thing you ever made? I started making dresses for my dolls from my grandmother's scrap fabrics at an early age. In school, I put a lot of effort into my outfits. I would often steal my grandfather's shirts to customize them!
3. Why fashion? My mother and grandmother made every- thing themselves, from bread to curtains to clothes. My father was always impeccably dressed, without fail, in a suit and tie. Fashion is a family affair—first my father, then my sister, Evelyne, who founded Sandro.
4. Are you competitive with your sister? In a safe and healthy way. We share the same passion, even though our brands each have their own DNA. Because my parents left Morocco to start from scratch in France, we learned to always work hard and support each other. She's my best friend—we talk on the phone several times a day.
5. What does "Maje" stand for? "M" is for Moyal, my maiden name; "A" is for Alain, one of my brothers; "J" nods to my first name; and "E" stands for my sister Evelyne.
6. Where do you look for ideas? The street. I love watching how women dress and walk. I also love vintage. I have old Yves Saint Laurent shirts, Azzedine Alaïa dresses from his first collections, an early '90s Chanel tweed jacket. Fashion, like history, repeats itself, so it's fun to pick up influences here and there, and twist them in a modern way.
7. What was your inspiration for Spring? I imagined a journey through Africa, from Maghreb to the Sahara to Tanzania. I wanted lots of colors for a feminine, bohemian (yet clearly urban) wardrobe.
8. What should every woman have in her closet? This winter, I would say a comfortable knit top, a long under-the- knee skirt, and a military coat.
9. Your passions outside of design? Cooking and hosting dinner parties at home. I love inviting guests who've never met and seeing them laugh and get to know each other.
10. You travel a lot. Any packing tips? I travel light with just the essentials: jeans, men's shirts, sweaters, and at least one dress, maybe a lace one suitable for cocktails. If you don't bring too much, you have an excuse to shop!
This article appears in the January issue of Marie Claire, on newsstands now.