This Year, Valentine's Day Is Cheap and Forgettable
Last year, I spent my Valentine's Day getting groped by Ron Jeremy.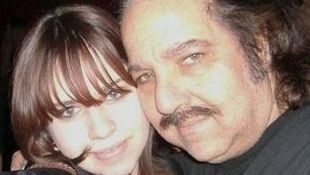 (Image credit: Archives)
Last year, I spent my Valentine's Day interviewing and getting groped by Ron Jeremy. Suffice it to say, I've never really had a romantic, stuff-made-of-movies-starring-Colin-Firth V-Day. In years previous, the holiday has mostly been a disappointing one, filled with lame/MIA cards, missed dinner reservations, uncomfortable lingerie, and gifts that "must, uh, be held up at the post office or something."
Looks like I'm not the only one that can count on a letdown on February 14th--or rather February 14th, give or take a few days--Yahoo! did some digging and found that men don't even know when Valentine's Day is. They've been typing "when is valentine's day" into the search engine by the masses. The ladies aren't off the hook either--over a quarter of those searches are coming from women (did we forget or are we just repressing memories of Valentine's Days past?)
And if he does remember the day? Expect a gift from the dollar store! Turns out, romance is not exactly recession friendly, searches for "cheap lingerie" are up 370% in the past week, and there's been a whopping 788% increase in searches for "free valentines day cards." Time to practice your fake enthusiasm for that free e-card and 3-pack of Hanes!
Our smaller budgets are getting us to think more creatively though--searches for homemade gifts are off the charts, with queries for "how to draw a rose" and "drawing a rose" populating Yahoo!'s search engine. Really, guys? I'm all for cute DIY macaroni necklaces and what-not, but doodles are an acceptable substitute for a bouquet of flowers only if you are currently a professional artist or starring in a romantic comedy. Let's get with the program before you go into your browser history and find that your girlfriend's been searching for "how to break up with my boyfriend" and "cheap ways to change my locks."
Celebrity news, beauty, fashion advice, and fascinating features, delivered straight to your inbox!