Zac Posen's Fall Show
Zac Posen Fall 2009 Runway Show - Zac Posen Fall Fashion Line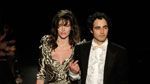 (Image credit: Archives)
Zac Posen's show is always a tough ticket during Fashion Week, made all the more so by the number of crashers that attempt to infiltrate the invite-only soiree. Thursday night, however, his security was the tightest I'd ever experienced. The guards outside Bryant Park allowed for just one narrow entrance and if you didn't have your actual invitation (which many an editor did not), then you were left standing on the sidelines trying to flag someone down from the PR team. Once inside the lobby, actual photo ID was required at the check-in table. Fortunately for me, one of the clipboard girls recognized me and waved me through.
Once inside, I immediately noticed how wide the runway was...that would be because The 5 Browns, a prodigy piano-playing sibling quintet, were due to perform during the show and their Steinways were occupying much of the runway. As for the clothes? Well they clearly are not meant for recession dressing. Sumptuous and refined look after sumptuous and refined look floated out from backstage, reminiscent of Rococo times, and nary a model even shook in her custom-made Manolo Blahniks. The coats were made for royalty.
A bevy of Zac fans made up the celebrity quotient at the show, including Alicia Keys, Claire Danes, a newly-engaged Rachel Bilson, and Sandra Bernhardt. Liza Minnelli, who apparently RSVP'd yes, never showed. And while Paz de la Huerta closed the show with Zac arm-in-arm, engaging in a kiss for the photographers (one of the pianists stepped on her train at the close of the show), Coco Rocha stole the show. When she sauntered down the runway (perhaps due to the increased visibility she's received as an E! Entertainment host this Fashion Week), one of the photographers yelled from the pit, "Now that's a woman!" Coco clearly could not contain her amusement, as she turned and walked toward backstage with the biggest grin plastered on her face. Naturally, the entire audience followed suit, bursting out laughing.
Jim Shi was born in Brussels, Belgium, and grew up in Paris before moving to New York City. For the past four-and-a-half years, Shi was fashion news editor of IMG's fashion and media industry publication The Daily, and editor of its sister Website, Fashion Week Daily. He has covered Fashion Weeks in New York, Milan, and Paris.
PHOTOS BY PATRICK MCMULLAN
Celebrity news, beauty, fashion advice, and fascinating features, delivered straight to your inbox!