7 Hot SATC 2 Trends to Watch
We reveal what you'll be talking about and lining up to buy after seeing the sequel.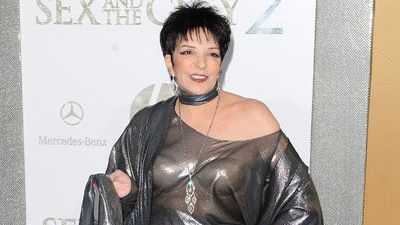 (Image credit: Stephen Lovekin/Getty Images)
Sure, there are the obvious pieces we're guessing Forever 21 is scrambling to quickly replicate — the diamond-studded four-leaf clover necklace, the glittering gold Louboutins that made the girl sitting behind us gasp with delight, the $47,000 silver lamé Chanel dress worn to, er, karaoke in. But if sequined harem pants, urban turbans, and a seriously questionable black lace crown just aren't your bag, in honor of opening day, we have a feeling these slightly more obtainable, unexpected Carrie & Co.-endorsed items will be flying off store shelves all Oprah's-Favorite-Things style for Sex and the City fanatics:
1. Liza Minnelli's Cover of "Single Ladies"
Was it as good as Kurt's cover on Glee? Not so much, but it was high on camp and we're guessing there may just be a built-in audience on iTunes for the original pants-less icon covering another ferocious diva.
2. Black Diamonds
Carmen Electra is cutting herself somewhere. When the thrice-engaged striptease poster girl received an onyx-colored stone two years ago from her fiancé, Korn guitarist Rob Patterson, snarky blogs tattled that the gem came cheap (under $2,000 online — oh, the horror!). But after popping up in a pivotal scene in SATC 2, the inky rock — despite its rumored less-than-canary price tag — could be the new "It" hardware.
3. Horned Ballet Flats
The simple solution to hammertoes this summer? Add a rhinoceros horn to your feet — it draws the eye up!
4. Suzanne Somers's Breakthrough: Eight Steps to Wellness
Samantha touts the Thighmaster guru's team of holistic health experts as her secret weapon in the battle against hot flashes and the reason she's aging backwards with a recommended arsenal of all-natural creams, potions, lotions, and pills kept in a snazzy carrying case that's the envy of the assisted-living set. With such passionate onscreen testimony, consider this New Age antiaging manual your mother's next book club selection — complete with a DIY yam face-mask station and hummus appetizers.
5. Opera Glasses
Get ready to hot glue your Raybans to chopsticks because Carrie whipped out not one, but two (!) different pairs of opera glasses while sightseeing in Abu Dhabi. Was there a separate carry-on just for sunglasses?
6. Kohl Eyeliner
Carrie goes gaga for a local brand at the Middle Eastern market and gets smudgy with it for a dinner date not soon to be forgotten in SATC lore.
7. Braless Irish Nannies
Average New York City nanny salary: $90,000. The chance for frustrated mommies to lock themselves in the pantry for a good cry? According to Charlotte, priceless.
Celebrity news, beauty, fashion advice, and fascinating features, delivered straight to your inbox!