Why We Heart the New Gap 1969 Jeans
Millions have been served since last year's Gap 1969 denim launch, and now Patrick Robinson and the gang have announced new styles for fall.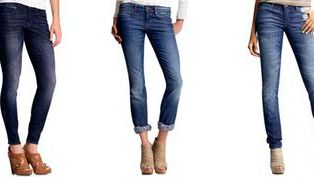 (Image credit: Gap)
It was just about this time last year when Gap made a brilliant call: Unveil a collection of designer jeans with all the bells and whistles that cost under $100 — actually, under $70, to be specific. While we'd like to think we're slightly less caught in the grip of the recession's cruel, cruel gnarled claws (gulp), a good deal never goes out of style, especially when it fits so well.
Indeed, millions have been served since last year's Gap 1969 denim launch, and now EVP of Global Design Patrick Robinson (opens in new tab) and the gang have announced a new style for fall: "The Legging." Known in some circles as a jegging, it's been worn by famously stylish girls like Alexa Chung and Nicole Richie and it's now unstoppable, not to mention looks great with a billowy oversized boho blouse. What else is new? Besides a cool new website (opens in new tab) that streams content from elite bloggers like The Sartorialist, they're rolling out new washes, zipper and hardware embellishments, and adorable details like cuffs with bird graphics that make for maybe the cutest jeans ever. We'll take, oh, three please.
Erin Flaherty is a beauty journalist and consultant who has contributed to numerous publications including the Wall Street Journal and Domino, among many others. She is a board member of the Women's Global Empowerment Fund and especially passionate about worldwide beauty anthropology and women's issues. She lives in Woodstock, NY with her husband and dog.