Sea of Shoes' Jane Aldridge on Book Deals and Beetle Jewelry
We chat with one of today's top personal style bloggers about her brand-new fashion handbook.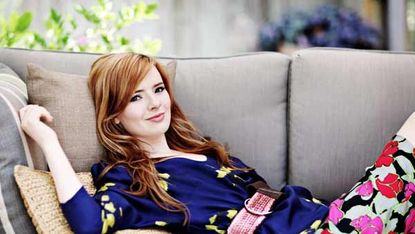 (Image credit: Shannon Sewell)
It's no secret that the personal style blog has almost single-handedly revolutionized the fashion industry as we know it — and anyone in search of proof needn't look further than Texan super-blogger Jane Aldridge. Having launched her site Sea of Shoes back in 2007 as little more than a hobby that spotlighted her favorite footwear, Jane is now a bona fide style insider. In between creating a shoe collection with Urban Outfitters, designing a one-off trench for industry-beloved label Gryphon, and sporting Chanel Haute Couture to the Crillon Ball in Paris, Jane's now taken her talents to the publishing world with a fashion manual entitled Style Yourself($16.30, amazon.com). In addition to penning the book's foreword, Jane joined forces with fellow bloggers like Tavi Gevinson, Susie Lau, and Kelly Framel to offer styling tips, inspirational advice, and sweet anecdotes. Last week, we called up the Lone Star State's chicest teen to chat about her new tome, future plans, and — what else? — shoes.
First and foremost, congrats on Style Yourself! It's a really fun read. How did this project come about?
The publishers actually approached me last year, explained the idea to me, and it just sounded amazing. We've been working closely ever since then — it's been a long time in the making, and I'm so excited to finally see the finished product! I wrote the foreword, and basically tried to speak to what the heart of the book is about, which is being able to really hone your style — to evolve it and to be able to interact with other people who love fashion, too. It was a really natural process.
It's great to see so many influential bloggers working together like this. Whose blogs are currently on your own must-read list?
Well, I've always loved Karla's blog Karla's Closet, and Kelly's The Glamourai, and Tavi's Style Rookie and Susie's Style Bubble…but they're the old-timers! There's also this new crop of blogs now with really amazing photography. I love Keiko Lynn's makeup tutorials...and Tommy Ton's approach to street-style photography is amazing. He's not so much into the technicality of his shots — he's more into being in the moment, not getting hung up on camera settings or anything. I was more excited to meet him in person than any other blogger! I love his eye for composition — so many people try to emulate it, but they just aren't on his level. And he was completely untrained as a photographer! I've met the Cherry Blossom Girl [Alix Bancourt] and have always been so crazy about her photography, too. You can recognize the Cherry Blossom Girl perspective from a mile away. She photographs a lot of her outfit posts herself, using a remote — which I know from experience is so difficult to do. So I really admire her for that.
Why do you think your readers — and anyone interested in style, really — should buy this book?
I think it's a great reference to have whenever you're looking at your closet, thinking, "I have all these great clothes, but nothing to wear!" I think it's great to have something to reference when you're stumped for ideas. You can find a look that you like, and then fill it in with what you've already got in your wardrobe. The book's great because it gives you perspective on what you actually already have.
Each of the bloggers featured has picked a look that really represents their taste — and yours is called "Florentine Finery." It emphasizes special, unique accessories in particular. What made you settle on this look?
I've always been obsessed with jewelry — and I get that from my mom. She has this encyclopedic knowledge of all these really amazing seventies jewelry designers. I love how weird some of those pieces are, and how they're so completely different from the jewelry that's out there now. I feel like much of the jewelry being made today is really cheap and trinket-y, with not a lot of heft. I like things that are really heavy, really ornate and over-the-top. I love them simply as objects, and appreciate their history.
What's on your own shopping list this season? Have you scored any amazing finds recently?
Right now I'm trying to buy some seventies-era tube tops, actually, because it's already 100 degrees here in Texas! And I just got this crazy lion necklace. It looks like a "lion banana." I don't think I've ever owned a piece of jewelry as weird as this — it's totally deformed and strange, but just captures what I love about fashion and that period of design. It's obviously a seventies piece!
Have you been following the resort collections at all? Have any stood out to you in particular?
I loved Balenciaga resort — the futuristic direction he was going in, and the shapes he used. But I honestly don't follow current fashion that much! So much of it, I think, is starting to look all the same. Miu Miu's always doing something really different, though — they get so out-of-control with their shoes, and I really love that. It seems like we've been making a return back to shoes that are just basic brown pumps, which is great — we all definitely need those — but I mean, you have to have fun, too!
Since Style Yourself is all about discovering your individual look, tell us — what's one styling trick you love?
I think one thing you'll always be able to use is knowing how to tie a scarf a lot of different ways. In the seventies, clothes were bought in sets — like as complete suits — and they came with scarves you could wear in five different ways. I love that old-school approach, where everything is multifunctional and matchy-matchy. My grandmother actually gave me a really beautiful parakeet scarf when I was eleven, as a birthday gift, and I still wear it today.
You've teamed up with Urban Outfitters on a shoe collection in the past, and worked with Gryphon on a special-edition trench coat. What's next for you, design-wise?
My mom and I are working on our jewelry line with my aunt right now. The pieces are actually casts of beetles! My aunt does the design — she has a background in entomology — and my mom and I are helping. It's an extremely homegrown project. There are a few other additional projects I'm doing, too — but they're not fashion-related at all, which I'm actually really excited about.