Erin Wasson Lends Her Style to Rockport
The supermodel shares her style secrets, the importance of comfort, and what it was like to reunite with Alexander Wang.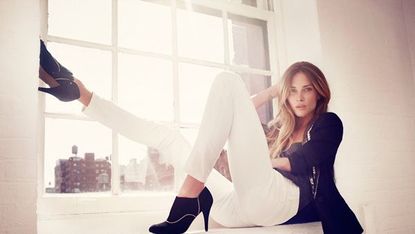 (Image credit: Archives)
Erin Wasson is a true individual. And for someone who finds gainful employment in an industry in which models often serve as hangers (albeit very attractive hangers) for designer wares, that's saying something.
She has the same, unwavering style she's been rocking for more than a decade, she refuses to buy into trends ("Apparently, it's stripes this season? Really? When did stripes ever go away?!"), and she won't even admit to gleaning much inspiration from her frequent collaborator Alexander Wang. So, when the girl from Texas with steadfast all-American roots puts her name on something, you know she means it.
In this case, it's her feet, and she's putting them into the chic-yet-comfy shoes of Rockport's new fall collection.
I talked to Marie Claire-beloved model on the secrets behind her gritty, rock 'n' roll style, what it was like to reunite with Alexander Wang last week, and the bizarre inspirations behind her Low Luv jewelry line.
So, tell me about Rockport. What made you decide to work with that brand?
When Rockport approached me, first I raised an eyebrow… I just saw them as mostly masculine for the guy who works. And when I took the meeting and went up to the showroom, I was like, "Wow." I didn't really know that they had all these designs and the sport technology by Adidas and everything. So for me to be working with such an American-routed brand and with this really amazing mantra where it's really about not compromising style and comfort, which, to most women seems bewildering. But it's possible. I mean, these shoes are the Lolas, and it's like walking around in your sneakers, all day. I put the strap on — you have to add your own flare and give them a personality.
Your aesthetic does look comfortable.
I think anybody that knows me knows that. I'm a really unfussy kind of girl. When you're comfortable, you're more confident — I really believe that. If you're walking around in a dress or a pair of shoes that are uncomfortable, it reads all over you.
Speaking of walking… You had served as Alexander Wang's muse-turned stylist for years, but we were really excited to see you on the runway at his New York Fashion Week show this month. What was it like?
Surreal. You know what's crazy is that it wasn't until I was backstage that I said to myself, "I've never walked this runway." I wanted to start styling girls, and I was like, "Wait, no, I'm in the show, this is so weird." It was an awesome moment to go back and for things to come full circle and just to see how far Alex has come. The show was incredible.
Do you two still get inspiration from one another?
I think we were the perfect combination because what I brought to the table was already me… It complemented how he saw styling fashion, but I don't think that Alex wore off on me. I think that this is who I am, and I think that we were just a match made in heaven because we were very like-minded in the way that we first saw girls walking around the streets of New York and how they looked and how those clothes made them feel.
If a girl saw you on the streets of New York, how could she emulate your look?
It's really hard right now because there's this whole "model off-duty" uniform where it's like jeans and a leather jacket or boots. My biggest fear is I don't want every girl out there looking the same, either. If you love dresses, wear dresses. My perspective is hard because I look at wardrobe from very much a guy's perspective. You look at my closet and I have pairs of black jeans and five button-downs, but one's silk, one's cotton. They all are slightly different, so that's my perspective. But I go into some girls' closets and they have these beautiful embroidered dresses and skirts and all these lovely feminine things, and I'm like, "That's amazing, it's just not me."
You do seem unchanged. You've really maintained this strict sense of style through the years.
Anybody who knows me for a long time knows that I'm really unwavering. I always joke that I'm constantly channeling Johnny Cash in some capacity — I think I've been saying that for 10 years. The older I get the more I like the idea of utilitarianism. I think that I'm not a trend-driven person. I really believe in keeping your canvas very basic and sort of adding the accouterments from there. I look at creating intrigue with outfits through accessories.
Which brings us to your jewelry line, Low Luv. How's that been going?
When you're wearing the jewelry, I hope it feels like you found it somewhere, like it's old. When I find something at a flea market or an antique store, it feels more special and I'm more inclined to want to wear it. And it feels like it's representing something more than just going to the store and purchasing something. Even though you're going into a store purchasing Low Luv I hope that it gives you a feeling of something more.
What's on deck for the Spring 2013 jewelry collection?
I was inspired by the hanging gardens of Babylon and what that meant — did it exist or did it not exist? — and things cascading over these geometric shapes. My design process is so esoteric from the inception point to the reality of it that getting there is sort of this unexplainable journey of weird thoughts inside my head. And I can say "hanging gardens of Babylon" inspired these pieces and I'm like, "What the f**k are you talking about?" What's the correlation there?
What does go on inside your head? What always inspires you?
Architecture really does it for me. I'm always looking at windows and windowpanes and doors and carvings and negative spaces and ironwork because more often than not I'll see something, and then if you just frame it, you're like, "Wow, that's a beautiful medallion for a necklace," or however it sort of translates for you.
Celebrity news, beauty, fashion advice, and fascinating features, delivered straight to your inbox!