Exclusive: Q&A with Fave Male Model Ryan Kennedy
Ryan Kennedy has those cut cheekbones and that chiseled jawline that makes him very easy on the eyes. It's not surprising that the 26-year-old stunner is one of the most sought after male models of the moment.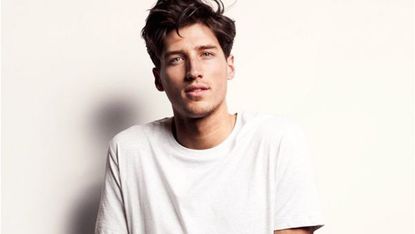 (Image credit: Marie Claire)
Ryan Kennedy has those cut cheekbones and that chiseled jawline that makes him very easy on the eyes. It's not surprising that the 26-year-old stunner is one of the most sought after male models of the moment. In the last few years, the Buffalo native has been a staple face for Gucci campaigns and has walked countless runways, including Hermes and Dolce and Gabbana. Our Associate Market Editor, Jessica Minkoff, sat down with the "it" model to discuss his career highlights, making it in New York, and his workout regime. We just hope that his face graces the billboards again soon...
MC: What does your family think about you being a model?

RK: They don't really act any differently. Sometimes they will send me pictures from the mall, but that is really it.
MC: I assume that your childhood dream wasn't to be a model, so how were you discovered?

RK: It happened when I was in high school. Actually, a teacher brought it up, and then my sister heard about a scouting event on the radio in Buffalo. I got invited to the second round where there were about 1,000 people — models and actors.
MC: What happened next?

RK: My agent wanted me to come to New York to model full-time, but I didn't want to do it, so I finished high school. I wanted to go to college and experience the things that kids my age were experiencing, so I went to Niagara University for two years and at the time I signed with another agency in Toronto.
MC: What was your first modeling job?

RK: When I was 19, I did an editorial for Playboy. It was a regular one-page editorial — nothing crazy or weird. Then when I was 20, I moved to New York full-time.
MC: Do you remember your first big campaign? What about runway?

RK: My first big job was the Benetton campaign. Then I was booked as a Calvin Klein exclusive, so that was my first show. From there I was a Louis Vuitton exclusive in Paris, and then I booked the Louis Vuitton campaign. It was Fall/Winter 2008.
MC: Do you still do runway now?

RK: I took the last couple of seasons off, but I had done nine seasons straight. I think I am going to walk in the shows in Milan and Paris this coming June.
MC: Do you like runway?

RK: I don't mind doing the shows — it's the stuff in-between that I could do without. You are so tired and hungry at the end of the day because you are scheduled for 10 or 11 appointments and castings, and they are all back-to-back.
MC: What are the shows like in Europe?

RK: Two summers ago, I walked in the shows in Europe. I turned down some of the shows in Paris because they wanted me to wear some strange things.
MC: Like what?

RK: One outfit was completely sheer plastic….
MC: What was your most memorable modeling moment?

RK: I recently did a job in Cape Town which was really cool because I've always wanted to go to South Africa. We shot on a beach and there wasn't that much to do, so I had a lot of free time to myself.
MC: Who are some photographers you like shooting with?

RK: Greg Kadel is great. He shot most of the Express campaigns and we have also done some editorials together. I also like Phil Poynter, Daniel Jackson, and Mert and Marcus.
MC: Do you have any favorite designers?

RK: I like Belstaff — they have nice jackets, but I mostly shop at J. Crew for casual clothing that I wear everyday.
MC: What is your favorite part of being a model?

RK: The pros are that you meet a lot of cool people and you get to travel a lot and see places that you normally wouldn't see. I went to Marfa, Texas, and I stayed at the hotel where they filmed Giants and No Country for Old Men. The town was really artsy.
MC: And the cons of modeling?

RK: There is a lot of rejection, especially in the beginning when you are first starting out. Even now there is rejection because there are so many jobs and you are only booked for certain ones. You also never know when your next job is going to be, so it can be difficult to make plans.
MC: What do you do to stay in shape? Is there as much pressure for men as there is for women?

RK: Bookers would probably love if their models always had six packs, but I don't think the pressure is as bad for guys. European suits are cut pretty slim, so I don't lift weights. I mostly do cardio.
MC: Do you have any tattoos?

RK: Nope. A lot of my friends have them, but I think it limits your jobs to the ones that are looking for a guy with a tattoo. I guess you can photoshop a tattoo out of a picture, but you can't take it off when you are on the runway.
MC: What do you like to do when you have time off?

RK: When I was in high school, I used to play a lot of sports — I used to play hockey all the time. Now, I like to go skateboarding and to go to Central Park when the weather is nice. It's really fun to get out in the city during the day.
MC: What about at night?

RK: I'm not really into going to clubs — I did that when I was younger, but now I prefer to go to events.
MC: What kind of music do you like?

RK: Rap and hip-hop. I like A$AP Rocky, but it depends on my mood. I also like '90s hip hop, like Biggie and Tupac, and I still listen to bands that I liked in high school like North Star. Right now, I am also into Foster the People and Ed Sheeran. It is definitely a mix of things.
MC: What is your favorite food?

RK: I love ravioli — but it's hard to pick!
MC: If you weren't a model, what would you like to be doing?

RK: I would probably be doing something in real estate or investments. I just bought my apartment here in NYC, and I completely renovated it. I wasn't sure if I was going to live in it or sell it, but I've decided to stay there for now and see what happens.
MC: If you could travel anywhere right now, where would you want to go?

RK: I've never been to Thailand or Australia, although I would be dreading that flight.
MC: Is there something that people may not know about you that you can share with Marie Claire?

RK: I love the show Duck Dynasty!
Marie Claire email subscribers get intel on fashion and beauty trends, hot-off-the-press celebrity news, and more. Sign up here.