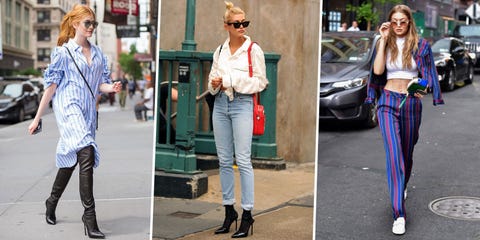 Summer is arguably the fourth best season for dressing—especially if you foolishly schedule a fashion experiment that requires you to wear latex in 90-degree weather—so even if it's still too early, it *is* nice to see that some celebrities have fall on their minds too. You could call the following fall outfits "transitional," but we call them a sign of better things to come.
It's never too early to commence OTK (over-the-knee) season.
GET THE LOOK:

The Allegs Boot, $825
BUY IT: stuartweitman.com.
Le Specs shades up top paired with light denim and a pajama top *chef's kiss*.
GET THE LOOK:

Equipment Pajama Silk Shirt, $218
BUY IT: bloomingdales.com.
The trendy overalls style of summer, but make it fall with a velvet fabric and a crisp white top underneath.
GET THE LOOK:

Velvet Wide Leg Overalls, $100
BUY IT: freepeople.com.
Because we're still not over the bomber jacket this year as the easiest dressed-down cover up.
GET THE LOOK:

Theory Elevate Bomber Jacket, $159
BUY IT: bergdorfgoodman.com.
Get a little clashy with your look by blending super dark cords with over-the-top prints or stripes (Gucci never hurts) à la Kate Upton.
GET THE LOOK:
Gucci Wool Sweater with Embroidery, $1,600
BUY IT: farfetch.com.
From caftans to kimonos: a seamless transition.
GET THE LOOK:
Topshop Floral Print Maxi Kimono Jacket, $130
BUY IT: topshop.com.
Give-or-take on the midriff (because TBH, none of us are Gigi), but the matching separates, mock neck top, and white sneakers combo is golden. As extra frosting on top, the tinted aviators and mini clutch (or is it a makeup bag?) are nice touches.
GET THE LOOK:

Striped Blazer, $119
BUY IT: zara.com.
Striped Pajama Style Trousers, $70
BUY IT: zara.com.
Here, fall layering done right as shown by by Cara's cropped biker jacket and gauze-y skirt/bodysuit. Safe for work? Not so much, but maybe this is exactly what your date nights are missing. Be still, our vampy hearts.
GET THE LOOK:

Mango Cropped Biker Jacket, $79
BUY IT: us.asos.com.
The perfect transitional weekend look that says, "I'm comfortable but still chic," to usher you into cardigan season.
GET THE LOOK:

Free People Show Some Shoulder Tunic Blouse $78
BUY IT: bloomingdales.com.
We can't all afford Valentino jackets, but if you're going the Zara route, keep the bomber trend going strong by pairing it with sheer layers—or the tiered midi skirt that ruled the streets this year—plus a classic button-up.
GET THE LOOK:

Lovers + Friends Revolve Bomber Jacket, $120
BUY IT: revolve.com.
In which Margot Robbie shows us the ideal way to transfer our short-sleeved "why I am melting right now" shift dresses to a polished, head-to-toe look that's chic and warm for the office.
GET THE LOOK:

A.F. Vandevorst Floral Print Pencil Skirt, $184
BUY IT: farfetch.com.
How to Fall-ify your Linen Jumpsuit 101 (well, the sandals aren't ideal but your summer espadrilles are still good to go).
GET THE LOOK:
Luisa et la Luna Heidi Jumpsuit, $495
BUY IT: garmentory.com.
The youthful version of the pantsuit for fall. Layer clean prints like this Giambattista Valli look with a chunkier heel or a chic pair of flats.
GET THE LOOK:
Textured Large Floral Blazer, $27
BUY IT: us.asos.com.
In which Selena Gomez throws caution to the wind and makes clashing colors + sweatpants look like an attractive option for the weekend. Take note: she cuts the schlub factor with a tight fit around the ankles plus a fitted top.
GET THE LOOK:

H&M Joggers, $18
BUY IT: hm.com.