5 Simple Formulas for 5 Ideal Summer Outfits
We all know you're going to spend more time on your hair anyway.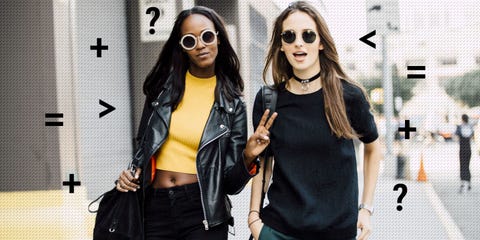 Getty, design by Betsy Farrell
Summer is not for thinking about clothes—it is for wearing as little clothes as possible while you do fun activities outside. Therefore, here are five outfit combinations that make dressing an effortless exercise that's still more exciting than just a different sundress every day (because you're going to run out at some point unless you are sewing your own every night).
1
Big Earrings + Any Ol' Dress + Mules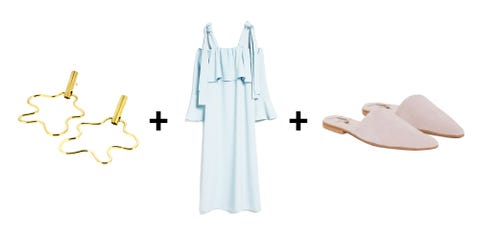 2
Button-Down + Skirt + Top-Handle Bag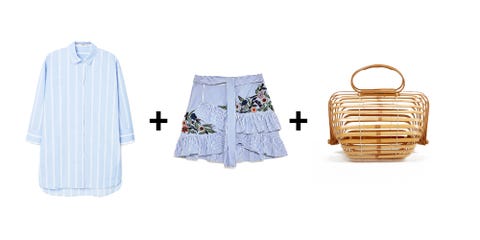 A banker-stripe shirt might seem like the last thing you'd want to wear in 80-degree weather, but in a lightweight fabric, it's as breezy as they come. It also helps that here, you'll be unbuttoning it only to the waistband of the skirt and shoving the tails to the sides for an ab triangle (scandalous). That's a lot of fabric around the torso, so we won't add more with a bag strap—instead, a hand-held, flat-folding wooden tote does the trick.
Mango shirt, $46, shop.mango.com; Zara skirt, $50, zara.com; Cult Gaia bag, $218, cultgaia.com.
3
Earrings + Camp Shirt + Swimsuit + Wrap Skirt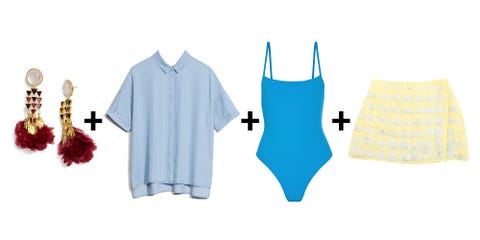 My personal favorite: Take your sun-dried swimsuit, add the skirt companion to the most magical top ever made in the history of fashion, and an open shirt for *propriety* (snickers). Oh, and fancy earrings never hurt anybody.
Tory Burch earrings, $225, toryburch.com; & Other Stories shirt, Solid & Striped swimsuit, $158, net-a-porter.com; Calle del Mar skirt, $310, calledelmar.us.
4
Headscarf + Co-ords + Look-at-Me Sunglasses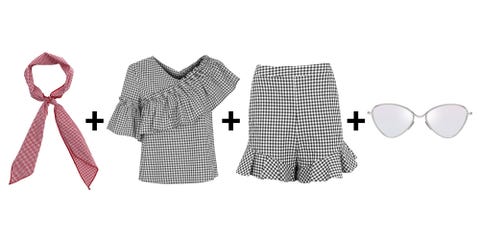 It doesn't get much easier than a matching set. Slip on some graphic shades (a bit cooler than those goggle-like ones from last year) and tie a scarf around your head for interest.
Donni Charm scarf, $44, donnicharm.com; Topshop top, $55, topshop.com; Topshop shorts, $60, topshop.com; Le Specs sunglasses, $119, lespecs.com.
5
Trophy Shirt + Mini + Slides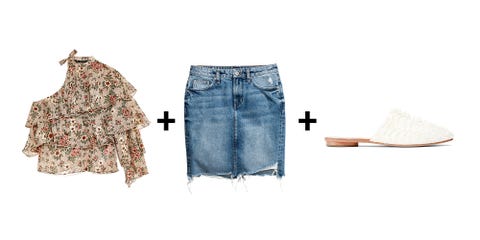 For when you don't want to wear cutoffs or jeans but need some denim on your person.
Zara shirt, $40, zara.com; H&M skirt, $35, hm.com; Loeffler Randall slides, $295, loefflerrandall.com.
This content is created and maintained by a third party, and imported onto this page to help users provide their email addresses. You may be able to find more information about this and similar content at piano.io