The Great Puff-ining: Why Is Fashion Inflating in 2023?
From Prada to Loewe to Bottega, every It brand is padding it on.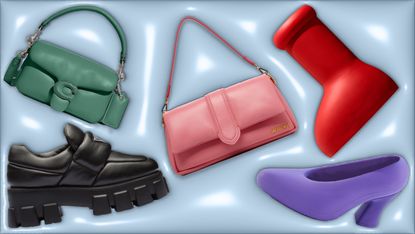 (Image credit: Future)
It takes a lot for a brand to make a mark in today's oversaturated market. But when Prada releases a dramatically "puff-ified" version of its iconic logo loafer, you pay attention. Now, alongside the sleek-and-slender staple beloved by fashion purists, the legacy fashion house offers an inflated option almost double the size in padded blown-up Nappa leather.
Before Prada revealed its puffy loafer in early 2023, there were a handful of cloud-like one-offs the internet devoured like candy: Kendall Jenner and Taylor Russell in Loewe's padded bomber, Matthieu Blazy's begging-to-be-squeezed pouches from his Bottega Veneta debut, and Coach's ever-viral, marshmallowy Pillow Tabby. But now, with Miuccia Prada and Raf Simons' golden stamp of approval, 2023's puffy trend has gained ironclad legitimacy because when two of the industry's long-time heavy hitters get on board, it's a signal to take it seriously.
Outrageously puffed pieces are certainly not novel—think of André Leon Talley's beloved Norma Kamali Sleeping Bag Coat (which Rihanna paid homage to at the 2023 Superbowl) or the inflatable, '80s-era puffer coats by Issey Miyake and Michiko Koshino that'll cost you a pretty penny on Grailed. Still, interest in all things padded and absurdly voluminous is suddenly ballooning at warp speed: Per the fashion search platform Stylight Insights, "there was an incredible 1,616 percent increase in demand for 'puffy' clothes or accessories when compared to last year, and a 26-percent increase in demand just from Jan. 2023 into Feb. 2023."
Even still, 2023's puffy phenomenon has yet to hit its peak: Jamie Lee, a shoes buyer at Moda Operandi, says the trend will swell to its fullest potential in the coming months, primarily with the accessories market. "Jacquemus recently introduced Le Bambimou," an inflated take on the label's beloved Bambino, "and Acne Studios has an actual inflatable bag that takes the puffy trend to the max," she says of the soon-to-be-everywhere Spring/Summer 2023 styles. "Prada, however, is definitely the standout brand for padded styles at the moment," says Lee, pointing to the fashion house's other recently-launched voluptuous offerings like its juicy mules, monolith sandals, and squishy handbags.
It's irrefutable: The Great Puffining is well underway—as lofty and bulbous as a Macy's Thanksgiving Day Parade float. But what's driving this industry-wide blow-up? What's inspiring designers, both indie and illustrious alike, to churn out these about-to-burst forms?
Puffy Bags
Fashion psychologist Sarah Seung-McFarland shares a theory that we're gravitating toward softer silhouettes after the hardships of recent years. "[Puffy fashion] has a comfy, protective energy and might be a way to counteract the disruptions we've had to face the last few years," she describes, recognizing this as a "typical response to trauma." Just as a child reaches for their well-worn baby blanket after a nightmare, we're seeking plushy comfort to soothe our souls, swaddling away any memory of those 'unprecedented' times.
The psychologist says others, however, might process trauma through humor and find salvation in a well-told joke—and what's funnier than a handbag you'd find in the Michelin Man's personal collection? Seung-McFarland references Jeremy Scott for Moschino Spring/Summer 2023, a collection filled with pool floaties, life preservers, and inflated dolphins. The seasonal edit was a "direct twist on the word 'inflation'" with a "motive of mood buoyancy," per Moschino's press statement about its on-the-nose interpretation of the escalating economic crisis. "Essentially, what [Scott's] doing is using clothing to manage stressors; or turning elements of distress into fashion," explains Seung-McFarland. The King of Camp is doing what he does best: Recognizing cultural themes and current events and serving them back to us through his meta-ironic, tongue-in-cheek filter.
Puffy Sandals

But what about the impossibly plump pieces that resemble digitally-rendered CADs more than real-life garments you can hold in your hands, nevertheless, wear—Sam Smith at the 2023 Brit Awards in a massive inflatable latex jumpsuit by HARRI, for example. Emily Carmeli, a Parsons educator specializing in digital fashion, asserts that a more abstract, cerebral theme is at play here. "I believe [2023's puffy trend] is connected to the theory of Expanded Imagination, which is the idea that anything and everything is becoming possible with Artificial Intelligence, new technology, and 3D printing. People are leaning into their fashion to show their excitement, even subconsciously, about all these new possibilities unfolding in tech."
Most notably, the lecturer and fashion content creator credits the expansion of the metaverse, "which, by definition, is a combination of 3D virtual worlds that you can play in," for pushing creatives outside the traditional boundaries of form. "Designers are taking on these elements of three dimension and bringing them to our physical garments in a really exaggerated way—i.e., the puffiness—so that it breaks down the walls between the evolution of the metaverse and what's happening with our physical fashion. We're starting to see the worlds—of fashion, of Web3, the physical, and the digital—blur and merge together," Carmeli theorizes.
Puffy Clutches
If all of this sounds confusing, it's because it is—incredibly so. And trend forecaster Agus Panzoni argues that fashion's padded pursuit is inherently perplexing and it's a sign of the times: "Being that we gather most of our information from the internet, it's becoming harder and harder to distinguish the real from the fiction," she observes. (Were those bubble mules on Proenza Schouler Spring/Summer '23 runway real, or were they photoshopped onto the model's feet afterward?) Panzoni links the puffy trend to sociologist and philosopher Jean Baudrillard's theory of Hyperreality, which is the "inability of consciousness to distinguish reality from the signifier of reality."
"[Hyperreality] explicitly manifests in cartoonish clothes," Panzoni describes. Take Loewe's Comic Pumps, which are identical to Minnie Mouse's: The Spanish fashion house brings the animated heels into the physical realm, as if they were plucked from your television screen and placed in your closet (if you have $790 to spare, that is). And we must also acknowledge the Big Red Boot in the room: MSCHF's ludicrously bloated boots that initially retailed for $350 but, since going mega-viral, will now cost you well over $1,000 on re-seller platforms. "Cartoonishness is an abstraction that frees us from the constraints of reality," the debaucherous brand writes in the product's description. "The continued blending of virtual and IRL aesthetics has us chasing supernormal stimuli, [and] we've come to expect a baseline of unreality."
And there's the obvious fact that puffy accessories and clothing pop exceptionally well online, giving them an intrinsic clickbait-y quality. "As our lives become increasingly digital, the function that clothes play in our lives is changing, and we're designing more fashion that will perform digitally," Panzoni articulates. "We might be seeing a rapture between clothes intended for real life and clothes meant for the representation of real life, the digital world. It's the outfit for Real vs. Instagram Reels," the trend analyst hypothesizes. After all, anyone who shoves their feet into MSCHF's BRB will only be taking them off once they've captured some content to post to their grid.
One theory behind fashion's puffy obsession may resonate with you more than others (perhaps you've always longed to dress up as Dora's beloved sidekick, Boots, or transform yourself into a cumulonimbus cloud). But is there one proper theme or core answer to extract from the trend? Not really, says Seung-McFarland: "Fashion trends should be understood within the context of multiple, overlapping factors: What's happening from a wider sociocultural, economic, political, and environmental perspective; how these societal issues are impacting our local communities and social networks; and how we as consumers are managing the impact these forces have on our fashion choices. Our responsiveness to trends depends on how we uniquely navigate the wider world around us."
In other words, 2023's puffy fashion trend is an ongoing conversation with a million parties involved. It's Everything Everywhere All at Once—a fashion multiverse consisting of cultural attitudes, technological evolutions, and collectively-felt sentiments. Or, you can also scratch all that: on a surface level, puffy fashion is just playful and pure fun. As Prada, Loewe, Moschino, Bottega, and endless others are showing us, nothing lightens moods better than a ballooning bag or shoe that looks like it'll float off into the sky—up, up and away all on its own.
Puffy Heels
Emma Childs is the Style Editor at Marie Claire, where she researches up-and-coming trends, curates shopping guides, and gushes about the must-buy items she can't stop thinking about. She previously wrote for TZR, Editorialist, Elite Daily, and Mission Magazine and studied Fashion Studies and New Media at Fordham University. When she's not writing up fashion deep-dives or finding the season's best pieces, you'll find her fiddling around in Photoshop and perusing HBO Max for the next show to base her personality on (currently, it's "Succession").