The 13 Best Sustainable Shoe Brands of 2023
The brands taking steps in the right direction.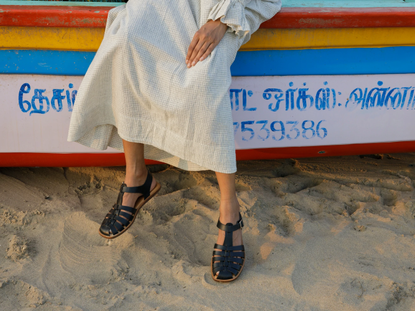 (Image credit: LoQ)
Footwear is an integral part of our everyday lives, so making responsible choices can significantly impact the global footwear market. Thankfully, choosing sustainable options (opens in new tab) has become easier than ever, thanks to high-quality shoe brands that don't skimp on style. These shoe brands and their founders are responsibly sourcing materials, abide by fair labor practices, and are working to keep their waste to a minimum. Keep reading to discover the ethical brands (opens in new tab) making real strides in sustainability.
Veja
Launched in 2005, Veja was a pioneer in the sustainable sneaker market, using a combination of organic cotton, Amazonian rubber, and certified Brazilian leather for their shoe construction. The brand doesn't shy away from transparency, either: They've made all of their sourcing and manufacturing processes public.
A.Emery
Australian footwear label A.Emery offers minimal footwear styles that seamlessly transitions through the seasons. Their shoes are designed in Melbourne and ethically handcrafted in the Dehli region of India. Each pair is produced from leather, a by-product of the meat industry, responsibly sourced through the Leather Working Group (opens in new tab).
Nomasei
Female-founded brand Nomasei's goal is to create honest luxury shoes. Each pair is crafted at a small family-run factory in the Montopoli village in Tuscany. Most of their raw materials are sourced throughout Europe to lower the brand's carbon emissions.
shop Nomasei (opens in new tab)
Giovanna
New York-based brand Giovanna has three styles of handwoven mules, all made by artisans in Morocco. Each pair is crafted from 100 percent raffia, a natural fiber from palm leaves.
shop Giovanna (opens in new tab)
Flattered
Flattered shoes stand the test of time by avoiding seasonal trends. Their mission is to double the lifespan of their footwear, resulting in less production.
shop Flattered (opens in new tab)
Thousand Fell
Thousand Fell, whose biodegradable sneakers are ethically produced in a small family-owned factory in Brazil, are 100 percent recyclable and made from PET bottles, coconut, sugarcane, and palm.
shop Thousand Fell (opens in new tab)
Alterre
Founders Harmony Pilobello and Shilpa Lyengar's background in footwear and sustainable design led them to launch the brand Alterre. Each pair is designed with removable straps, so styles are customizable for every occasion. The brand donates lightly worn samples to Soles4Souls, (opens in new tab) a non-profit organization that distributes clothing and shoes to people in need.
shop Alterre (opens in new tab)
St. Agni
St. Agni, based in Byron Bay, Australia, is transparent about its supply chain, sharing the physical address of each factory they work with. The brand refrains from using synthetic materials and uses natural fabrics like linen, silk, and hemp.
shop St. Agni (opens in new tab)
Brother Vellies
Aurora James founded her brand Brother Vellies to keep traditional African design practices alive. Each pair of shoes is ethically handmade by artisans in South Africa, Kenya, Mexico, Morocco, and Ethiopia.
Nomadic State of Mind
Nomadic State of Mind's sandals are handmade from recycled Polypro rope. Each pair is ethically made in Nicaraguan factories that provide employment to individuals in struggling communities.
Grounded People
Grounded People is one of Canada's first sustainable footwear brands. Their sneaker styles are made in Brazil using recycled and biodegradable materials.
Nelson Made

Nelson Made designs ethically handcrafted footwear in small quantities, with minimal environmental impact. Their Melbourne-based studio is powered by solar energy, and all of their orders are shipped with DHL's carbon-neutral service.
LoQ
Designed in Los Angeles and made in Spain, LoQ's laid back yet refined designs offer low-impact shoes for the modern wardrobe. Handcrafted in the south of Spain, their shoes are made from vegetable-tanned leather.
Rachael is a sustainability-focused fashion writer and creator. She works full-time as the Brand and PR coordinator for Mara Hoffman whilst focusing her writing efforts on covering sustainable fashion for Marie Claire and EcoCult. As an Aussie living in Brooklyn, you'll catch her splitting her time between Sydney & NYC.