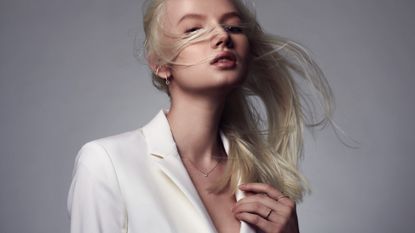 (Image credit: The Future Rocks)
News flash: Jewelry makes an amazing holiday gift. Shocking, right? But if you're concerned about how your consumption habits might be hurting the planet, then shopping for jewelry might seem especially hard to square. So the question becomes: How can you buy more consciously, but still give a gorgeously indulgent gift? The Future Rocks, a new online marketplace for eco-conscious jewelry brands, has found a truly beautiful solution.
Image 1 of 15
Eco-Glam Pieces by The Future Rocks
The just-launched site features designers that specialize in sustainable jewelry, like using lab-grown diamonds and recycled gold, so their offerings are totally luxurious and keep the Earth intact. The diverse group of brands on The Future Rocks come from around the world and are united in their celebration of premium craftsmanship, unique design, and doing what they can to create sustainability and transparency around every step of their processes.
The Future Rocks is also an amazing resource for finding the global jewelry brands you need to know now. Take Courbet, a sustainable jewelry brand from Paris that exclusively designs pieces made with recycled gold, lab-grown diamonds, and recovered metals. And check out PRMAL, a Japanese company whose jewelry is rooted in sustainability, transparency, and fair trade practices. There are tons more, all with unique approaches to design to make sure everyone is represented, no matter what their style.
Best of all, The Future Rocks features a whole spectrum of price points, making it the place to find investment heirloom pieces and fun, on-trend finds alike.
And The Future Rocks is building a strong community of influencers who share their values of sustainability and glamour—like sustainability advocate Marina Testino. It's all part of how The Future Rocks wants to help change how people approach jewelry buying, ensuring that pieces can be both ultra glamorous and good for the planet. So whether you're shopping for a loved one this holiday, or for yourself (because, honestly, you deserve something nice), The Future Rocks is proof that jewelry can feel as good as it looks.
Check out The Future Rocks to see what the big deal is, and follow the brand on Instagram at @thefuture.rocks for more inspiration.