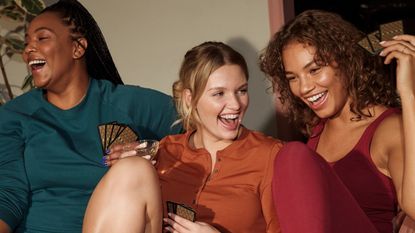 (Image credit: ThirdLove)
Anybody who's ever had to covertly adjust an ill-fitting bra strap midway through a Zoom presentation understands that all-day comfort is never overrated. While a lot of holiday gift guides will promise products that will create a Zen-like sense of calm, or make self-care a more prominent feature of your loved one's day, let's not lose sight of one thing that makes every moment a little more annoying: Badly made undergarments. Comfort equals happiness, so while expensive candles and highly technical footbaths are lovely, if you want to offer someone tidings of actual comfort and joy this holiday, ThirdLove is a must-give.
Just imagine the sparkle in their eyes as your bestie/partner/sister/daughter/work wife opens up the gifts that truly keep on giving. We're talking bras designed for their exact body, activewear that stays put however they move, and loungewear as timeless as it is addictively comfy. ThirdLove creates made-to-last essentials that they'll use long after December.
And since they say the best gift is something you'd want to get yourself, let's not forget about you: Whether your New Year's Eve plans involve clinking champagne glasses at midnight or being asleep on the couch before the ball drops, ThirdLove has your new fundamentals.
Here are a few of our favorite must-feel gifts:
If the last year-and-change taught us anything, it's that you can't go wrong with a good set of pajamas. This matching washable silk set is practical, temperature-regulating, and unbelievably comfy. It comes in several colors, but we're really feeling this rainbow stripe.
These washable shorts come in cute prints and a casual-but-luxe material that says, "Oh yeah, I always wear silk around the house."
This glam robe is described as "peachy-soft," and the fact that you can throw it into the washing machine as needed is really the star on top of this well-trimmed tree.
Stretchy, luxuriously soft, endlessly breathable—this WonderRib™ henley and leggings set is made for any and all winter hibernation plans.
Would you believe that a bra this pretty is wireless and can also become invisible underneath clothes? Feel it and be amazed.
This sweatshirt/jogger cotton-cashmere set is undeniably decadent, yet low-maintenance (and washable) enough to lounge in whenever the inspiration strikes. Plus, no one in the history of human fashion has ever said, "Cashmere? Not my thing."
The combo of flowy, long-sleeved henley and breezy shorts looks good on everyone—this set just happens to feel super good, too.
Don't make them choose. A seasonal mix 6-pack of the Form Seamless Hipster—the iconic full coverage, low rise underwear that's become a ThirdLove fan favorite—means they can pick the pair that matches their mood. Talk about a dream stocking stuffer.
Note: This is a link to the Gifting page on ThirdLove], but if you just can't pick, a gift card can point your special someone toward next-level comfort while leaving the specifics up to them. Because giving someone their new favorite bra, pajama set, or work-out leggings can actually change their life. Can a candle say the same? Didn't think so.
You can get even more genius gifting inspo at ThirdLove, and follow them on Instagram at @ThirdLove.