Lela Rose Runway Showcases Budget-Friendly Shoes
Blair Fowler is pleasantly surprised by the Lela Rose show -- especially the $35 Payless wedges!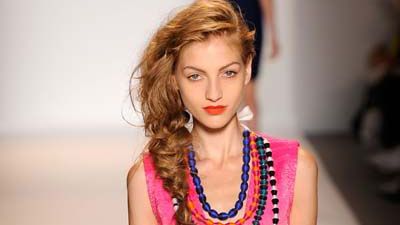 (Image credit: Jemal Countess/Getty Images)
Today was Day 4 of Fashion Week, and Elle and I had the chance to check out the Lela Rose show at 11 a.m. My expectations weren't too high, but I was quickly proven wrong once the show started. Keep in mind that when designers are casting models, they look for ones whose features won't take away from the clothes, but instead enhance them and make the clothes look great. Surprisingly, the first thing I noticed when the first outfit stepped onto the runway at the Lela Rose show was the model's hair. It was in a very messy side fishtail braid with a deep side part. I spent the first few looks with my focus on the hair — when I was finally able to step back and take a look at the clothes ... I was amazed!
The clothes were beautiful, and best of all, lots of the models were wearing those gorgeous striped wedges from the Lela Rose Payless line that retail for only $35!
Of all the designs that came down the runway, my favorite was a gorgeous hot pink sleeveless dress with a cinched waist and metallic gold thread marbling throughout the fabric. It was to die for! Four long, colorful necklaces were layered around the neckline and the red lipstick on the models' lips really popped in an unexpected way against the bright pink.
Day 4 was a success! To find out how Day 5 goes, check back on MarieClaire.com tomorrow.