Hello, Good Buy: Mr. Kate
We get to know California jeweler-slash-blogger Kate Albrecht.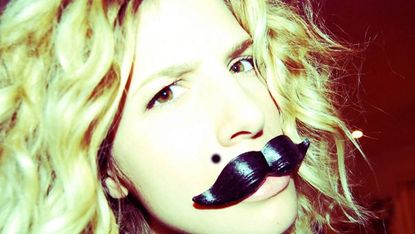 (Image credit: Courtesy of Mr. kate)
Admit it: as tough as it is to find nifty trinkets you love enough to wear day in and day out, it's even harder to find ones that fit the bill while staying within your budget. So when we stumbled across Kate Albrecht's — i.e. "Mr. Kate's" — cool collection of handmade "Screw You" necklaces, decaying-metal cuffs, and mustache-adorned rings, we were smitten. Turns out that in addition to churning out baubles, this young West Coast blonde is also an actress, proficient blogger, and sometimes chef! Needless to say, we couldn't help but steal her away from her busy day for a little Q&A.
First of all, why the name "Mr.Kate?" Isn't jewelry traditionally,

ahem

, for ladies?
Haha! Yes, my jewelry is very much meant for girls, although I do have a few guy's/unisex pieces too. The name was inspired by the fact that I used a lot of traditionally masculine things in my jewelry, like nuts, bolts, and screws. I've always been fascinated by society's gender norms and I liked the idea of taking things that were innately masculine and turning them into feminine pieces of jewelry. With my lifestyle blog, also called Mr. Kate, the name transferred seamlessly since I like to challenge the notion of domesticity and prove that you can be a career girl and have a fantastic home, recipe arsenal, and closet!
Tell us how you launched and developed your brand. Have you always wanted to make jewelry?
I took jewelry classes as an elective in college, while studying film and theatre. I started acting professionally after I graduated, and at that point making jewelry was just a hobby. But once I realized that people liked my designs, I decided that having a small company on the side would make for a great complement to my acting career! I've always been really into style and fashion as a means of self-expression, and am a total creativity addict in general. Over the last two years I've completely focused on growing both my jewelry and my blog into a lifestyle brand. It's just so much fun to wake up and be creative every day.
How would you describe your collection's aesthetic?
A little haphazard — kind of like me! I'm inspired by so many things, from everyday objects like cereal and screws to more natural elements like bark, worms, and decaying metal. I hand-make each piece out of wax — by molding, carving, and melting, integrating that organic texture that I love. Then, I have that wax cast and the original metal piece molded for reproduction. Jewelry tends to have such an emotional effect on people, and I love seeing how others interpret my designs to fit their own personal style.
Have the design and acting facets of your life ever overlapped?
Acting is fun but very sporadic. I find my projects for Mr. Kate to be much more dependable! In fact, making and designing jewelry was perfect when I was auditioning a lot, since I could make my own daily schedule. I've been very fortunate in that most of the costume designers I've worked with have loved my pieces and subsequently used them onscreen! That's how my pieces wound up onEntourage and various other films and shows I've done. The exposure that celebrities can provide for a brand is amazing. Vanessa Hudgens was a big one for me — she wore my Mr. Kate Logo Knuckle Ring and got snapped by paparazzi, which led to that ring becoming my all-time bestseller. Others include Reese Witherspoon, Haylie and Hilary Duff, Victoria Justice, Miranda Cosgrove, Debi Mazar [Kate's Entourage co-star]…and my boyfriend, Joey Zehr. He's in a band (The Click Five), so he counts!
Those mustache necklaces and rings are adorable. How did you land on the mustache as your official Mr. Kate logo?
It really reflects my fascination with blurring gender lines. I design pieces that are beautiful, but that also have a sense of humor. To me, the mustache is an iconic image of masculinity and humor — think Groucho Marx and Charlie Chaplin. And the beauty mark above the mustache is an iconic symbol of beauty — I was obsessed with Marilyn Monroe growing up, and she always rocked one. Thus the mustache-and-beauty-mark Mr. Kate logo!
One of the things we love about your line is its accessible price point. Was that a deliberate choice? How do you keep your costs down?
It was absolutely a conscious decision. I want my designs to be approachable for as many people as possible, and for my customers to feel like they can but multiple pieces to layer and love rather than saving up for just one. It can be challenging to keep prices down, though. Metal prices have gone up so much lately, and though I like to make larger, chunky pieces, I have to remind myself that the bigger the piece, the more metal used and thus the more expensive! I don't usually work with real gold because it's about a billion dollars these days — I mostly case in silver and brass, then use gold plating to get the finish I prefer.
Finally, can you explain how you've linked your jewelry with a strong blog/multimedia component?
The online world has been indispensable for the growth of Mr. Kate. I really wanted to create an online space that was about more than just fashion or food — I'm not a one-note person, and neither is anyone else I know! So I blog about four overarching topics: Personal Style, Home, Food/Health, and Self/Global. The jewelry fits in seamlessly with the Personal Style content. I'm constantly reading other blogs and combing the web for inspiration, and the opportunities for grassroots marketing are endless. I realized that firsthand with popular bloggers like Rumi Neely of Fashion Toast, Knight Cat, Leandra Medine (aka The Man Repeller), Geri Hirsch of Because I'm Addicted, and The Stylish Wanderer, all of whom wear and promote my jewelry. And my web show, Mr. Kate TV, just debuted—it's basically my blog in live-action episode form. I even get my first tattoo in one of the episodes! Finally, I'm a regular contributor at HelloGiggles.com, which is a new, fantastic site started by Zooey Deschanel, Molly McAleer, and Sophia Rossi for ladies of all ages. [Editor's Note: She's not kidding. We're totally hooked on HelloGiggles ourselves.]
To shop Kate's gems and check out her awesome blog, click on over to MrKate.com. You (and your newly-adorned fingers and wrists) can thank us later!