The Biggest Wedding Dress Trends of 2023, According to Bridal Experts
Marie Claire spoke with bridal experts and designers about the textiles, silhouettes, and details to seek out for your big day.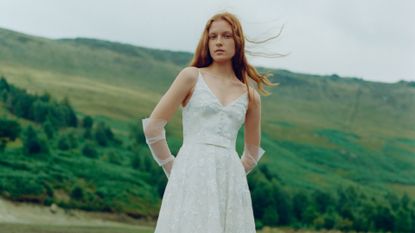 (Image credit: Erdem)
Finding the perfect wedding dress—the one you're unequivocal about saying yes to, just as TLC taught you—is an exhilarating journey. But, admittedly, it's also challenging, an overwhelming endeavor of sifting through a sea of taffeta and tulle, debating between silhouettes and hemlines, all while trying to stay true to you. To help streamline the wedding planning process (and hopefully assist in checking off at least one of your pre-"I do" to-dos), Marie Claire spoke with bridal experts and designers about the leading wedding dress trends of 2023 to simplify your hunt.
Ahead, the textiles, silhouettes, and details that define this year's bridal market, from dreamy and dainty lace to modular, two-in-one gowns. However, as you peruse the below bridal trends, Christina Wettstein of the bridal sales showroom Coterie White wants you to remember this one paramount perspective: "My biggest advice is don't try to be someone you're not on your wedding day. Select a gown that makes you feel beautiful, surround yourself with people you love, and the rest will fall into place."
In short, the best wedding dress is one that speaks to you, reflects your personal preferences, and, put simply, makes you happy. However, if you're open to some guiding inspiration or perhaps just need a starting point, keep scrolling for this year's wedding dress trends that will put you ahead of the curve.
True Romance
"There is an ode to a more traditional bride. We're seeing a lot of beading, beautiful novelty fabrics, luscious satins, and rich 3D embroidery," shares Wettstein of the sensual details that have "increased traction in the last two seasons."
Bridal designer Nadia Manjarrez echoes the bridal expert, saying, "ultra-feminine details will play a big role this year, with traditional materials such as lace and tulle" being the defining textiles. To wit, Marcelo Gaia of the womenswear brand Mirror Palais tells Marie Claire that he called on familiar sartorial cues of romance—satin, corsetry, dainty ruffles, and more—when designing his debut bridal collection. "My inspiration is, as always, romance mixed with classic shapes," the designer shares, specifically referencing the Plunging Back Cowl Dress, which he's seen "many brides chose as the dress for their ceremonies."
Beaucoup de Bows
In keeping with 2023's full-femme theme, bows are another defining trend of the year (both within the bridal space and across the gamut of fashion). "We are obsessed with bow details," Jeanette Madsen and Thora Valdimars, Co-Creative Directors of ROTATE Birger Christensen, share over email. "These can be subtle and classic or big and flirtatious, and we have played with this theme throughout ROTATE's new bridal collection, featuring oversized bows at the back of dresses and sash waistbands." Either bold and oversized or dainty and demure, consider a gown that boasts one (or two or more) of the tied-up detail.
Pumped-Up Volume
It's your big day, and you should take up as much space as your attention-loving heart desires. "Some of my clients are asking for more taffetas and larger skirts, which means voluminous ballgowns will be making a comeback," Manjarrez shares. Wettstein substantiates the bridal designer's observation of a growing interest in operatically oversized gowns: "In terms of silhouettes, we are seeing a reemergence of Basque waists, which are incredibly flattering, and spacious box pleats."