Ming Tsai's Guide to a Chinese New Year Party
The Chinese New Year festival runs for 15 days in January and/or February, beginning with the first day of the new moon of the year. It's a perfect time to have people over for a homemade Chinese banquet.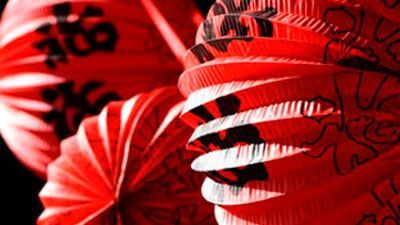 (Image credit: Lisa Klumpp)
Marie Claire Newsletter
Celebrity news, beauty, fashion advice, and fascinating features, delivered straight to your inbox!
Thank you for signing up to Marie Claire. You will receive a verification email shortly.
There was a problem. Please refresh the page and try again.
The Party
The Chinese New Year festival runs for 15 days in January and/or February, beginning with the first day of the new moon of the year. It's a perfect time to have people over for a homemade Chinese banquet — and Ming Tsai's step-by-step recipes make it all deliciously doable. From the food to the decor, the holiday is all about symbols. Red and gold bring a year of happiness and good fortune. A round table represents wholeness, and so does Ming's food — from whole fish and chicken to plump pot stickers and an easy dessert cleverly designed to look like a whole orange.
The Food
Begin with a round of ginger cocktails, accompanied by the pot stickers. Next make the oysters, get the fish steaming, invite guests to the table, and serve the meal family-style, in courses. Start with the oysters in their lettuce cups, served on a big platter. Then bring on the fish, along with individual bowls of rice for each guest, followed by the chicken. Finish the meal with the granita, along with tea and after-dinner drinks.
The Mood
Buy decorated red envelopes at a Chinese stationery or gift store, or use red paper and a gold marker to make your own. They are traditionally used for giving money, but Ming suggests putting a raffle ticket in each envelope and having a drawing for some fun gifts at the end of the meal. You can even write guests' names on the envelopes and use them as place cards. Tangerines or oranges are also traditional. For instant mood setting, use gold chargers under plates, and hang strings of red lanterns. Ming also likes to use a banana leaf as a natural table runner.
Easy Extras
Along with predinner drinks, serve Ming's easy Asian trail mix, made by combining equal parts wasabi peas, smoked almonds, and dried cranberries. Buy some fortune cookies to serve with dessert, and tuck an extra message that fits the occasion into each cookie.
Ming's Playlist
Hiroshima, Obon
Van Morrison, Moondance
Traffic, The Low Spark of High Heeled Boys
Bob Marley & the Wailers, Kaya
Jack Johnson, On and On
Click forward to Page 2 for recipes!
Whole Red Roast Chicken with Bok Choy
"To me, the smell of red roast — star anise, rock candy, soy sauce, and wine simmering on the stove — is the smell of home. It's comfort food, it's friends, it's family, it's Mom's cooking," Ming says. He notes that the braising liquid and method in this recipe also work beautifully with pork shoulder and duck. Like the fish, Ming's Chinese New Year chicken is served whole, for both symbolic and flavor reasons. It's easy to make and can be prepared ahead of time, so all you have to do at the last minute is cook the bok choy.
Serves 6
1 (750 ml) bottle dry red wine
2 cups Shaoxing wine or 1 cup dry sherry
1 cup naturally brewed dark soy sauce
3 cups naturally brewed soy sauce
4 cups water
1 whole chicken, 4 to 6 pounds
2 pounds rock candy or dark brown sugar
5-inch piece fresh ginger, cut lengthwise into 1/4-inch-thick slices
1 head garlic, unpeeled and halved crosswise
2 bunches scallions, white part cut into 3-inch lengths and tender green part sliced 1/8-inch thick
2 star anise
4 Thai bird chilis
2 cinnamon sticks
6 heads baby bok choy, halved and tough core removed
1. In a nonreactive stockpot, combine both wines, both soy sauces, and water. Bring to a boil over high heat and add chicken. If liquid doesn't cover chicken, add water as needed to cover. Return liquid to a boil and then reduce heat to medium-low and simmer, skimming any scum that forms on surface, about 30 minutes.
2. Add rock candy, ginger, garlic, white part of scallions, star anise, chilis, and cinnamon and stir to dissolve sugar. Continue to simmer 1 to 1 1/2 hours, or until chicken is very tender and beginning to fall off bone. Using 2 slotted spoons, gently lift chicken out of pot, place on a serving platter, and cover with aluminum foil to keep warm.
3. Strain cooking liquid through a fine-mesh sieve held over a large saucepan and discard contents of sieve. Using a large spoon, skim off as much fat as possible from strained liquid. Place over high heat, bring to a boil, and boil gently about 20 minutes, or until lightly syrupy. During last 5 minutes of reducing, add bok choy and cook until tender.
4. Uncover chicken, arrange bok choy around it, and glaze chicken with reduced liquid. (You may have some liquid left over.) Garnish with scallion greens and serve immediately.
Click forward for more recipes


Gosling's Ginger Ale Cocktail
Here's a splashy crowd-pleaser from the bar at Ming's restaurant, Blue Ginger. "Layered drinks are a fun way to wow people," Ming says. "Just be sure to tell them to stir before they sip." If you don't have time to candy the ginger for the garnish, use store-bought candied ginger. This recipe makes more syrup than you need. That's a good thing. You can use it to make what Ming calls "the world's best ginger ale, bar none." Just combine the syrup with 6 parts sparkling water, add a squeeze of lime, and serve over ice.
Serves 6
Ginger Syrup and Candied Ginger
4 cups sugar, plus 1 1/2 to 2 cups for candying ginger
2 cups 1/8-inch-thick sliced fresh ginger (about 2 large hands)
2 cups water
Ice cubes or crushed ice
2 quarts club soda, well chilled
1/2 cup (4 ounces) fresh orange juice
Juice of 3 limes, plus 1 lime, cut into 6 wedges, for garnish
3/4 cup (6 ounces) Gosling's Black Seal rum
To make ginger syrup, in a saucepan, combine 4 cups sugar, ginger, and water and bring to a boil over high heat, stirring to dissolve sugar. Reduce heat to low and simmer 10 to 15 minutes, or until reduced by half and syrupy. Strain through a fine-mesh sieve held over a heatproof bowl. You should have about 4 cups syrup and 2 cups ginger slices. Let cool completely. You will need only 1 cup syrup for this recipe. The remainder will keep, tightly covered, in the refrigerator up to 2 weeks.
To candy ginger slices, preheat oven to 200 degrees F. In a bowl, combine ginger slices and remaining 1 1/2 to 2 cups sugar and toss to coat slices evenly with sugar. Arrange slices in a single layer on a rimmed baking sheet and bake about 4 hours, or until thoroughly dried. Remove from oven and let cool. Use immediately, or store in an airtight container at room temperature up to 2 weeks.
To make each drink, fill a tall glass almost full with ice and then with club soda. Pour 2 tablespoons (1 ounce) ginger syrup down side of glass to create a layer of syrup on bottom. Add about 4 teaspoons (about 2/3 ounce) orange juice and juice of 1/2 lime. Carefully add 2 tablespoons (1 ounce) rum, floating it in a layer on top. Three distinct layers — syrup, club soda and citrus juice, and rum — should be visible.
Garnish each glass with a lime wedge and a slice of candied ginger hanging over rim, or a few ginger slices skewered on a cocktail pick. Serve each layered drink with a straw and tell your guests to mix layers with straw before drinking.
Think Drinks
You can serve this menu with sparkling wine or chilled Chinese beer (Ming recommends Harbin or Tsingtao), as well as sparkling cider, homemade ginger ale (see recipe introduction), and hot or iced green tea.
Ming's Wine Picks
White: With the oysters and fish, serve a Sauvignon Blanc from Australia, New Zealand, or South Africa.
Red: With the chicken, try a Pinot Noir from Oregon or from Burgundy.
Like what you see here? Get the full version: Great Gatherings: Star Chefs Entertain at Home Cookbook. Find out how the 16 star chefs of the Macy's Culinary Council entertain their family and friends, and learn how easy it is to pull off in your own home!

Buy Great Gatherings: Star Chefs Entertain at Home here.
Celebrity news, beauty, fashion advice, and fascinating features, delivered straight to your inbox!