Nancy Silverton's Recipes for an Antipasto Feast
You can prepare everything on this menu ahead of time and arrange it on platters before people arrive.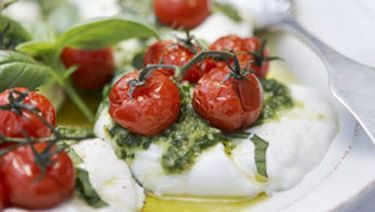 (Image credit: Archives)
Alfresco Appeal
"When I have people over, I start with the where," says Nancy. "The location defines the whole party, and for me, nine times out of ten, it's outdoors. Usually, I grill a few things, so there's something hot, and the rest of the food is served at room temperature on big white platters."
The Food
You can prepare everything on this menu ahead of time and arrange it on platters before people arrive. Rather than assembling a single large platter of each item, Nancy recommends making two or more smaller ones. That way, you can set out a variety of offerings on the table and have a backup platters in the kitchen, ready to go out as soon as the first ones are depleted, so your spread always looks full and fresh.
The Setup
Nancy suggests setting up three tables: one for the food, one for the drinks, and a third where people can sit down and eat. If you don't have space for a large dining table, you can arrange clusters of chairs around a few small tables. She keeps the decorations simple. "Small cups and dishes with flowers in them, and little Moroccan votive candles mixed in. No big flowers or big drama. I like the food to really shine as the main attraction."
Easy Extras
Nancy supplements a spread like this with an assortment of cured Italian meats. She buys small pieces of meat called chubs ("presliced meats dry out and loose their appeal") and sets them out on a board with a few sharp knives. She also likes to give olives a special twist: Start with different types in a single color, like green Picholines, Lucques, and Castelvetranos. Drain, toss with extra virgin olive oil, lemon and orange peel, rosemary, and an arbol chile, and serve topped with almonds roasted with olive oil and salt. Round out the table with a basket of rustic bread (she recommends the La Brea sourdough batard).
Nancy's Playlist
Nicola Conte, "Bossa Per Due"
Nightmares on Wax, "In a Space Outta Mind"
Stanton Moore, "III"
The Jimmy McGriff and Hank Crawford Quartet, "Right Turn on Blue"
Neko Case & Her Boyfriends, "The Virginian"
Mozza Caprese
Insalata caprese — mozzarella, tomatoes, and fresh basil drizzled with olive oil — is one of Italy's most famous summertime salads. "At Mozza, we wanted to come up with a version that would be wonderful year-round, even in the winter when the tomatoes aren't so spectacular," Nancy explains. So she reinvented the salad with the deeper flavors of slow-roasted vine tomatoes, creamy burrata cheese, and bright hand-pounded pesto. The leftover pesto is great on pasta or as a garnish for soup or grilled food. Serve the salad with plenty of crusty bread to sop up all the wonderful juices.
Serves 8
Pesto Sauce
6 tablespoons pine nuts
4 to 6 cloves garlic, finely chopped (about 2 tablespoons)
3/4 cup chopped fresh basil
3/4 cup chopped fresh flat-leaf parsley
2 teaspoons kosher salt
1 cup good-quality olive oil
1/2 cup grated Parmigiano-Reggiano cheese
2 tablespoons fresh lemon juice
2 pounds baby Roma or cherry tomatoes on the vine
2 tablespoons good-quality olive oil, plus about 4 teaspoons for garnish
1 teaspoon kosher salt
Freshly cracked black pepper
2 pounds burrata or balls of mozzarella di bufala
Sea salt, if using burrata
8 large fresh basil leaves
To make the pesto, preheat the oven to 325°F. Spread the pine nuts in a single layer on a rimmed baking sheet and toast in the oven, stirring occasionally, for 8 to 10 minutes, or until lightly golden and fragrant. Watch the pine nuts closely, as they burn easily. Pour onto a plate and let cool.
Transfer the pine nuts to a mortar, add the garlic, basil, parsley, and salt, and pulverize with a pestle to a smooth paste. Slowly drizzle in the olive oil, working it in with the pestle, and then add the cheese, again mixing well with the pestle. Just before serving, season with the lemon juice and then taste and adjust with more lemon juice and salt. You should have about 1  1/2 cups. You will need 1/2 cup pesto for this recipe. The remainder will keep, tightly covered in the refrigerator, for up to 3 days.
Preheat the oven to 200°F. Place a wire rack on a rimmed baking sheet. Arrange the tomatoes, with their vines intact, on the rack. Brush with 2 tablespoons of the olive oil and season with the salt and pepper. Roast for 4 to 4 1/2 hours, or until the skins begin to shrivel like a raisin but the tomatoes remain plump. Remove from the oven and let cool.
If each ball of cheese weighs 1/2 pound, cut it half; if each ball weighs 1 pound, cut it into quarters. Slice the cheese crosswise into slices about 1/4 inch thick and arrange them on 8 small plates or a single platter. If using burrata, season the cheese lightly with sea salt. Spoon 1 tablespoon of the pesto over each cheese portion. Using scissors, snip a basil leaf over each cheese portion. Again using scissors, snip the vines of the tomatoes to create 8 equal portions with their vines intact, and arrange the tomatoes on top of the cheese. Drizzle about 1/2 teaspoon olive oil over each serving of tomatoes and serve immediately.
Rosemary–Pine Nut Cookies
These buttery cookies topped with a layer of rosemary-scented pine-nut nougatine make a fine finale for an Italian meal. They can be made up to a day in advance and stored in an airtight container at room temperature.
Makes about 30 cookies
Nougatine
1/2 cup pine nuts
2 tablespoons plus 2 teaspoons heavy cream
1 1/2 tablespoons honey
1 1/2 tablespoons granulated sugar
1 tablespoon unsalted butter
1/4 vanilla bean, split lengthwise
1 1/2 tablespoons all-purpose flour, sifted
1 sprig rosemary
Cookie Dough
1/2 cup unsalted butter
6 tablespoons confectioners' sugar
1/2 teaspoon pure vanilla extract
1/4 teaspoon kosher salt
3/4 cup plus 2 tablespoons pastry flour or all-purpose flour
1/4 cup medium-grind polenta
1 sprig rosemary
To make the nougatine, preheat the oven to 325°F. Spread the pine nuts in a single layer on a rimmed baking sheet and toast in the oven, stirring occasionally, for 8 to 10 minutes, or until the nuts are light golden brown and fragrant. Watch the pine nuts closely, as they burn easily. Pour onto a plate and let cool.
In a heavy saucepan, combine the cream, honey, granulated sugar, and butter. With the tip of a knife, scrape the seeds from the split vanilla bean into the pan. Place over high heat and cook, stirring only once to ensure even cooking, until the mixture registers 230°F on a candy thermometer. Remove from the heat and whisk in the flour.
Turn the mixture into a bowl and fold in the pine nuts and rosemary sprig. Let infuse and cool for 15 minutes. Remove and discard the rosemary sprig. This nougatine can be made up to 1 week in advance, covered tightly, and stored in the refrigerator. Bring it to room temperature before rolling out the dough.
To make the cookie dough, in the bowl of a stand mixer fitted with the paddle attachment, combine the butter and confectioners' sugar and beat on high speed for about 5 minutes, or until creamy and smooth, stopping to scrape down the sides of the bowl as needed. Add the vanilla extract and salt and beat until combined. Reduce the speed to low, add the pastry flour and polenta, and mix until fully incorporated. The dough will be soft.
Divide the dough in half and shape each half into a disk. Wrap the disks separately in plastic wrap and chill for at least 2 hours or up to overnight. Let sit at room temperature for 15 minutes before rolling out.
Preheat the oven to 350°F. Line a rimmed baking sheet with parchment paper. On a well-floured work surface, roll out the dough 1/8 inch thick, dusting with additional flour as needed to prevent sticking. Using a 1  1/4-inch round cookie cutter, cut out as many circles as possible. Arrange them on the prepared pan, spacing them about 1 inch apart. Gather up the scraps and return to the refrigerator to chill slightly before rolling them out and cutting out more cookies.
Pinch off a small piece of the room-temperature nougatine and work it between your fingers to create a thin disk about the size of a dime. Place the nougatine disk on a dough circle. Repeat to top all of the dough circles with a nougatine disk. Remove the leaves from the rosemary sprig, and put about 3 leaves on top of each cookie.
Bake the cookies, rotating the pan 180 degrees at the midpoint, for about 15 minutes, or until they are golden brown and the nougatine has changed color to a light hazelnut brown. Transfer to wire racks and let cool completely.
Like what you see here? Get the full version! Great Gatherings: Star Chefs Entertain at Home Cookbook, $29.95 Find out how the 16 star chefs of the Macy's Culinary Council entertain their family and friends, and learn how easy it is to pull off in your own home!
Marie Claire email subscribers get intel on fashion and beauty trends, hot-off-the-press celebrity news, and more. Sign up here.