5 Tips for Making the Best Mulled Wine Ever
Glug, glug, glug.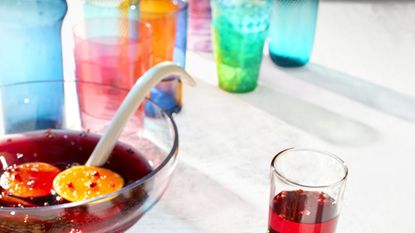 (Image credit: Don Penny)
Roni Ginach, the woman behind the wine list at Michael's in Santa Monica, California, offers up her rules for making a holiday favorite: mulled wine.

Rule No. 1: Keep things simple and make your base wine an everyday wine. "You don't want a bad supermarket bottle of wine, as you'll still be able to taste it, but you don't want something high-end, either, as that flavor will get lost in the punch. Choose a Monday wine, not an anniversary wine."
Rule No. 2: Follow this easy flavoring rule: "Light-bodied wines go with green spices like cardamom and basil, fuller-bodied wines with baking spices like nutmeg."
Rule No. 3: Try white wine. People usually think of red wine as a base for mulled wine, but dry, acidic white wines are a refreshing alternative. "Start with a Riesling; add some sugar, brandy, and cardamom."
Rule No. 4: Turn down the temperature. "Mulled wine should be served hot, not scalding. If you let it boil, the sugars will caramelize, and the mix will start to burn. Never boil; always simmer"—for at least 10 minutes.
Rule No. 5: Don't be afraid to experiment with garnishes, like dried fruit, and sweeteners, such as palm sugar. "If you're adding booze, balance a drop in a spoon over the glass and light it on fire for extra flair!"
INGREDIENTS
20 cardamom pods
1 bottle of a big red wine with some tannic structure (I use an aglianico from Campania)
4 oz. arak
3 tangerines
6 tbsp. raw palm sugar
1 oz. pomegranate molasses
pink peppercorns for garnish
METHOD
Crush cardamom pods and remove seeds from shells. Discard shells and heat cardamom pods over low heat to release aromatics. (Be sure to keep the seeds moving so they don't burn!) Slice one of the tangerines and juice the others while the cardamom is heating up. Once you can smell the cardamom, add wine, arak, tangerine juice, the sliced tangerine, palm sugar and the pomegranate molasses. Simmer for 20-25 minutes. Serve in a small tempered glass or mug and garnish with pink peppercorns and thin slices of tangerine.
Priya Krishna is a food writer who contributes to the New York Times, The New Yorker, Bon Appétit, and more. She is the author of Indian-ish and the college-centric cookbook Ultimate Dining Hall Hacks, and formerly worked for Lucky Peach.