Drink Better
There are so many women killing it in the world of alcohol right now—from distillers to brewers, bartenders to bakers (trust us). We talked to them all for Marie Claire's ultimate guide to boozing it up like a pro. Cheers!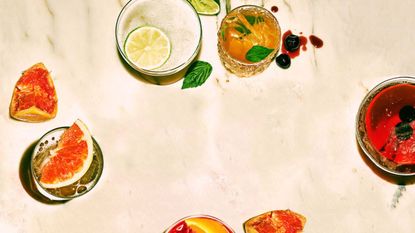 (Image credit: Archives)
Step 1
Mix Like a Bartender
The Violet Hour's Eden Laurin—the managing partner of the Chicago cocktail bar that the most serious of drinkers make pilgrimage to—shares her tips on shaking and stirring and offers up two of her cocktail standards.
by Heather Furlow
1. Shake 'em up: "At Violet Hour, newcomers practice shaking for six hours; I got blisters! The rules: Don't shake your shaker so much that the drink turns into slush. Go slow if it's got egg whites in it; if you have lemon and want to get the oil out of the peel, shake it hard."
2. Start with the cheap stuff: "Because if you mess up, then you don't lose as much money. Let's say you're making a mojito—you'd put in the mint, then simple syrup, then citrus, and then booze. If you knock it over or get distracted, it'll always be the same flow."
3. Do it your damn self: "Create flavors naturally. You can buy a pint of blackberries, for instance, and cook them down to make a syrup. It's going to be cheaper and it's going to taste better than buying some fancy stuff at the store."
4. Get all mixed up: "If you want to be able to put on the show of shaking the drink, go ahead and mix your spirits and sweetener in a pre-batch. And then when you're ready to serve, all you have to do is add your citrus, add your mix, and shake it up."
5. Stay cool: "Professional bartenders tend to avoid eye contact because we know the person is waiting. If you've got someone impatiently waiting, look up and say, 'Oh, man, this'll be a second, but it's going to taste so good!'"
Now, put your skills to the test with these custom...
Step 2
Build the Ultimate Home Bar
Now that you've got the obligatory brass bar cart, you need to know what to put on it.
By Elizabeth Young
1. THE BOOZE
Be prepared: Buy a bottle each of vodka, gin, rum, whiskey (some suggestions: Stoli Elit vodka, Brugal Rum, Farmer's Gin, and Basil Hayden's bourbon whiskey), and tequila, as well as dry and sweet vermouths from Dolin, Cointreau, and Campari.
2. THE MIXERS
Stock your standard mixers (see: Q tonic), and branch out with a new fave: SpikedSeltzer grapefruit.
3. THE BITTERS
Start with Angostura and then go wild with Bitter Tears' KiKi, made with lavender and ginger.
4. THE TOOLS
Cocktail Kingdom makes it easy to shake and stir with exhaustive sets designed for each task.
5. THE GLASSES
Strain your drink into a vessel worthy of its splendor. West Elm's set covers the basics: martini, coupe, snifter, Collins, and rocks glasses.
6. FOR THE LAZY GIRL
Throw it all out the window in a pinch with bottles that are ready as is, like Austin Cocktails' vodka-based Paradise Found, made with basil, coconut water, and agave, or French aperitif Lillet Blanc.
Step 3
Throw a Party You'll Actually Enjoy
*Hosting* a party isn't always as fun as the party itself. Enter Nicole Williams of Made Real Vodka (created for, as she describes them, "great occasions to inspire, connect, collaborate"). Who better to troubleshoot your next bash?
By Jen Ortiz
Step 4
Know Your Whiskey
A primer from Heather Daines, Jim Beam's group manager of product development.
How It's Made. "Whiskey is made from the same ingredients as beer, distilled to a higher proof, then aged in a charred barrel."
What to Order. "If you like dry wine, go for older whiskey. Straight bourbon whiskey is aged at least two years."
How to Order It. "Neat; rocks (over ice); and up (shaken or stirred over ice, strained, and served in a martini glass)."
Step 5
Try These Margarita Alternatives*
*Summer means you can expect glasses full of sweet, sticky, lime-colored margs at every bar, BBQ, and house party. Boring, right? Here, the women behind two of the biggest agave-distilling brands (Bertha González Nieves, CEO of Tequila Casa Dragones and the world's first female Maestra Tequilera, and Jenna Fagnan, president of Tequila Avión) help set you apart.
By Jen Ortiz
Step 6
Find Your Perfect Beer
Fact: Beer is awesome. Use this guide, crafted with Meg Gill, the L.A.-based cofounder of Golden Road Brewing, to find the right one for you.
By Jen Ortiz
Step 7
Meet the Brew Masters
The ladies of the craft beer revolution = your new career inspo.
By Kelly Tunney
Step 8
Somm It Up
Talk about wine like you actually know what you're talking about with Katie Delaney Owen, wine director of WINC's cool-kid wine-subscription service, Club W. 
By Lane Florsheim
At the store:
READ THE LABELS. "Pay less attention to the year," cautions Owen. "2010 might be a great vintage in Napa and a terrible vintage somewhere else." Instead, look to the region. Anything in Europe is considered Old World, and anything outside it, New World. New World wines are known for being bigger, bolder, a bit sweeter, and oftentimes made from riper fruit. Old World wines are lighter-bodied and can be lower in alcohol content.
At home:
POUR IT UP, POUR IT UP. "I count when I'm pouring," Owen says. "Do a five- to six-second pour. A normal glass is five ounces."
At a restaurant:
OPPOSITES (MOSTLY) ATTRACT. Owen's number-one rule: Pairing wine works best when food and wine flavors are either complementing or opposing each other. "Wine with a little sweetness goes well with spicy food," she says. "On the other hand, you might have a buttery lobster dish that goes really well with a buttery chardonnay."
Delaney's Chill-Out Mini-Guide:
Champagne and sparkling wine should be kept very, very cold. Fun fact: Opening the bottle is easier when it's cold.
Lighter whites, like Sauvignon Blanc and Pinot Grigio, should be chilled. "Those are the kind of wines where you want to ask for an ice bucket at a restaurant," says Delaney.
Fuller-bodied whites, like Grenache Blanc or Chardonnay, should be chilled before drinking, but letting them warm up in the glass or the bottle can really open up the flavors.
Most reds will be served at room temperature, though some people love light reds slightly chilled.
Step 9
Pair Like a Pro
June Rodil, beverage director at some of the coolest restaurants in Austin, on what food goes with your booze.
Step 10
Rosé the Right Way
Over a dozen MC staffers, with the BFFs behind Yes Way Rosé, taste-tested some of the most popular and new-to-market bottles. Our faves:
Step 11
Meet the "It" Bar Owners
These four women, who head some of our fave places to chill right now, mix stellar drinks, too.
By Andrew Richdale
Step 12
Follow the Bar Code
We tapped Ivy Mix (co-owner of Brooklyn mezcal bar Leyenda) for a quick lesson in bar-tiquette.
By Lane Florsheim
Say what you like."Cocktail menus can be like reading the Bible. Tell the bartender, 'I want a refreshing, tall drink,' and add that you like, say, watermelon and vodka."
Ignore the mojito myth. Afraid of ordering something difficult (see: muddling)? Don't be. "To be honest, all drinks are the same to me."
One tip doesn't fit all. "Treat cocktail tipping like you would a meal at a restaurant: 20 percent," she says. "It's not like opening beer— $1 isn't enough; $2 minimum, $3 if it's good."
Step 13
Meet the Distillers
These girl boss distillers know what goes into the best bottle.
By Kelly Tunney