Stop It People: Zucchini Is Not Pasta
Your "zoodles" are driving me nuts.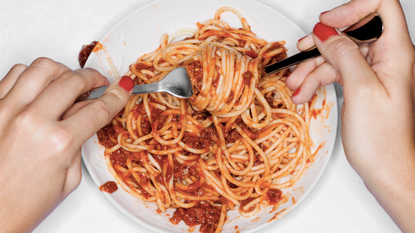 (Image credit: Geety Images)
I see you, Pinterest. With your "skinny" versions of every delicious food, which, according to every blogger ever, "taste just as good! You won't even believe it!" I see you with your cauliflower pizza crust. I see you with your spiralizers that make zucchini look "just like" spaghetti.
I made zoodles once. (God, what a terrible word.) And you know what? They were slimy. Not even as good as whole-wheat pasta, which, while more nutritious than the traditional white kind, is at least still actual pasta.
Listen, I get it: Finding ways to eat healthier isn't a bad thing. And "sneaking" healthy stuff into what we actually want is clever, sure. But my point is that it's totally unsatisfying in a way that doesn't actually work.
In middle school, I lasted half a day on sugar-free jello and turkey bacon. In my 20s, I asked for sautéed spinach in place of French fries with my salmon and spent the rest of the day feeling like I could get away with junk-food murder (and I did). At a New Year's Day brunch a couple years ago, I ordered a salad with smoked trout instead of the pancakes I was craving, and I swear it set the tone for a terrible year.
Don't get me wrong, I'm all for certain swaps when you actually feel like eating them. Pureed frozen bananas? Delicious. Sometimes you want banana "soft serve," sometimes you crave frozen yogurt, and sometimes a scoop of actual ice cream is the only thing that will do.
Weak substitutes for the real thing won't make you slimmer anyway. Yale psychologists found (opens in new tab) that when study subjects sipped two identical milkshakes and were told that one contained 620 calories and the other 140 (both contained 380 calories), those who drank the "decadent" shake had a steeper drop in a hormone that signals how hungry you are. In other words, diet food—even if you only think it's diet food—just isn't as satisfying.
Another study (opens in new tab) found that if you're craving Chipotle and try to satisfy that urge with, say, a healthy Amy's frozen burrito instead, you're probably going to be disappointed. Been there, felt that.
I'm not advocating for Cheetos washed down with Coke. I'm just sick of the idea that being healthy and happy means your brownies have to be made with pureed beets and your French fries have to actually be baked carrot sticks. You can love all the foods that fall under the "clean eating" banner without only loving those foods.
You know what you *should* be rigid about? The sanctity of mealtime and eating mindfully. You know what's worse than gluten? Checking Snapchat at the table.
Listen, I understand wanting to balance what tastes good with what makes you feel good. The thing is, sometimes eating a flaky croissant—despite the white flour and butter and general lack of nutritive value—does feel good. To cut it from my life might lengthen it, or get me that much closer to a six-pack. But I'd rather die at a ripe-ish old age surrounded by friends and family who always ate well with me than be buried at 101 in a crop top. And I hope, for as long as I live, I never have to say "zoodles" again.
Follow Marie Claire on F (opens in new tab)acebook (opens in new tab) for the latest celeb news, beauty tips, fascinating reads, livestream video, and more.