3 Pro Tips for Putting Together the Best Bouquets
Essential advice for everyday enthusiasts and budding florists alike.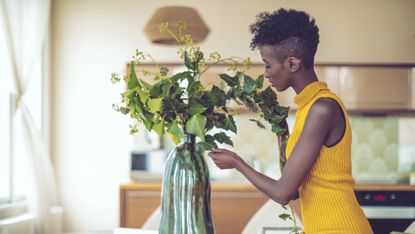 (Image credit: Eva-Katalin)
Marie Claire Newsletter
Celebrity news, beauty, fashion advice, and fascinating features, delivered straight to your inbox!
Thank you for signing up to Marie Claire. You will receive a verification email shortly.
There was a problem. Please refresh the page and try again.
The floral arts have been around for ages, but for anyone who has exhausted their to-do list of tie-dye DIYs and sourdough starters, the prospect of a putting together a tidy bouquet might actually feel like a fresh idea. Whether it's a star centerpiece or a small touch of everyday style, a charming set of stems can be a beautiful and easy way to channel your creativity and uplift your spirit.
But as anyone who has tried to assemble a thoughtful flower arrangement will know, not every decision is as easy as it looks. So we've picked the brains (and even taste buds) of the pros at Good Housekeeping for a set of cross-disciplinary tips to help you tap into your inner florist. Read on for the easiest ways to make your next bouquet an arrangement that will inspire you in every way.

Set the tone with color
The star of every bouquet is color and it should be one of the most important considerations of the arrangement you choose. "Most pros suggest sticking to flowers that are in close proximity to each other on the color wheel," says senior home editor, Monique Valeris. So when in doubt, reach for a mix of tonal options such as classic white assortments or a bright assembly of warmer hues that'll ensure your arrangement feels cohesive.
That said, pops of unexpected color or contrast can be a wonderful opportunity to add personality to your bouquet. Taking cues from seasonal inspiration or drawing from your individual style is the perfect way to make a bouquet feel personal. "Be sure to have fun with your arrangements," adds Valeris, "as it's all about putting your aesthetic on display."
Focus on the balance

Like many other living things, flowers have the power to radiate energy throughout a space. Balancing your arrangement with its environment is key to ensuring your bouquet lives harmoniously with either you or the recipient. Valeris has been using flowers to spark a bit of joy in her at-home workspace and she notes that, "like paint or lighting, flowers can alter the ambiance of a room. For instance, a tall, multicolored arrangement can add drama to a space, while a compact monochrome bouquet, or even a single stem in a sleek vessel, can lend an air of sophisticated elegance." For a soft visual statement that can complement any space, go for tightly arranged bouquets that are cut closer to the vase. If you're aiming for a more spirited mood, select a tall arrangement that, when cut, will take on a freer spirit when it unfolds.
"Your vase choice is just as important as the flowers you choose to put in it," adds Valeris. So don't forget to consider what's beneath your blooms, as well. Our experts recommend allowing the season to dictate the vase. So, for summer, consider mason jars or an oversized jug. In winter, try experimenting with more substantial materials such as marble or wood that will naturally showcase your arrangement.
Consider all the senses
Beyond their aesthetics, a flower's fragrance can actually influence our sense of taste as well. "If you plan to dress your table with flowers, make sure you take a whiff before just placing them at the center," says chief food director, Kate Merker. "Flowers are beautiful and many have incredible scents—some are very gentle and others more assertive—which means they could complement or interfere with the aroma and taste of whatever you might be serving." For decorating a table, Ms. Merker favors the fragrant blossoms of lavender, daisies, carnations, and dahlias, which tend to work well with her dishes and can sometimes add additional dimension to the eating experience.
Complementing food with flowers can be tricky, but when successfully paired (even as a decoration or ingredient), the result is guaranteed to deliver a wow factor every time. For an effortlessly beautiful and expertly composed way to weave together the senses, turn to the new FruitFlowers pairings by Edible arrangements. Not only are all the combinations of florals and delicious chocolate-covered fruit made to play off each other perfectly, but your selection can be completely customized. Whatever the occasion, it's the ideal arrangement for all the senses.
Celebrity news, beauty, fashion advice, and fascinating features, delivered straight to your inbox!