How to Make the Perfect Burger
Chef Laurent Tourondel shares his recipes for the perfect beef and turkey burgers.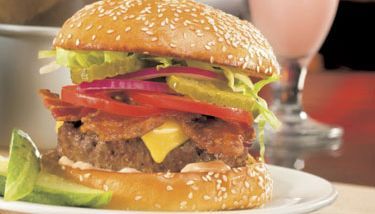 (Image credit: Archives)
BLT Burger
Serves 6
BLT Burger Sauce
1/2 cup mayonnaise
1/3 cup ketchup
1 tablespoon red wine vinegar
I tablespoon grated onion
1 teaspoon Worcestershire sauce
1 tablespoon chopped parsley
1 tablespoon chopped tarragon
Burgers
2 2/3 lbs ground beef
6 slices sharp cheddar cheese
1 red onion, thinly sliced
12 slices apple wood smoked bacon, sliced into 1/4" strips and 1/2" crosswise, cooked until crisp
2 vine ripe tomatoes, sliced into 1/4" slices
6 leaves romaine lettuce, ribs removed
coarse sea aalt
cracked black pepper
6 burger buns with sesame seeds, split
Make the sauce Combine the ingredients and stir until well combined. Store covered in the refrigerator for at least one hour before using.
Cook the burgers Season the meat with salt and pepper, making sure not to overwork the meat. Gently form the meat into six 7oz paddies. Grill for 3 minutes on each side over medium high heat. Do not push down on the burgers as this will cause the juices to run out. Place a slice of cheese on top of the burgers and cook until melted.
Assemble the burgers Remove from the grill and place a burger on each bottom bun. Top with the bacon, onion, tomato and lettuce and a generous tablespoon of the BLT Burger Sauce. Top with the other half of the bun and serve immediately.
BLT Turkey Burger

Serves 6
2 pounds ground turkey
1 1/2 teaspoons onion powder
1 1/2 teaspoons garlic powder
1 teaspoon fennel seed ground
1 teaspoon cayenne pepper
3 tablespoons puréed roasted pepper
2 tablespoons parsley freshly chopped
2 teaspoons kosher salt
6 sesame seed buns
6 pieces iceberg lettuce
2 vine ripe tomatoes, cut into 6 thin slices
1 small red onion, cut into 6 thin slices
2 tablespoons each ketchup, mustard and mayonnaise
Gently combine first 7 ingredients. Shape into 6 round patties, approximately 1/4 inch thick.
Heat large skillet or griddle to medium-high heat. Cook burgers about 7 minutes per side until cooked though. Toast buns on the griddle, cut side down, just until lightly toasted, about 1 minute. Build burgers with lettuce, tomatoes, onions, ketchup, mustard and mayo and cover with the top bun.
BONUS BURGER TIPS
· Shaping: Patties should be one inch thick and molded in a metal cutting ring to achieve a perfect circle.
· Juiciness: Some chefs will say this is crazy but for a burger on the grill, you can make it juicier and moister by dipping the patty in water for about 30 seconds. No longer than that!
· Seasoning: Season patties with salt and cracked black pepper, then baste your burgers with butter while they are on the grill.
· Temperature: Grill patties over medium heat to help make sure burgers are cooked as you like them and not too charred on the outside.
· Toppings: Feel free to get creative with toppings. There is nothing you can't put on a burger!
Recipes from Laurent Tourondel, Executive Chef/Partner of BLT Burger in Manhattan and Las Vegas at The Mirage.
Celebrity news, beauty, fashion advice, and fascinating features, delivered straight to your inbox!