Christina Hendricks Talks Women and Whisky
Christina Hendricks, Johnnie Walker's newest brand ambassador dishes on whiskey, high heels and humidity.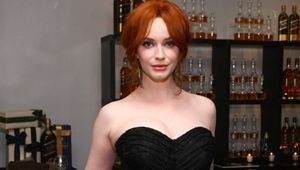 (Image credit: Neilson Barnard/Stringer/WireImage)
Last Thursday evening Christina Hendricks was sipping top self scotch in a cozy bar in New York while thunder and rain clouds bullied the rest of the city. As Joan Holloway on Mad Men, Hendricks has become the embodiment of retro glamour and redefined what it means to be a sex symbol. Most recently, she's also become a brand ambassador for Johnnie Walker, which seems oh-so Joanie.
She took a few minutes between tastings of Black Label and Blue Label to sit down and discuss women and Whisky, why her hair hates New York City and what she thinks about drinking at work.
When did you become a Whisky drinker?
My husband is [a Whisky drinker] and I always really liked the smell of it. I liked it when he ordered it because I thought it was very sexy. I'd always take sips of his and then really started to educate myself. I began to appreciate the blending and what goes into it.
Did you meet your husband before or after you started working on Mad Men? There's such a strong, masculine drinking culture on the show.
I know! It's funny, you know Vincent Kartheiser who plays Pete Campbell on the show introduced me to my husband about halfway through the first season.
How did you become involved with Johnnie Walker?
I was doing a photo shoot for an article for Esquire magazine and they asked me, "What do you like a man to order for a drink?" I said my husband orders scotch and I think it's really sexy. Johnnie Walker heard about that and thought it would be fun if I helped them educate people about Whisky and the process of making it.
It is pretty sexy when a woman orders a scotch.
It is! It is and I think it's really fun that more women are open to learning about it. Also, with Father's Day coming up — I think a lot of women are the gift givers in the household, and scotch is a very cool gift.
So what are your thoughts on drinking at work?
I suggest not to! Just don't do it. I think it's probably a very bad idea unless you're a master of Whisky.
Do you and your husband do a lot of entertaining at home?
Yes, we do, usually on some sort of theme. We'll do a Greek theme or we'll do a summertime barbeque or something that sort of sets the tone. And we'll try to keep the food in the same group. He'll do half of it, I'll do half of it. For winter we'll mix Johnnie Walker Gold, apple juice, bitters and cinnamon. It's a wonderful, light drink. And honestly, for the summer, we just do Whisky on the rocks.
Okay, let's talk beauty. Your color is always shiny and beautiful. What do you use?
I maintain it often. I use Redken color on my hair and use mild shampoos that don't strip your hair of color. If I need to, I'll use a good, colored mousse in between. When I'm on Mad Men, we try to color it every other episode to keep it really vibrant, so we just use rinses and a gel. It's just like a glaze on top. It doesn't have the ammonia in it so I'm just basically adding a color conditioner.
How do you deal with your hair in the humidity?
I'm constantly saying that I have bad hair days when I'm in New York. It's so hard. I've been lucky enough to jump immediately into a car, head straight to the location and stay in the air-conditioning. Luckily, I'm not in New York that often.
Final question: heels or flats?
Heels, definitely. I'm either in heels or barefoot.