Eat It, Don't Tweet It!
The days between Thanksgiving and New Year's are filled with social-media obstacles. Kate Schweitzer offers advice for managing your musings so that you and your followers have a happy holiday.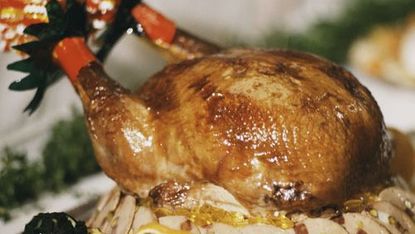 (Image credit: Babara Singer/Getty Images)
Tis the season of lame status updates. There's something about the holidays — a mix of booze, downtime, and festive one-upmanship — that creates a perfect storm for social-media indulgence. So before you annoy your friends and followers, stick to these tips and use Facebook, Twitter, and Instagram responsibly.
Pick up the fork, not the camera. Avoid what Taylor Swift did last Christmas when she Instagrammed an exhaustive still life of steaming hot chocolate, peppermint creams, and ginger snap cookies. It just looks a little, well, sad. A Valencia filter does not a food photographer make. And your handiwork just might get dissected by anyone armed with the Normalize iPhone app, which removes such filters, contrasts, and other enhancements to reveal what that "vintage" turkey shot actually looks like.
Set limits on baby and pet photos. A wise rule all year long, it's especially important when it involves manger scenes and menorah lightings. You don't want to force your followers to pay a visit to unbaby.me, which replaces a feed's baby photos with, say, National Geographic landscapes.
Don't show off. There's no need to make everyone jealous of what you scored off your gift list, like one young woman featured on the Tumblr "Rich Kids of Instagram" did when she snapped a pic of herself with six handbags: "Can't really decide which Birkin to use today." If you must, opt for the #humblebrag. Example: "After eating all those latkes, I'll never fit into my new Proenza Schouler dress!"
Stop reporting your whereabouts. Bloomingdale's. Tree farm. Grandma's house. Don't be an offender like Kim Kardashian, who keeps her 16 million followers too up to date with such tweets as, "Gym time then packing for Paris!" Save the play-by-play for live-tweeting bad reality TV.
Use your table manners. Just as you wouldn't discuss politics or religion over dinner, steer clear of incendiary topics online, at least while the holiday decorations are still up. There's little worse than the Debbie and Donald Downers who remind us that while we're all enjoying ourselves, there's a pine-beetle crisis in Colorado. Let everyone get through the holidays in peace, and go back to your causes.com (opens in new tab) campaigns after the New Year.
No Texting at the Table
It's time for Cell Phone Roulette! You're at dinner with friends or family when you hear (or say), "I've got to take this call." Please. Curb your texting tic with this game, a blogosphere favorite:
Step 1: Hand over your phone. When you sit down, surrender phones in the middle of the table, stacked one on top of the other.
Step 2: Ignore the buzz. Focus on the conversation. Stay strong when a text trill, e-mail ding, or ringtone sounds.
Step 3: You cave, you lose. The first person to reach for his or her phone pays the price. If you're home, you're saddled with the dishes. If you're out, you pick up the check.
Step 4: Or split the check. No one broke down? Split the bill or share cleanup duty.
Social Media for Dummies
How not to behave with your mobile device: Cautionary celebrity tales
Don't Mess With M.I.A. (2010) Singer M.I.A. was upset with a story about her, so she tweeted the writer's cell number as her own, encouraging her fans to call. The celeb's version of a prank call? Not cool.
Anthony's Weinergate (2011) Former Congressman Anthony Weiner accidentally tweeted a salacious photo of himself. The picture, meant for a 21-year-old female college student, derailed his career.
Alec Baldwin Gets Booted (2011) When a flight attendant asked Baldwin to shut off his smartphone before takeoff, the actor, engrossed in Words With Friends, refused. Minutes later, he was left at the gate.