Host a Thanksgiving They'll Never Forgot
Embarking on your first hosting duties? Attempting an ambitious Friendsgiving? Avoid the inevitable disasters with tips from the experts, who've thought of everything for you.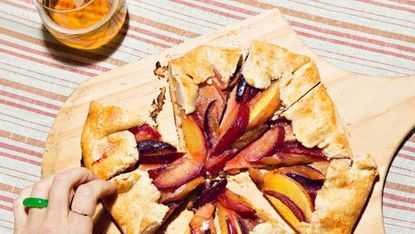 (Image credit: Anna Wolf)
Make Over Your Menu Suzanne Goin, chef and author of The A.O.C. Cookbook (Knopf), suggests "balancing the expected favorites with some different dishes that riff on tradition." Appetizer: Crowd favorites like bacon-wrapped dates with a sliver of fresh Parmesan or Gorgonzola with walnuts and honey are a no-brainer: easy to put together and much more festive than a sad bowl of chips and dip.
Turkey: Give the bird a mini upgrade. Roast turkey legs in the oven with spices and lemon or try smoked turkey legs. Your main course will be preportioned and easier to clean up, and there will be no fighting over who gets to carve that glorious beast.
Dessert: Pie in a jar! Line glass jars with pie crust and your favorite flavors (try pecan or pumpkin). You can use a cookie cutter to create the top layer from the remaining crust, then bake at 400 degrees for 40 minutes.
Concoct a Signature Cocktail "Try an Apple Pie libation with unfiltered apple juice, a dash of allspice, and a shot of vodka. Leave out the booze to make it kid-friendly," says Tito Beveridge, founder of Tito's Handmade Vodka. Garnish with a fresh apple slice and a cinnamon stick.
Celebrity news, beauty, fashion advice, and fascinating features, delivered straight to your inbox!