8 Easy Tips to Kindling a Kitchen Romance
Stuck in an eating-out rut? Phoebe Lapine, who blogs her delicious-yet-doable recipes at FeedMePhoebe.com, explains how to kindle your relationship with the kitchen.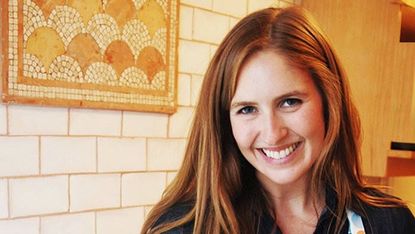 (Image credit: Courtesy of Subject)
Marie Claire newsletter
Celebrity news, beauty, fashion advice, and fascinating features, delivered straight to your inbox!
Thank you for signing up to . You will receive a verification email shortly.
There was a problem. Please refresh the page and try again.
1 COOK FOR YOURSELF. "You'll be the only one who knows if you burned the rice."
2 TAKE BABY STEPS. Pick spaghetti and store-bought tomato sauce—which forces you to boil water and follow directions—over microwavable mac and cheese.
3 LEARN TO HOLD A KNIFE. It should be an extension of your arm; hold your fingers close to the teeth of the blade for more control. Still unsure? Take a knife-skills class or watch YouTube videos.
4 PREP, PREP, PREP. Forget the flame until your prep work—chopping veggies, opening cans—is done.
5 SPICE THINGS UP. Invest in the basics: sea salt; red pepper flakes or cayenne; dried herbs like thyme, rosemary, and oregano; cumin; paprika; cinnamon for baking; and dried bay leaves for soup.
6 STOCK YOUR PANTRY. Throwing together a simple dish should be as easy as logging on to Seamless. Staples? Soy sauce, oil, vinegar, and mustard; rice or other grains; nuts and dried fruit; canned tomatoes; bouillon cubes; beans; pasta.
7 BE COST-CONSCIOUS. Choose recipes based on what you have on hand. "You should need only a couple of fresh ingredients."
8 FIND A COOKBOOK AUTHOR YOU CAN TRUST. Many recipes simply don't work. Lapine ditches anything with more than 10 ingredients (minus spices) and looks for ones that list both a cooking time ("sauté onions for five minutes") and a visual cue ("or until translucent").