Editors handpick every product that we feature. We may earn commission from the links on this page.
Celebrity Rosé: Whose Should You Drink This Summer?
We tried five of them to figure it out.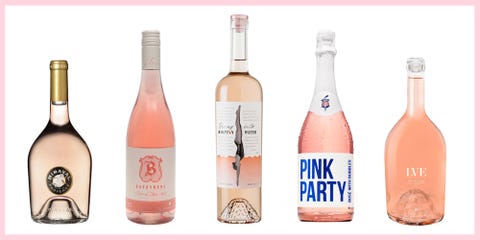 It's pink, it's delicious, it's kind of basic: It's rosé. We're in the throes of rosé season now, which makes John Legend's recent announcement that his LVE label is releasing rosé especially timely. Upon further investigation, there are quite a few celebrity rosé vintages out there; and, intrepid reporters that we are, the editors here at MarieClaire.com decided to try them all—to help you avoid sipping celeb swill this summer, naturally.
The rules were simple: A blind taste test to determine flavor, notes, and overall composition (that's wine-speak, right?), followed by each editor guessing which celebrity made which wine. No one did very well on the last part, maybe because we saved it for the end after everyone had several glasses of wine? But! We did get some good reviews in, and we're sharing them now. Here are our thoughts on five bottles of celebrity rosé, and what we think they say about the famous people who made them.
This content is created and maintained by a third party, and imported onto this page to help users provide their email addresses. You may be able to find more information about this and similar content at piano.io