10 Whiskey Drinks That Will Become Your New Go-To Cocktails
Whiskey sour, who?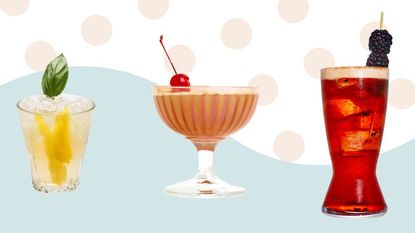 (Image credit: Marie Claire)
Because there's a wide world beyond your knee-jerk college drink orders (ahem, whiskey sours and whiskey gingers), it's a better time than ever to study up on these 10 whiskey cocktails that you can easily taste-test at home. Plus, they're just as delicious as your faithful bar favorites, so why not?
1. Basil Bourbon Mule
A refreshing cocktail with a ginger-lemon taste.
Ingredients:
4 Basil Leaves
2 oz. Bourbon
6 oz. Q Ginger Beer
Lemon Twist
Directions:
Pour bourbon into a muddler and add 4 basil leaves. Gently muddle basil.
2. BourBonBon
Two ingredients plus ice? We'll take that.
Ingredients:
6 oz. Vanilla Bean Dry Sparkling Beverage (opens in new tab) (can substitute other sparkling water)
1/2 oz. Bourbon
Ice
Directions:
Simply mix all ingredients in a highball glass. Optional: Garnish with a lime or orange slice.
3. Blackberry Bourbon Lemonade
Mason jar drinks are the best kind of summer drinks.
Ingredients:
1.5 oz. Bourbon
3/4 oz. Fresh Lemon Juice
3/4 oz. Simple Syrup
1/2 oz. Blackberry Puree
1 Cardamom Pod
Sparkling Wine
Lemon Wheel and Fresh Blackberry, for garnish
Directions:
Muddle the cardamom in a mixing glass, then add bourbon, lemon juice, simple syrup and blackberry puree. Add ice, and shake until well-chilled. Strain into a collins glass or mason jar filled with ice, and top with a dry sparkling wine. Garnish with a lemon wheel and a fresh blackberry.
04. The Staci
Because mint maketh a superb summer cocktail.
Ingredients:
4 oz. Rainier Cherry Dry Sparkling Beverage (can substitute other cherry sparkling water)
11/2 oz. Bourbon
1/4 Small Lemon
Mint, for garnish
Directions:
Muddle mint and lemon in a cocktail shaker. Add bourbon and shake. Pour into a decorative glass with ice. Garnish with a fresh mint sprig.
5. Pass the Tabu
It's hard to resist a drink served in an actual pineapple hull, right?
Ingredients:
3 oz. Jack Daniel's Single Barrel Select
1 oz. House-made Orgeat
1 oz. Velvet Falernum
.5 oz. Ray & Nephew Overproof Rum
1.5 oz. Fresh Lime Juice
.5 oz. Maraschino Liqueur
3 Dashes Angostura Bitters
1 oz. Sweet Vermouth
Ground Nutmeg
Directions:
Shake all ingredients vigorously with ice. Pour into pineapple shell. Serve with a flaming lime and several tall straws for sharing
6. Some Beach
An OJ-based cocktail that's a perfect sub for mimosas after brunch hours.
Ingredients:
11/2 oz. Four Roses Bourbon
1/2 oz. Carpano Antica Sweet Vermouth
3/4 oz. Orange Juice
Rainier Cherry Dry Sparkling Beverage (or Club Soda) to top
Ice
Directions:
Add bourbon, orange juice, and vermouth to an ice-filled cocktail shaker and shake it up. Strain into a coupe glass. Top with Rainier Cherry DRY or club soda and garnish with half a fresh cherry.
7. Summer in Siam
A quintessential Southern cocktail with extra chill.
Ingredients:
.75 oz. Simple Syrup
2 oz. Pogues Irish Whiskey
Ice
5-7 mint leaves
Directions:
In a metal julep cup, muddle the mint leaves gently. Then add simply syrup, whiskey, and stir in crushed ice. Top with crushed ice and 3 mint tops like a bouquet.
8. Blackberry Sun Tea
Sipping this on a porch swing, recommended.
Ingredients:
3 oz. Sparkling Ice Peach Iced Tea (or substitute peach iced tea)
1.5 oz. Bourbon
1 oz. St Germain
5 blackberries
Directions:
Muddle blackberries in shaker. Add ice, whiskey and St. Germain. Shake and pour (do not strain) into highball glass. Top with peach iced tea.
9. Black Cherry Smash
An instance when nutmegs works for non-wintery cocktails (opens in new tab), too.
Ingredients:
3 oz Bai Bubbles Bolivia Black Cherry
Juice of 1 Lime
1oz. Bourbon
Dash of Nutmeg
Skewered Bing Black Cherries
Ice
Directions:
Place a block of ice in a rocks glass with a dash of nutmeg. Squeeze lime juice and pour Bolivia Black Cherry and bourbon to fill. Sprinkle nutmeg on top and garnish with skewered bing black cherries.
10. Nashville Red Eye
The only thing that's better than a cold brew in summer is...a boozy cold brew.
Ingredients:
1 oz Jack Single Barrel Rye
1 oz Cold Brew Coffee
½ oz Raw Simple Syrup
4 oz Oatmeal Stout
Coffee Beans, for Garnish
Directions:
Shake first 3 ingredients with ice for 10 seconds to combine and chill. Strain into chilled Snifter already containing the 4 oz of stout. Float coffee beans on top of foam.