Women's Wildest Sleep Stunts
You think sleep-sex is wild? Check out these unusual acts that ordinary women have performed while unconscious.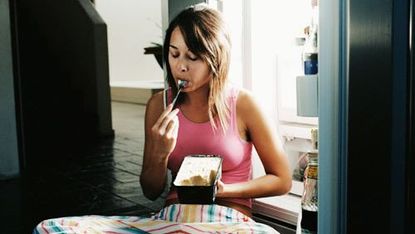 (Image credit: Archives)
Mommy Dearest
In 2009, Donna Sheppard-Saunders, then 33, placed a pillow over her mother, Pamela's, face while she lay sleeping. Pamela awoke and screamed to her daughter for help, before realizing that it was in fact Donna who was attacking her. After Donna was arrested and went to trial, the judge ruled that there was no evidence of intent since Donna was sleeping while the attack took place. Pamela agreed with the ruling, saying that Donna had a history of sleepwalking as a side effect of a childhood leukemia treatment. Now that's love.
Living Nightmare
In 2009, a Hong Kong woman was cleared of attempted-murder charges for stabbing and strangling a good friend in her sleep. Zheng Wei-dong, then 30, fell asleep one night and wandered into her friend's bedroom where she began acting out a violent dream she was having. She stabbed her friend in the neck, almost severing the jugular vein, while screaming, "I am the devil, and I am killing you!" She then smothered her friend with a pillow. Zheng was promptly sent to a psychiatric ward before appearing in court. Her lawyer says Zheng made history by being the first sleepwalking case to go before a jury in Hong Kong. No word on whether the two are still besties.
Want Fries With That Nap?
When Anna Ryan of Blue Springs, Missouri, started waking up to crumbs in her bed and a mess in the kitchen, she was flummoxed. The 42-year-old had always maintained a low-fat diet and exercise regimen, but still managed to put on 60 pounds. Ryan was later diagnosed with a sleeping condition called Sleep Related Eating Disorder, which caused her to gorge on meat, cheese, butter, and chocolate — while she was asleep. The condition had her making eight trips to the kitchen per night and consuming an average of 2,000 calories. Ryan installed a lock on her bedroom door, but gave herself two black eyes and a broken tooth trying to break out. "It's embarrassing," she says. "People don't always believe you, or they think it's funny. But for me, it's been a nightmare."
The Ambien Made Me Do It!
In 2003, a registered nurse living outside Denver was arrested — wearing only a thin nightshirt in 20-degree weather — for a fender bender, public urination, and violent behavior toward police officers. Problem was, she was asleep the whole time, having taken an Ambien just before bed. Police nonetheless charged her with careless driving. The woman, who allegedly had a pristine traffic record, ultimately plead guilty to a reduced charge of careless driving.
Sleepwalking Reaches New Heights
Firefighters and police were puzzled when they found a 15-year-old girl snoozing on top of a 130-foot crane at 2 a.m. in Southeast London during the summer of 2005. Fearful of waking her up — she might panic and fall — a brave fireman scaled the structure and dug around in her pockets for her cell phone, then called the girl's parents, before waking her up and safely delivering her to the ground.
Come Fly With Me
In 2005, 34-year-old Sandrine Helene Sellies was flying on a Cathay Pacific flight from Hong Kong to Australia when she downed a cocktail with some sleeping meds, both to calm her nerves and fall asleep. Later, passengers said they saw her walk down the aisle with an unlit cigarette and lighter and start tampering with the emergency exit until a flight attendant stopped her. Afterward, Sellies said she had no memory of the incident but claimed she had a history of sleepwalking. She plead guilty to endangering the safety of an aircraft, and was given a 12-month $1,000 "good behavior bond." She'll have to forfeit the money 
if she commits another offense.
Driving Miss Drowsy
In 2009, Kelly Davis, then 21, an education major at the University of Wisconsin-Milwaukee, decided to take a midnight spin, when officers pulled her over for swerving all over the road. She was charged with "driving left of center" and OWI (operating while intoxicated) and taken into custody. Davis' attorney said she was suffering from parasomnia and amnesia, and that she was asleep thanks to two Ambiens when the incident took place. But the court didn't buy it. In January 2011, Davis was found guilty of "first offense OWI," ordered to pay a fine, and lost her license for six months.
Celebrity news, beauty, fashion advice, and fascinating features, delivered straight to your inbox!