The 39 Best Christmas Movies on Netflix
It's beginning to look a lot like...well, you know.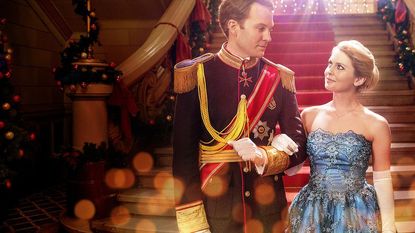 (Image credit: Netflix)
Marie Claire newsletter
Celebrity news, beauty, fashion advice, and fascinating features, delivered straight to your inbox!
Thank you for signing up to . You will receive a verification email shortly.
There was a problem. Please refresh the page and try again.
The holidays are upon us, which means it's time to listen to Mariah Carey and Justin Bieber's "All I Want for Christmas Is You" on repeat, deck yourself out in tinsel, and, of course, settle down with some Netflix (opens in new tab). The streaming giant is a go-to destination for anyone itching to have a holiday movie night (opens in new tab), thanks to its growing stable of Christmas #content. From family-friendly fare like The Christmas Chronicles and The Princess Switch to the royal rom-com perfect that is A Christmas Prince (and its sequels, A Christmas Prince: The Royal Wedding and A Christmas Prince: The Royal Baby, of course), the platform has something amazing for everyone leeching off of um, totally validly sharing your Netflix account.
Feeling overwhelmed about sorting through the best of Netflix's holiday movies to craft a perfect Christmas queue? Well, we're making that Christmas wish come true, at least, because we've done the hard part for you. Here's a handy list of the best of what's available on Netflix in time for Christmas.
A California Christmas
Starring: Lauren Swickard, Josh Swickard, Amanda Detmer, and Ali Afshar
A charming rich guy pretends to be a ranch hand to try to talk a woman into selling her family's land before Christmas. But then, love.
WATCH NOW (opens in new tab)
A Christmas Prince
Starring: Rose McIver, Ben Lamb, Tom Knight, Sarah Douglas, Daniel Fathers, Alice Krige, and Tahirah Sharif
If you've ever indulged in your own Prince Harry/Meghan Markle-inspired royal fantasy, then this is for you. In it, an American journalist is sent abroad to cover a major royal event and ends up finding her own happily ever after—all set against a Christmas-y backdrop.
WATCH NOW (opens in new tab)
A Christmas Prince: The Royal Wedding
Starring: Rose McIver, Ben Lamb, Alice Krige, Sarah Douglas, and Tahirah Sharif
Set a year after the first movie, the second installment in Netflix's A Christmas Prince trilogy (yes, more on the third film next) sees said American journalist (Amber Moore, played by Rose McIver) returning to the fictional kingdom of Aldovia to plan her wedding, only to find that her simple, down-to-earth tastes don't exactly mesh with royal tradition.
WATCH NOW (opens in new tab)
A Christmas Prince: The Royal Baby
Starring: Rose McIver, Ben Lamb, and Sarah Douglas
Another year, another installment in Netflix's hit Christmas franchise. The third movie in the Christmas Prince trilogy, A Christmas Prince: The Royal Baby will premiere on the streaming giant on December 5, 2019. You can pretty much guess the plot of this one, right?
WATCH NOW (opens in new tab)
Dolly Parton's Christmas on the Square
Starring: Dolly Parton, Jenifer Lewis, Josh Segarra, Jeanine Mason, Mary Lane Haskell, Treat Williams, and Christine Baranski
A woman is planning to sell a small town—without thinking about how that's going to affect, you know, all the people who live there—so she receives a much-needed visit from a holiday angel.
Operation Christmas Drop
Starring: Kat Graham and Alexander Ludwig
A congressional assistant and an Air Force captain find love while trying to decide if an Air Force base in Guam (which happens to have a tradition of airlifting Christmas gifts for the locals every year) should close or stay open. Oh, and even though that sounds like boring
bureaucracy, they somehow find love in the process.
WATCH NOW (opens in new tab)
The Holiday Movies That Made Us
Starring: Phe Caplan
Season 2 of Netflix's hit The Movies That Made Us series has tackled holiday movies specifically, delving into the stories behind Christmas classics like Elf and The Nightmare Before Christmas.
WATCH NOW (opens in new tab)
Jingle Jangle: A Christmas Journey
Starring: Forest Whitaker, Madalen Mills ,Keegan-Michael Key, Hugh Bonneville, Anika Noni Rose, Phylicia Rashad, Lisa Davina Phillip, and Ricky Martin
A toymaker and his granddaughter have to team up to save Christmas when the toymaker's apprentice betrays them.
WATCH NOW (opens in new tab)
Holiday in the Wild
Starring: Rob Lowe and Kristin Davis
After marriage ends, a woman decides to take her second honeymoon in Africa alone. There she meets a pilot. They rescue a baby elephant and, of course, find love in the process.
WATCH NOW (opens in new tab)
El Camino Christmas
Starring: Luke Grimes, Vincent D'Onofrio, Dax Shepard, Kurtwood Smith, Michelle Mylett, Emilio Rivera, Kimberly Quinn, Jessica Alba, and Tim Allen
In this dark comedy, a man in search of the father he's never known ends up barricaded in a liquor store with five other people on Christmas Eve during a shootout.
WATCH NOW (opens in new tab)
Let It Snow
Starring: Isabela Merced, Matthew Noszka, Liv Hewson, Odeya Rush, Kiernan Shipka, Mitchell Hope, Shameik Moore, Anna Akana, Jacob Batalon, and Joan Cusack
This teen romantic dramedy (it's doing a lot of lifting across genres, okay?), a huge blizzard hits the small town of Gracetown, leaving everyone snowed in—and leaving the members of the senior class with plenty of time to reflect on life, love, and friendship and confront all their ~feels~.

WATCH NOW (opens in new tab)
Holidate
Starring: Emma Roberts, Luke Bracey, Jake Manley, Jessica Capshaw, Andrew Bachelor, Frances Fisher, Manish Dayal and Kristin Chenoweth.

Emma Roberts and Luke Bracey star as Sloane and Jackson, two perpetual singles who decide to go as each other's plus ones for the holidays to avoid judgement about their love lives.
WATCH NOW (opens in new tab)
The Christmas Chronicles
Starring: Kurt Russell, Goldie Hawn, Judah Lewis, Darby Camp, Lamorne Morris, Kimberly Williams-Paisley, and Oliver Hudson.
Two siblings decide to capture Santa Claus (you know, as you do) and end up having to team up with a super cool version of St. Nick (played by Kurt Russell) to save the holiday before it's too late.
WATCH NOW (opens in new tab)
The Christmas Chronicles: Part 2
Starring: Kurt Russell, Goldie Hawn, Judah Lewis, Darby Camp, and Kimberly Williams-Paisley.
If you loved the first Christmas Chronicles movie, the cast is back for a second adventure that debuts on Netflix on November 25, 2020. Luckily, you can already set a reminder for the movie now if you don't want to miss it when it premieres.
Holiday Rush
Starring: Romany Malco, Sonequa Martin-Green, Deon Cole, Amarr M. Wooten, La La Anthony, Alysia Livingston, Andrea-Marie Alphonse, Selena-Marie Alphonse, Roscoe Orman, Malika Samuel, Deysha Nelson, Tamala Jones, and Darlene Love
When Rush, a popular DJ, is fired unexpectedly, he and his four kids move in with his aunt, giving up their luxe lifestyle. Rush and his producer buy the old radio station where he used to work in an attempt to get back at the pop station that bought his out and fired him and, predictably, life lessons and love connections ensue.
Christmas in the Heartland
Starring: Sierra McCormick and Brighton Sharbino
This is basically a teen-centric, holiday-themed take on The Prince and the Pauper. Two girls meet on a plane and decide to trade places for Christmas (where they both just happen to be meeting up with relatives they've never met for the holidays) to see how the other lives.
Christmas in the Smokies
Starring: Sarah Lancaster, Barry Corbin, Alan Powell, Jill Wagner, and Alan Williams
A family has to work together to save their struggling berry farm during the holidays—set against the beautiful Christmas-y backdrop of the Smokey Mountains, of course.
Elf Pets: A Fox Cub's Christmas Tale
Starring: Leslie Bellair, Tommas Oden, Brad Hyland, Emma Greene, and Brody Rose
If you have an Elf on the Shelf-obsessed kid in your house, this animated film is a must-watch (for them, at least).

WATCH NOW (opens in new tab)
A Bad Moms Christmas
Starring: Mila Kunis, Kristen Bell, Kathryn Hahn, Christine Baranski, Cheryl Hines, and Susan Sarandon
The Bad Moms take on their own moms (played by legends Christine Baranski, Cheryl Hines, and Susan Sarandon) at Christmas time. So. Many. Laughs.
Christmas With a View
Starring: Kaitlyn Leeb, Scott Cavalheiro, Joseph Cannata, Vivica A. Fox, Patrick Duffy, Nicole Stamp, and Genevieve Kang
The Thunder Mountain Ski Resort buzzes when it lands celebrity chef Shane Roarke as the the new head chef, but one person isn't excited: Clara Garrison. Clara is back in the her hometown after failing at opening her own restaurant in the city and butts heads with Shane. But, you know, in a romantic tension-y kind of way.
WATCH NOW (opens in new tab)
Christmas Inheritance
Starring: Eliza Taylor, Jake Lacy, Andie MacDowell, and Michael Xavier
A spoiled socialite named Ellen is forced to travel to the small town of Snow Falls to deliver a special card from her father before he'll agree to let her inherit the family business. During the trip, she ends up snowed in and stuck in the small town, where she learns the value of hard work and helping others and finds her own kind of Christmas miracle. Aww, right?
WATCH NOW (opens in new tab)
Christmas Wedding Planner
Starring: Jocelyn Hudon, Stephen Huszar, Kelly Rutherford, and Melinda Shankar
If you love Lifetime Movie vibes and holiday romance, Netflix is the place for you this holiday season. In Christmas Wedding Planner, a wedding planning pro is in the middle of executing her cousin's lavish I Do's when a "devilishly handsome private investigator turns her world upside down." Your made-for-TV-movie loving heart is skipping a beat, admit it.
WATCH NOW (opens in new tab)
The Holiday Calendar
Starring: Kat Graham, Quincy Brown, Ethan Peck, and Ron Cephas Jones
If you like a little holiday magic in your holiday movies, add this one to your queue. In it, a photographer inherits a magical advent calendar with the power to predict her future. And yes, that includes her love life.
WATCH NOW (opens in new tab)
The Princess Switch
Starring: Vanessa Hudgens, Sam Palladio, and Nick Sagar
It's like The Prince and the Pauper meets Disney Channel meets Christmas. In this little delight, Vanessa Hudgens plays Stacy, a down-to-earth baker from Chicago, and Margaret, a noblewoman who is the soon-to-be princess of Belgravia. The identical strangers meet and hatch a plot to trade places. Romantic, Christmas-y hijinks ensue.
The Princess Switch 2: Switched Again
Starring: Vanessa Hudgens, Nick Sagar, Alexa Adeosun, and Suanne Braun
This holiday season (on November 19, to be exact), Netflix is gifting us all with a sequel to The Princess Switch. In the second installment, Duchess Margaret and Kevin hit a rough patch when she unexpectedly inherits the throne, leaving it up to Stacy to save the day. Simple enough, right? Wrong. Because this movie feature a new lookalike, a party girl named Fiona, who messes everything up.
WATCH NOW (opens in new tab)
How the Grinch Stole Christmas!
Starring: Jim Carrey, Jeffrey Tambor, Christine Baranski, Bill Irwin, Molly Shannon, and Taylor Momsen

If you're looking for more of a throwback holiday movie night, Netflix is also home to the 2000, live-action version of Dr. Seuss' classic, How the Grinch Stole Christmas. Bonus: The movie features a young Taylor Momsen (aka Jenny Humphrey from Gossip Girl) in Who makeup.
WATCH NOW (opens in new tab)
The Knight Before Christmas
Starring: Vanessa Hudgens, Josh Whitehouse, and Emmanuelle Chriqui
A 14th century knight is sent into the future (aka to present day) to fulfill his destiny—where he is promptly hit by a car. The driver, Brooke, is a woman who has basically given up on finding her own happily ever after and who, rationally, assumes he has amnesia from the accident when he tells her he's a knight. Eventually, she comes around...and finds true love in the process.
WATCH NOW (opens in new tab)
White Christmas
Starring: Bing Crosby, Danny Kaye, Rosemary Clooney, Vera-Ellen, and Dean Jagger
It's a classic, about a group of people trying to put on a holiday show in Vermont to spread some Christmas cheer. What's not to love?
WATCH NOW (opens in new tab)
A Cinderella Story: Christmas Wish
Starring: Laura Marano and Gregg Sulkin
By now we all know the general drill with A Cinderella Story movies, but in this Christmas-y version, a young, aspiring singer (whose stepmother and wicked stepsisters are keeping her career from taking off) works at Christmas theme park "Santa Land," where she meets her handsome, son-of-a-billionaire Prince Charming.

WATCH NOW (opens in new tab)
Klaus
Starring: Jason Schwartzman, J. K. Simmons, Rashida Jones, Will Sasso, Neda Margrethe Labba, Sergio Pablos, Norm Macdonald, and Joan Cusack
A young postman is sent to a remote, snowy village where no one writes letters and is feeling pretty disenchanted until his meets Klaus, a mysterious man who lives in a cabin full of toys...
WATCH NOW (opens in new tab)
A Very Murray Christmas
Starring: Bill Murray, George Clooney, Paul Shaffer, Amy Poehler, Michael Cera, Chris Rock, David Johansen, Maya Rudolph, Jason Schwartzman, Jenny Lewis, Rashida Jones, and Miley Cyrus.
Bill Murray's variety special is almost as delectable as a giant yule log, and is packed full of more celebrity cameos than you'll know what to do with—including Miley Cyrus, who sings "Silent Night" atop a piano while dressed as a sexy Santa. In other words, it's just Miley being Miley.
WATCH NOW (opens in new tab)
This Christmas
Starring: Delroy Lindo, Idris Elba, Loretta Devine, Chris Brown, Columbus Short, Regina King, Keith Robinson, Laz Alonso, Sharon Leal, Lauren London, and Mekhi Phifer
This Christmas classic follows the Whitfield family and the various struggles they face when all of the siblings are home for the holidays at the same time fo the first time in years.
WATCH NOW (opens in new tab)
Trailer Park Boys: Live at the North Pole
Starring: Robb Wells, John Paul Tremblay, and Mike Smith
In this holiday special, the group tricks Ricky into going to Minneapolis (for a live, Christmas-themed show) by telling him they're going to the North Pole.
WATCH NOW (opens in new tab)
Black Mirror: White Christmas
Starring: Jon Hamm, Oona Chaplin, and Rafe Spall.
This brilliant Christmas episode of Black Mirror stars Hamm and Spall as two men telling each other stories as a way to pass time while stationed at a "remote outpost." We won't give anything else away (this is a spoiler free zone), but watch it. You won't be disappointed.
WATCH NOW (opens in new tab)
Holidays
Starring: Seth Green, Megan Duffy, Ashley Green, Ava Acres, and many, many more.
If you like your holidays with a little more naughty than nice, this horror anthology movie (made up of eight short Christmas-themed stories) might hit exactly the right note for you.

WATCH NOW (opens in new tab)
Get Santa
Starring: Jim Broadbent, Rafe Spall, and Warwick Davis
A father and son have to help save Christmas when they discover Santa living in their garage a few days before Christmas because he's on the run from the law.
WATCH NOW (opens in new tab)
Christmas Break-In
Starring: Denise Richards, Danny Glover, and Cameron Seely
It's like Home Alone, but with a female lead. Izzy is, through ~circumstances~ left alone in her school during a blizzard. When three criminals break in and take the janitor hostage, she has to save the day.
WATCH NOW (opens in new tab)
Elliot the Littlest Reindeer
Starring: Josh Hutcherson, Samantha Bee, Martin Short, Morena Baccarin, Jeff Dunham, and John Cleese
This Canadian animated movie is about underdog Elliot, who vies for a spot pulling Santa's sleigh when Blitzen announces he's retiring, meaning there's an opening on the A-team.
WATCH NOW (opens in new tab)
BoJack Horseman Christmas Special: Sabrina's Christmas Wish
Starring: Will Arnett, Aaron Paul, Alison Brie, Adam Conover, and Kristen Schaal.
Long story short, it's Christmas and Bojack is being a Grinch. Coziness and LOLs ensue, as does a certain amount of introspection—as is typical of the show. If you enjoy Bojack Horseman and somehow haven't watched this yet, now is the time.
WATCH NOW (opens in new tab)
Kayleigh Roberts is a freelance writer and editor with more than 10 years of professional experience. Her byline has appeared in Marie Claire, Cosmopolitan, ELLE, Harper's Bazaar, The Atlantic, Allure, Entertainment Weekly, MTV, Bustle, Refinery29, Girls' Life Magazine, Just Jared, and Tiger Beat, among other publications. She's a graduate of the Medill School of Journalism at Northwestern University.