Vitamin What? This Food-Based Supplement Line Might Be the Nutritional Antidote You're Looking For
Put the One a Day down and step away.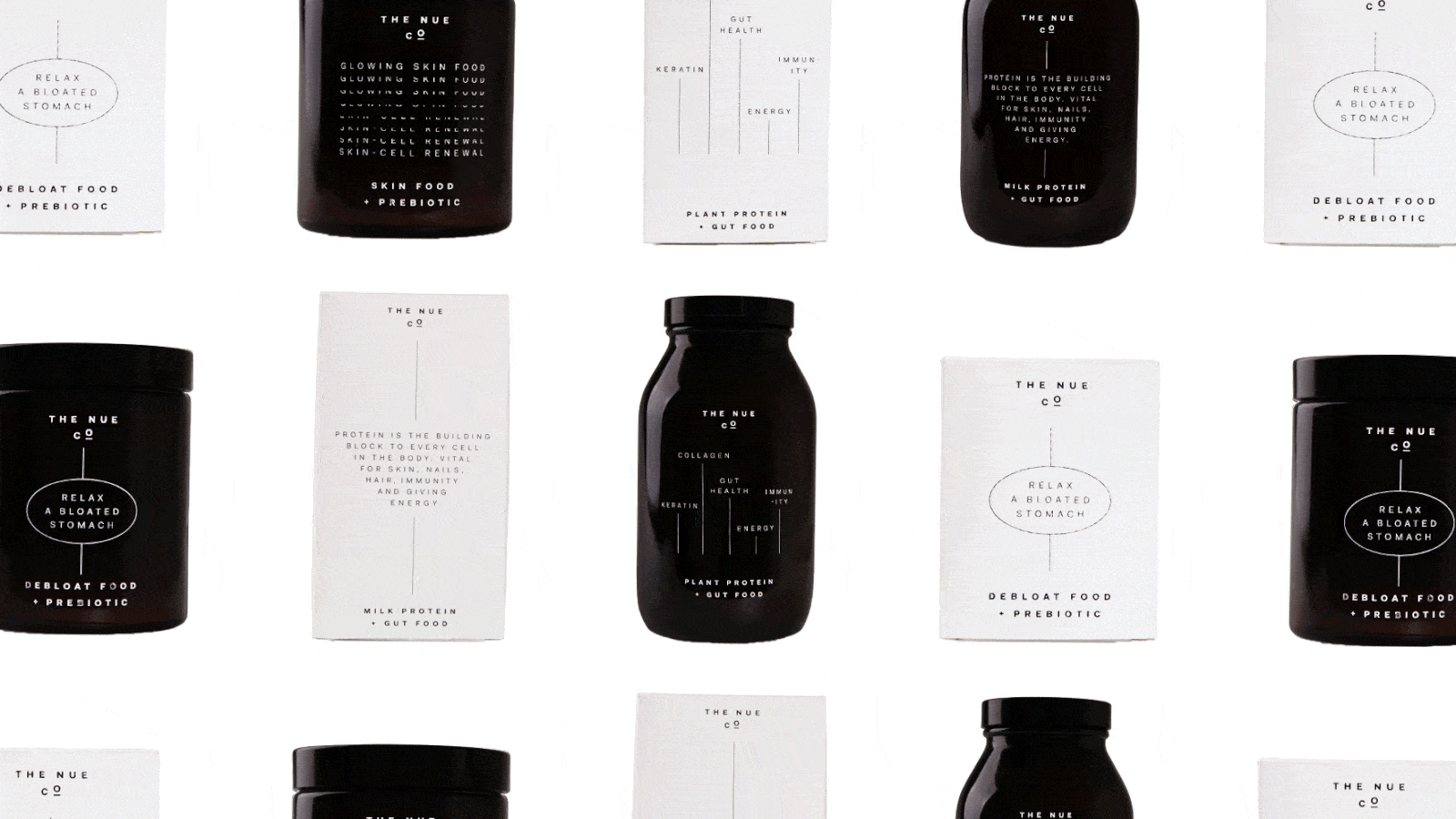 (Image credit: Courtesy, design by Betsy Farrell)
For as long as you've been able to swallow pills, the procedure for taking vitamins has gone like this: Intend to tip out a single tablet; scoop up the 73 that clatter out onto floor/under the fridge. (The nutrients cancel out the non-existence of the five-second rule, yeah?) Place one on tongue, then chase aggressively with water before the coating dissolves, but the mini tsunami sends it down the wrong pipe. Thirty minutes later, intestines turn into a Tilt-A-Whirl. Think: This is how it ends.
To recap, it's only ever gone downhill since that first gritty Flintstone chewable—but thanks to a new line of supplements, this particularly unpleasant part of a larger, mostly unpleasant experience (looking after your health) no longer has to be so...unpleasant.
Launching on Net-a-Porter today, The Nue Co. produces organic, food-based supplements with zero additives or sugar—just straight-up, highly efficient protein, probiotics, and prebiotics that are easier for your body to digest and absorb than traditional isolated vitamins. (Who even needs 500 percent vitamin C?) For example, one tablespoon of the brand's plant- or milk-protein blends—blended into a smoothie or stirred into water and taken as a shot, as founder Jules Miller prefers—contains the same protein as two eggs.
Along with the assurance that you won't get that old-fashioned churn-y feeling in your stomach from taking these, The Nue Co. also delivers three boosters for de-bloating, pretty skin, and energy, the trifecta of Millennial Concerns. (The youths will be all over the turmeric-smelling complexion one, you can bet your açaí bowl on it.) On top of that, each Soil Association-approved power comes in a glass jar like that which you might find at a 20th-century druggist's shop, where your birth control would be handed over with a blush and a white paper bag. Very Top Shelf-ready.
But don't let the trimmings, including an upcoming travel-inspired range, distract you—these guys *will* fill the gaps in your grudgingly responsible, occasionally alarming diet. And they won't make you barf.
Follow Marie Claire on Facebook for the latest celeb news, beauty tips, fascinating reads, livestream video, and more.