9 Things You Should Be Eating *Regularly* If You Want Glowing Skin
From spices to entrées.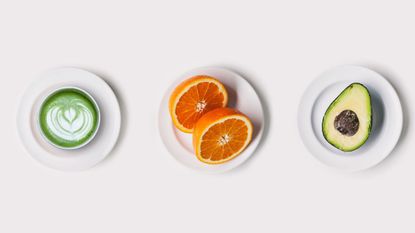 (Image credit: Design by Betsy Farrell)
Marie Claire Newsletter
Celebrity news, beauty, fashion advice, and fascinating features, delivered straight to your inbox!
Thank you for signing up to Marie Claire. You will receive a verification email shortly.
There was a problem. Please refresh the page and try again.
When it comes to a natural glow, you really are what you eat. Because curbing breakouts and clearing up our complexions are always top of mind, we looked to two leading nutritionists to give us the lowdown on the foods that will help fight redness, puffiness, irritation, wrinkles, and more.
1. Turmeric. The spice is a powerful anti-inflammatory that's also high in curcuminoids, which are antioxidant phytochemicals. "These antioxidants fight free radicals and prevent them from causing wrinkles and age spots, while also fighting inflammation, like redness and puffiness," explains Brigitte Zeitlin, nutritionist and founder of BZ Nutrition. "Leaving your skin looking bright, clear, and glowing." An easy way to incorporate it into your diet is by sprinkling it on top of a beverage, like a latte, or incorporating it into dishes like scrambled eggs or mixed vegetables.
2. Eggs. They're healthy for you for many reasons, but they play a key role in keeping your skin glowing because of their zinc content. "Zinc is important for controlling oil content of the skin and minimizing breakouts," says Zeitlin. "It also plays an essential role in the formation of collagen, which is what keeps your skin plump, firm, and young." Have them for breakfast or dinner–hardboiled, scrambled, omelet style, or poached over some sautéed spinach.
3. Matcha. Dr. Zeitlin loves matcha as it keep your skin glowing by helping to hydrate your skin cells and fight inflammation that would otherwise irritate and dull your skin. "Proper hydration improves cell turnover, meaning you have healthy new cells to improve your skin tone and maintain vibrant looking skin," she says. If matcha is not for you, you can drink regular green tea or straight up water with lemon to keep your hydration status strong.
4. Salmon. Simply put, it's a ✨glowing✨ skin superfood. "It's high in omega-3 fatty acids that work to maintain wrinkle-free skin, reduce inflammation, and prevent collagen breakdown, keeping your skin smooth, young, and healthy," says Zeitlin. It also helps to fight breakouts and keep the skin clean, clear, and bright. Whether tossed into a salad or cooked as your main dish, try and work it into your routine for 2-3 meals a week.
5. Mushrooms. They're a great source of B vitamins that help prevent your skin cells from sun damage. "These fungi are also a great source of selenium, an antioxidant that helps keep your skin hydrated, plump, and radiating," explains Zeitlin, who suggests adding them to a salad or stir fry.
6. Artichokes. "They contain phytochemicals that act as powerful anti-inflammatories for the skin by fighting redness and irritation," says Zeitlin. Eat these spiky greens in your salad, roasted, or from the jar.
7. Avocado. There's a reason why it's a popular ingredient in face masks. "As well as being packed with high amounts of fiber, protein, magnesium, vitamin B6, E, and K, avocados also possess biotin," explains Frida Harju, in-house nutritionist at health app, Lifesum. "Not only is biotin essential for helping prevent brittle hair and nails, it also helps combat dry skin." Unlike other fruits, avocados also contain Omega-9 fats, which can help repair damaged skin by reducing irritation and redness.
8. Sweet Potato. The skin contains high levels of vitamin A and beta-carotene. "When the body receives beta-carotene, it converts it into active vitamin A, which is important for maintaining healthy skin, hair, and teeth," says Harju. Another benefit of eating fruit and vegetables rich in beta-carotene is that it can provide a natural tan. Just don't go overboard...
9. Tangerines. They're a great source of vitamin A and C, which helps your skin battle acne and speeds up the rebuilding process of your skin. "Fine lines and wrinkles are much easier to manage with plenty of vitamin A as it has wonderful anti-aging properties, while vitamin C helps you produce collagen, which keeps the skin supple," explains Harju.
Follow Marie Claire on Facebook for the latest celeb news, beauty tips, fascinating reads, livestream video, and more.
Celebrity news, beauty, fashion advice, and fascinating features, delivered straight to your inbox!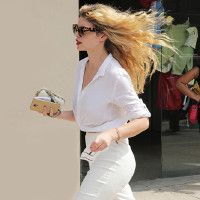 Lauren is the former beauty editor at Marie Claire. She love to while away the hours at coffee shops, hunt for vintage clothes, and bask in the rough-and-tumble beauty of NYC. She firmly believes that solitude can be a luxury if you've got the right soundtrack—that being the Rolling Stones, of course.