14 Desk Organization Ideas You Can Actually Use
You'll have a Pinterest-worthy workspace in no time.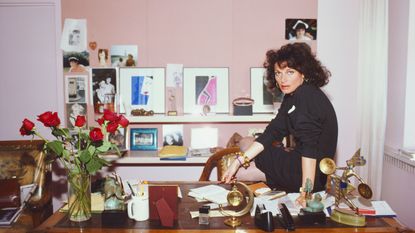 (Image credit: Rose Hartman/Getty Images)
Far too often, we find ourselves looking through Pinterest or Tumblr for the perfect setup to be our most productive selves in...but after endless scrolls, nothing seems to fit. But when you work from home, having a desk—scratch that, having an *rganized desk—is the difference between going down a two-hour TikTok hole to being able to sign off from your workday early. We all want that Pottery Barn Teen catalog-worthy workspace we strived for as a 14-year-old, so how do you get it? Well, my little buzzy worker bee friends, behold the world of desk organization. Having an organized desk makes your place of work go from a shady motel to the Ritz-Carlton in a no time. Instead of wasting your time with heavily edited photos of the desks of your dreams, I sought out real people's desks from Instagram who made it happen. And by made it happen, I mean Marie Kondo-d their workspace into something dreams are made of! Ahead, here are 14 ideas for making your next couple of months, weeks, days of working at home more efficient than they've ever been.
Let your plants shine somewhere else.
For the most part, keep decorative items like plants off your desk. This will clear more room for stuff your desk should actually be used for, like writing that email you keep forgetting about.
Hang a shelf over your desk.
Like I said: POTTERY BARN TEEN. Your desk will look extra clean, and your walls won't be entirely bare. It's a win-win.
Maximize the space under your desk.
Measure the space underneath your desk with some measuring tape and then find some cute drawers that can fit under said space. You'll be able to store stuff, and you'll have more room in your office to add other, more aesthetically pleasing items.
Fill a small storage caddy.
I love my drawers like the next person, but sometimes adding a pop of color to your desk isn't so bad. Filling up a storage caddy (like this one) will help you to grab items at lightning speed.
Use a pegboard for decoration and organizing.
The inner crafty person in you is about to shine! Pick up a pegboard and get ready to free some space on your desk. Bonus points if you include desk supplies and decorations!
Turn paper clutter into decor.
Put those saved concert tickets, postcards, Polaroids, and prints to use on your walls. It adds an effortless a piece of you to your desk space.
Add a rolling cart next to your desk.
This handy-dandy cart next to your desk will increase storage and surface area for you. Put whatever you want in your cart (even plants), and watch the clutter fade away.
Mix supplies with decor.
These metal wall organizers are the perfect tool to help you know where everything is, while also leaving you some room to do the things you have to get done. Have I mentioned they're super cute?
Use a laptop or monitor riser for extra storage and surface area.
The beauty of a laptop or monitor riser is 1) it helps with posture 2) you can store things in it, and 3) it leaves you with more space than you know what to do with.
Optimize your storage space.
When it comes to your desk, there are no rules when it comes to how high you can stack things. In this case, stacking your storage on top of each other is probably the best thing you can do for your future self.
Floating Shelves
Having multiple shelves means you can not only store stuff on them but that you're free to play around a bit, whether that means one of them becoming a temporary bookshelf or a space where you practice your green thumb. Feel free to let your freak flag fly!
Switch up your lighting.
Taking your trusty desk lamp off your desk means you have more room to do as you please, and it feels like you're doing a little (free!) remodeling to the space.
Use drawer dividers.
Think of your silverware drawer and how amazing it is to know where things go. Now, think about how amazing that would be for your desk drawers...are you smiling yet?
DIY a desk shelf organizer.
Not only is a desk shelf on your desk cute with a capital "C," but it gives you a space to put all your little knick-knacks in one area. You can totally DIY it using planks of wood, or just buy one like this. We don't judge.
...
For more stories like this, including celebrity news, beauty and fashion advice, savvy political commentary, and fascinating features, sign up for the Marie Claire newsletter.
Bianca Rodriguez is the Fashion & Luxury Commerce Manager at Hearst Magazines, covering fashion, beauty, and more for Cosmopolitan, Elle, Esquire, Harper's BAZAAR, and Town & Country. She likes lounging about with a good book and thinks a closet without platform sneakers is a travesty.