Melania Trump Reportedly Took a $64,000 Trip to Mar-a-Lago Last Week
She went there instead of to Davos with her husband.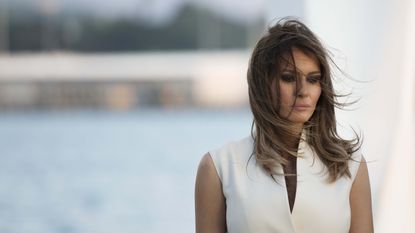 (Image credit: Getty Images)
President Trump's marriage has been under a media microscope lately, after the Wall Street Journal reported that Trump's personal lawyer brokered a $130,000 payment to adult film star Stormy Daniels in October 2016 to prohibit Daniels from publicly discussing an alleged affair. After the report came out, Melania Trump's office announced she would not be accompanying the president to the World Economic Forum in Davos, Switzerland.
Instead, on Thursday, the first lady visited the Holocaust Memorial Museum in Washington, then headed to Joint Base Andrews to board a plane headed for Mar-a-Lago, Trump's Palm Beach resort, according to a New York Times article published yesterday. She reportedly visited the spa, then quickly left on Friday, right before a fundraiser was to be held there.
Naturally, last-minute airfare isn't cheap, especially when you're flying private with a Secret Service escort, which is a requirement when you're the first lady. The New York Times calculated how much that would cost using government data:
Melania's spokesperson, Stephanie Grisham, slammed media reports about Melania's so-called discontent in her marriage, though she didn't specify which reports were false. "The laundry list of salacious & flat-out false reporting about Mrs. Trump by tabloid publications & TV shows has seeped into 'main stream media' reporting," Grisham tweeted on January 26. "She is focused on her family & role as FLOTUS—not the unrealistic scenarios being peddled daily by the fake news."
The first lady will attend Tuesday night's State of the Union address, and will be joined by a group of guests, including members of the armed forces. Daniels, whose real name is Stephanie Clifford, has scheduled an appearance on ABC's Jimmy Kimmel Live! following the president's State of the Union address tonight.
The Associated Press contributed to this report.
Megan Friedman is the former managing editor of the Newsroom at Hearst. She's worked at NBC and Time, and is a graduate of Northwestern's Medill School of Journalism.