John Oliver Wrote His Own Bunny Book Shading Mike Pence—And It's Selling Out
The world needs this gay bunny.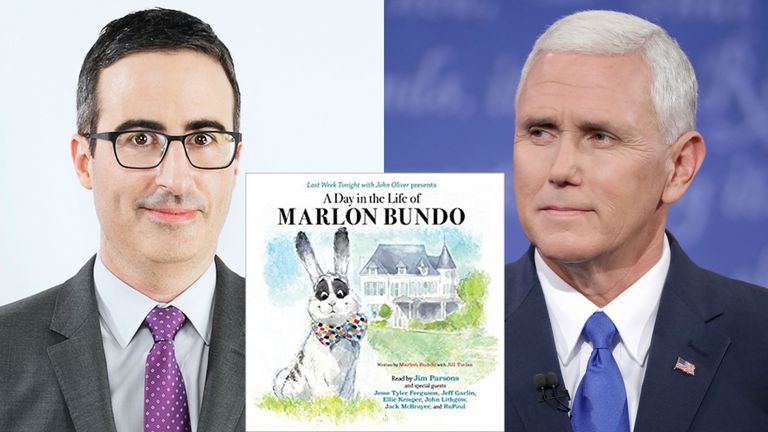 (Image credit: Amazon)
John Oliver has taken on Mike Pence in the best way, and he's already winning. Following news that the Pence family would be releasing a children's book inspired by their family's rabbit, Oliver has parodied the book with his own version, and within hours, it became a smash-hit.
RELATED STORY
To recap—on Sunday, Oliver announced on his show, Last Week Tonight, that he'd be immediately releasing A Day in the Life of Marlon Bundo, a book about the Pence family's rabbit, with a twist. In Oliver's version, Marlon Bundo is gay.
Conversely, Marlon Bundo's Day in the Life of the Vice President, is written by Pence's daughter, Charlotte, and is illustrated by his wife, Karen Pence. Impressively, Oliver managed to beat the Pences to market, and outsell their volume.
Oliver pointed out the significant differences between his book, which is written by Jill Twiss, and illustrated by E.G. Keller, and the Pence family opus. As he revealed on his show, "Our story is about Marlon Bundo falling in love with another boy rabbit, because our Marlon Bundo is gay—just like the real Marlon Bundo."
Vice President Pence is known for his anti-LGBTQ stance, and famously said a in a 2006 speech (via TIME) that gay marriage signalled a "societal collapse," and that being gay was a choice.
As Oliver said about A Day in the Life of Marlon Bundo on his show (via Deadline), "Please buy it for your children; buy it for any child you know, or just buy it because you know it will annoy Mike Pence."
RELATED STORY