Donald Trump Jr. Should Probably Log Off Twitter
And by probably, I mean definitely.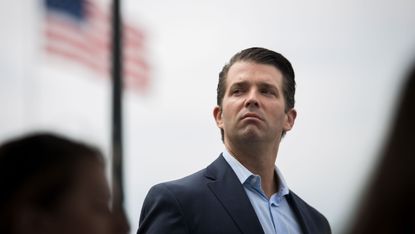 (Image credit: Drew Angerer)
Donald Trump Jr. is many things. He's the largest son of the President of the United States, he's a father, he's an American businessman with a suspicious amount of free time, he's a known Aubrey O'Day superfan. But the one role he seems to take most seriously is the one that no one asked him to take on: That of Twitter Provocateur.
And he is bad at it! The phrase "Never Tweet" could apply to most of the Trump family, but Junior seems to have taken it upon himself to be the worst of the gaggle. It shows an uncharacteristic amount of ambition to attempt to be the Trump with the most awful online opinions, considering his dad's Twitter account has almost started literal wars, but Don Jr. is making a good go of it.
Obviously the world wide web is an infinitely deep, hellish abyss in which the basest impulses of humanity emerge under the cloak of anonymity—no one's arguing that. But I would argue that Donald Trump Jr.'s Twitter account is one of the dumbest places on the whole internet. (Remember when he may have accidentally treason'd with it?) And this week, I suspect he gave himself a goal: In less than 48 hours, prove it once and for all.
Using just 280 characters at a time between Tuesday morning and Wednesday afternoon, the First Son confirmed his less than stellar grasp of both the written word and basic forms of government, engaged in feuds so petty they bordered on the surreal, and retweeted a bunch of grandpa memes while attempting to use today's parlance, resulting in optics so humiliating that they would have actually been charming from nearly anyone else.

Wanna see? Take it away, Don:
Weird Twitter Beef
On Tuesday, we got to witness an awesome jump in logic (no offense to the concept of logic). A day earlier, Hellboy actor Ron Perlman tweeted about how he once peed on his hand before shaking Harvey Weinstein's and then added:
Did I ever tell ya about when Harvey Weinstein told me to make sure I shook his hand at a charity event, so I stopped in the mens room and pissed all over my hand, then went straight up to him on the receiving line? I think about that every time lil donnie opens up his KFC.June 25, 2018
See more
That comment is weird, but fortunately it's kind of too confusing to be offensive. But Don Jr. decided to engage anyway:
So you knew he was a rapist and rather the actually do something or say anything you pissed all over your hand??? Imagine how many assaults on innocent women you could have prevented if you weren't a coward. https://t.co/EvA7bou2bgJune 26, 2018
See more
He's Not Sure What Socialism Is
On Tuesday, Alexandria Ocasio-Cortez, a member of the Democratic Socialists of America (DSA), beat the incumbent Joe Crowley in the 14th Congressional District Democratic primary in New York. It was a big, historic deal and seemed to suggest a sea change happening on the left, just in time for the midterms.
Don Jr., naturally, weighed in:
Congrats to the Democrats, who after last night are now officially the Party of impeachment, open borders, abolishing ICE, banning the 2nd Amendment and unbridled socialism. The Democrat Party of John F. Kennedy is dead. RIP.June 27, 2018
See more
I like this tweet because he's acting like Democrats accidentally became the party of impeachment, open borders, abolishing ICE, and banning the 2nd amendment, as opposed to knowingly showing up to actually vote for more progressive candidates. I can only speak for myself, but abolishing ICE seems pretty dope! Same with impeachment, to be honest! And as for the unbridled socialism? At this point, when it comes to getting this administration out of office, I'm not super picky.
Also, socialism and the Democratic Socialists of America are different. Here's an explainer that he might find helpful.
He Peppers in the Use of Slang and It Hurts Me
Don Jr. had a lot of opinions about Supreme Court Justice Anthony Kennedy's retirement announcement Wednesday, but he seemed to take a special glee in the horror many on the left expressed over things like Roe v. Wade potentially being overturned. You know, stuff that everyone in Don Jr.'s party is super into.
OMG! Just when you thought this week couldn't get more lit... I give you Anthony Kennedy's retirement from #SCOTUSJune 27, 2018
See more
Wow. Absolutely not, dude. You are the least chill 40 year-old man on the planet. Please leave "lit" out of whatever it is you're doing here.
Cringe-y Memes
And with the Kennedy announcement, so too came the weird memes that I didn't realize people other than my elderly relatives were still sending around. It was actually pretty educational:
This would be pretty awesome😂😂😂 https://t.co/TrM714IMARJune 27, 2018
See more
The joke here is that former prosecutor, Fox News host, and Trump family special favorite Jeanine Pirro would make a great replacement for Kennedy on the Supreme Court. It would be a harmless joke if Don's dad—who, you'll recall, is the President of the United States—didn't have a history of appointing guys simply because he saw them on TV.
Another meme followed:
Followed by a retweet of someone calling out the "Fake News" for writing up Don Jr.'s original Jeanine Pirro tweet. You get the idea. It's been a fast-paced week, and Don Jr. has tweeted through nearly every minute of it.
The thing is, when I really think about it, I'm not even mad at Donald Trump Jr.'s terrible opinions. Oh don't get me wrong, they suck and he is bad. But when I'm honest with myself, I'm only making fun of him because I'm scared and lashing out. America is changing, and it's really unclear whether the people I care about—people who need affordable access to healthcare and full reproductive rights and maternity leave and financial assistance and so many other things that I used to take for granted—are going to be OK when the dust settles. They really might not be OK. It's easy to make fun of Donald Trump Jr. for his lame opinions and how hard he tries to be a Right Wing Media Bad Boy, but my opinions don't have that much to do with him. I'm just taking pot-shots at his misguided use of slang and dumb memes because otherwise I would have to stare down the fact that maybe 2018 is the last year we get to live in the America we know and love.
Anyway, Don Jr. delete your account.
Marie Claire email subscribers get intel on fashion and beauty trends, hot-off-the-press celebrity news, and more. Sign up here.
Cady Drell is a writer, editor, researcher and pet enthusiast from Brooklyn.