Meet Jacinda Ardern, Prime Minister of New Zealand
The youngest female head of state in the world talks abortion, Trump, and stay-at-home dads.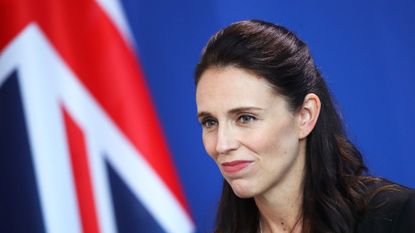 (Image credit: Getty Images)
At age 38, Jacinda Ardern is the youngest female head of state and one of few women leaders worldwide. Since taking office last year, Ardern has drawn support for her outspokenly liberal stance on social issues: She advocates decriminalizing abortion and legalizing marijuana, and she was the first prime minister of New Zealand to march in a gay-pride parade. Now she's attracting a different type of attention—for becoming the second leader in modern history to give birth while in office. (The first was Pakistan's Benazir Bhutto in 1990.) And for being unmarried (she and the baby's father, Clarke Gayford, have been dating for four years) and the first elected leader in world history to take maternity leave. This month, as she returns to work following six weeks' leave, we chat with her about stay-at-home dads, #MeToo, and working with President Donald Trump.
Marie Claire: How do you figure out how to be a female leader on the world stage? When Hillary Clinton was running for U.S. President, for example, so much was made of her behavior. Some critics called her cold and calculating, while others said she was trying too hard.
Jacinda Ardern: You do have those extra layers of judgment that aren't usually applied to men. When I came into politics, I remember reading these scorecards of my performance, and I would routinely have these comments about not being assertive enough. At that point, I had a choice to make: Either I could fill the expectations people had for how a politician was supposed to behave, or I could just be myself and bring a different form of political leadership. To me, it was obvious: I could only ever sustain being myself.
Marie Claire: One male columnist said "You're too nice" to be P.M.
JA: I think that has to do with our perception of politics. There are nice politicians. There is something about this job that does take an extra bit of motivation to get out of bed in the morning. The thing that drives people more often than not is they genuinely feel that they can make a difference. So that means there are nice people in politics.
Marie Claire: Have you been surprised by the attention your pregnancy received?
JA: No. When I realized, after the shock of it all had set in, that I was only the second person in the world [to give birth while serving as head of state], I thought, That's probably going to be of interest. I understand that therefore it brings curiosity, but I do equally hope and look forward to the day that it's not interesting because it's not uncommon.
Marie Claire: Many stories have questioned how you'll manage to both be Prime Minister and parent a newborn.
JA: I refuse to be held up as some kind of superwoman, because in my mind, the superwomen are the ones who do it on their own. I have my partner, who will be a stay-at-home father. I will do as much as I can, but I will have a village around me, and there's lots of people who don't have that. The other thing I think about is, I don't want there to be an assumption that women should do everything. This whole notion that women can have it all and do it all—maybe they can, but should we expect that of them? There's something to be said for being more mindful of everyone being able to make the choice that's best for them and their families, and that includes dads who may want to stay at home and moms who may wish to work.
Marie Claire: Having your partner stay home with the baby is a pretty big statement to make to the world.
JA: The thing that has surprised me the most is just how many women have come up to me and said, "We did that too!" And they'll say things like "My kids are teenagers now, and it was the best thing. There's such a special relationship with their father." I didn't expect that, and I think that's because we don't talk about it. I think it already is happening in many families, but we don't talk enough. And we should.
Marie Claire: Have you gotten any pressure to get married?
JA: No! No! People ask, "Why not?" and I always tell them to ask Clarke. There's nothing particular about it for us; we just happened to do things in reverse order. It's just one of those things we haven't gotten around to, but we're obviously committed to each other. We have a home together. Now we're having a baby together. And one day we'll complete the circle. Clarke will probably take "complete the circle" to mean we'll get a dog.
Marie Claire: I heard you asked President Barak Obama how to handle the guilt of being a working parent. Is that weighing on you?
JA: I'm a high-guilt person. I feel like I need to do everything and do everything well. I need to be the best sister, the best daughter, the best partner, the best prime minister. What woman doesn't? But I just remind myself that I'm not doing it alone.
Marie Claire: Has the #MeToo movement impacted New Zealand?
JA: Yes, there was a real discussion around the impact within our legal fraternity. There were examples that came out that demonstrated there was behavior, particularly toward interns, that kicked off a number of stories [about sexual harassment]. And it just highlights to me that New Zealand is not unique, and no particular industry is unique either. And that's hugely sad and disappointing, but I think we should be mindful that we have a long way to go before we can say that overturning the culture has been achieved.
Marie Claire: What has it been like working with President Trump?
JA: There are constantly situations where I'll be working alongside politicians from around the globe who take different perspectives and views than I do. In particular, there aren't too many progressives who are currently in leadership roles. So I find myself in that situation very, very often, but my job as prime minister is to advocate for New Zealand and to have relationships with a whole host of world leaders.
Marie Claire: It's not hard to work with Trump, given his record on women?
JA: No, and I can't let it be. No one is under any illusions about what I think, and I won't change my views, but I will build relationships for the good of New Zealand.
Marie Claire: You favor decriminalizing abortion, which is allowed in New Zealand if the health of the fetus or the mental or physical health of the mother is at risk. What would you like the policy to be instead?
JA: The test for being able to access an abortion is quite high. Women have to go through a process to make their legal case and speak to a specialist. And that doesn't seem right. So we've asked the Law Commission to undertake some work around having that removed from the Crimes Act. We need to make sure abortion is safe and accessible, and at the same time I want women to have reproductive choices. So those are some of the broader outcomes I hope we achieve. Ultimately, I do not believe abortion in 2018 should be in our Crimes Act.
Marie Claire: What else are you working on with women in mind?
JA: We've made some goals around pay issues and bringing women to equal footing. Women in New Zealand are overrepresented in low-wage industries. And financial security impacts so much. It affects your ability to leave abusive relationships, to raise your family, to live securely and independently. That's why some of the things we've done have been about low-paid workers, because I know it affects women.
MORE ON FEMALE POLITICIANS
Celebrity news, beauty, fashion advice, and fascinating features, delivered straight to your inbox!
Kayla Webley Adler is the Deputy Editor of ELLE magazine. She edits cover stories, profiles, and narrative features on politics, culture, crime, and social trends. Previously, she worked as the Features Director at Marie Claire magazine and as a Staff Writer at TIME magazine.