John McCain Is Dead at 81
"All that I am is thanks to him," wrote daughter Meghan.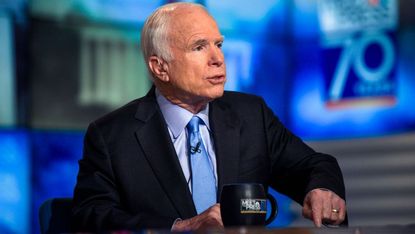 (Image credit: Getty Images)
Senator John McCain, a war hero, Senate giant, and former presidential candidate, died on Saturday afternoon. He was 81. His office released a statement on Saturday afternoon confirming McCain's death: (opens in new tab) "With the Senator when he passed were his wife Cindy and their family," it noted. "At his death, he had served the United States of America faithfully for sixty years."
McCain had been treating brain cancer for more than a year. Earlier this week, his family confirmed that McCain had chosen to discontinue his treatment of the disease. "With his usual strength of will, he has now chosen to discontinue medical treatment," his family said in a statement prior to his passing.
Even during his struggle with brain cancer, McCain frequently vocalized his resistance to President Donald Trump's administration and many of his policies. After the now-infamous "grab her by the p*ssy" tape was leaked by the Washington Post in 2016, McCain refused to stand by the now-president, breaking with most of his party to do so. "When Mr. Trump attacks women and demeans the women in our nation and in our society, that is a point where I just have to part company," he explained at the time.
A year earlier, Trump had openly disparaged McCain's service during the Vietnam War, saying he preferred "people that weren't captured." As a young man, McCain had been held as a prisoner of war for five years, suffering torture and injuries that would leave him with disabilities for the rest of his life. He was at one point offered early release, but courageously declined. McCain, who was released in 1973, is universally regarded as an American hero for his service.
McCain served six terms in the Senate, and ran for president twice: In 2000, when he ultimately lost the nomination to George W. Bush, and in 2008, when he faced Barack Obama in the presidential race as the Republican nominee.
In an increasingly heated political climate, McCain was regarded as the rare breed of politician who was affable and respectful to to others no matter their politics, and warranted respect whether you agreed with him or not. During a notable moment in which an observer told McCain that she was wary of Obama for being "an Arab," McCain replied: "No, ma'am. He's a decent family man, a citizen that I just happen to have disagreements with on fundamental issues."
His daughter, the television host and political commentator Meghan McCain, posted a statement to Twitter following his passing.
I love you forever - my beloved father @SenJohnMcCain pic.twitter.com/Y50tVQvlVeAugust 26, 2018
See more
President Trump and former president Barack Obama also posted condolences to Twitter.
Our statement on the passing of Senator John McCain: pic.twitter.com/3GBjNYxoj5August 26, 2018
See more
McCain and his wife of more than 35 years, Cindy, had four children together, and McCain also had three children with his ex-wife Carol. He also leaves behind five grandchildren.
Director of Content Strategy
Jenny is the Director of Content Strategy at Marie Claire. Originally from London, she moved to New York in 2012 to attend the Columbia Graduate School of Journalism and never left. Prior to Marie Claire, she spent five years at Bustle building out its news and politics coverage. She loves, in order: her dog, goldfish crackers, and arguing about why umbrellas are fundamentally useless. Her first novel, EVERYONE WHO CAN FORGIVE ME IS DEAD, will be published by Minotaur Books in 2024.