This New Charity Is Using Some of the Wedding Industry's $100 Billion to Fight Child Marriage
VOW is partnering with The Knot and Crate & Barrel on the initiative.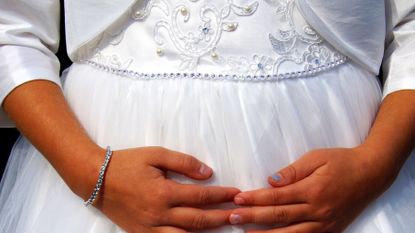 (Image credit: Jarretera)
Marie Claire Newsletter
Celebrity news, beauty, fashion advice, and fascinating features, delivered straight to your inbox!
Thank you for signing up to Marie Claire. You will receive a verification email shortly.
There was a problem. Please refresh the page and try again.
On a trip to northern Ethiopia, human rights activist Mabel van Oranje met a group of girls who were all married before turning 18. She turned to one, asking how old she was when she wed. "I don't really know because I don't have a birth certificate," the girl confessed. "I must've been married off when I was between 5 and 7."
That heartbreaking story isn't unusual. Every year, 12 million underage girls around the globe are married. They're not walking down an aisle toward the man of their dreams; these girls are child brides, forced into marriages with older men, and many times losing the chance to complete their education or pursue a career as a result. They're put at risk of domestic violence, disease (like HIV, AIDS, and childbirth-related fatalities), and are often enslaved to a life of homemaking.
Forty percent of Ethiopian women, more than 2 million, are married before they turn 18, but the problem transcends those borders, impacting countries around the world—including the U.S. It's only getting worse: With one out of every five girls married, we now have the greatest number of married girls and girls at-risk of child marriage than ever before, according to the International Women's Health Coalition.
Despite some shifting attitudes, parents may wed off their children due to traditional or religious beliefs, cultural practices, or poverty. Often, parents find daughters an economic burden, and marrying her off decreases the number of mouths to feed. In many places, girls are seen as wombs and housekeepers—provided they are old enough to do both tasks. Even if that age is 8, they will be married.
"The bottom line is that it all relates, in the end, to the inequality between men and women, between boys and girls..." says van Oranje, "...this idea that a girl is a burden that you want to get rid of."
The statistics about child marriage are staggering, but so is this one: The wedding industry in America is worth a whopping $100 billion. Van Oranje is tapping into that gold mine with VOW, a charitable initiative launching today with one big, ambitious goal: For "child marriage to be in history books by the year 2030," she says.
VOW puts the power to change the narrative in the hands of couples and companies. By partnering with wedding industry powerhouses such as The Knot and Crate & Barrel, and wedding dress and intimates designers including Watters, Alexandra Grecco, and Malia Mills, VOW gives brides-to-be the chance to give back with every big-day purchase. The partnership looks different across companies, but the end goal is the same: to monetize the wedding industry's muscle for good. VOW channels the money raised via each partner into the Girls First Fund, an organization that helps communities in areas with a high prevalence of child marriage combat the problem through sex education, resources, and hotlines that girls can call when they find out they are being married off. By funneling the donations to local community programs, VOW can target the root of child marriage in that area (for example, by strengthening access to birth control in Niger or focusing on poverty solutions in India).

For Crate & Barrel CEO Neela Montgomery, the partnership made complete sense. "Our registry business alone touches hundreds of thousands of women each year, we looked to this as a powerful platform to engage," she says. In the new year, Crate and Barrel—which has already pledged $100,000 to VOW's mission—will unveil a wedding registry initiative that allows couples and those purchasing gifts to choose products that directly support VOW.

For those planning their nuptials now, there are already ways to get involved. Couples using The Knot's "The Knot Gifts Back" program, can pick VOW as their charity of choice. Each time an eligible retail gift is purchased from the couple's registry hosted on The Knot, the site donates a portion of the cost of that gift to VOW in the couple's name.
"Child marriage is not a decision brides get to willingly or joyfully make," says The Knot's CMO Dhanusha Sivajee of why she wanted to get involved in the project. "Her future is decided for her and takes away her right to choose if, when, and how she wants to get married."
VOW's efforts will hopefully spring the western wedding industry into action. "Change doesn't happen overnight here. But we do know that change is possible," van Oranje says. "In America, people happily say 'I do.' VOW will make sure that somewhere else in the world, a girl can say 'I don't.'"
Now through October 11th, post a pic of your ring finger (no diamond required!) using the hashtag #VOWForGirls. For posts and likes, The Knot, Crate & Barrel, and Malia Mills will donate $1 (up to $35,000) to help end child marriage.
RELATED STORY
Celebrity news, beauty, fashion advice, and fascinating features, delivered straight to your inbox!
Megan DiTrolio is the editor of features and special projects at Marie Claire, where she oversees all career coverage and writes and edits stories on women's issues, politics, cultural trends, and more. In addition to editing feature stories, she programs Marie Claire's annual Power Trip conference and Marie Claire's Getting Down To Business Instagram Live franchise.